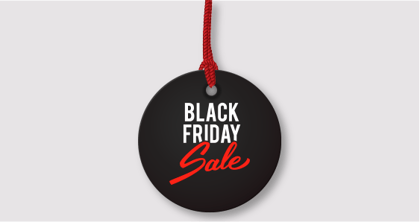 Black Friday is quickly approaching and retailers are gearing up for a busy holiday season. Analysts are predicting that sales will increase a solid 3.7 percent over 2014 to reach $630.7 billion! This is significantly higher than the 10-year average of 2.5 percent. Although Black Friday is widely believed to be the biggest shopping day of the year, it's not. Last year, Black Friday sales were eclipsed by last-minute shoppers on Super Saturday (the Saturday before Christmas), and bargain hunters on December 26. But the hype surrounding Black Friday continues to drive customers into stores with the hope of scoring a great deal on holiday gifts. With that in mind, Women's Marketing looked at the trends and opportunities Black Friday and the holiday shopping season.
Optimize for Mobile
Mobile played a vital role in the 2014 holiday season and will continue to be a key sales driver for marketers in 2015. As more retailers offer Black Friday deals that begin as early as Thanksgiving day, mobile offers consumers the opportunity to take advantage of those sales without leaving the comfort of their home. On Thanksgiving Day 2014, online shopping grew 14.3 percent over 2013, and the trend is predicted to continue. Expect to see more retailers offering digital-only deals, and ads that entice consumers to click-to-buy.
Thanksgiving to Cyber Monday
Consumers can expect to see earlier Thanksgiving-related sales that spill over to Black Friday and Cyber Monday; look for deal extensions designed to move shoppers into stores on Black Friday, while promoting Cyber Monday deals aimed at people once they return to their desktops.
Optimize Social Media Channels
Along with photos of turkey and all the trimmings on Facebook, expect to see brands promoting sales and offering special incentives to their friends and fans. Brands taking advantage of ads on Pinterest and Instagram should optimize their feeds with editorial style images and campaigns that reach current and previous customers, and use data to target ads to prospects who look similar to your high value customers.
In-Store Pickup
Smart retailers are ringing up digital sales and getting consumers in the store with an in-store pickup option. Retailers have found that allowing customers to pick up online purchases in store increases the likelihood of shoppers scooping up additional impulse items.
Market to Loyal Customers
It costs more to acquire a new customer than to get repeat customers to return, and research shows that current customers welcome targeted ads from their favorite brands. Promoting highly personalized discounts based on prior shopping behaviors and offering additional perks to loyalty program members during the holiday weekend keeps loyal customers coming back.
Free Shipping
It almost goes without saying that consumers expect free shipping. High shipping fees are the number one reason for cart abandonment — 44% of consumers who abandon their carts do so due to high shipping costs.
Black Friday can be a win-win for both brands and consumers. Marketers want to drive sales and consumers want to score the best possible deal. Understanding how to effectively target your core consumer at the moment of intent is key to a successful holiday season. Women's Marketing offers deep insights and strategic media programs that build brands throughout the year. Contact us today to learn how we can help your brand grow and thrive.
Sources: eMarketer Mobile to Be Big Sales Driver for Holiday 2015, Consumer Reports Black Friday 2015, Shoppertrak.com Busiest Holiday Shopping Days