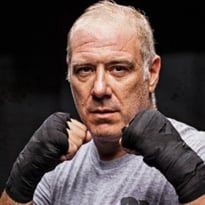 Flying Point Digital's CEO and Founder, Alan Pearlstein, is taking on his fiercest competitor yet! In the interest of paying it forward, Alan will enter the boxing ring this November to knock out cancer with the help of Haymakers for Hope.
Haymakers for Hope is a non-profit organization dedicated to finding a cure for cancer by giving participants an opportunity to train and compete in charity boxing events. Founded in 2009, Haymakers for Hope has raised millions of dollars towards life-saving research in aiding the fight against cancer.
This cause is very near and dear to Alan's heart, as well as to the hearts of all of us at Flying Point Digital. Last November, Alan's friend and business partner, Brandon Heagle, was diagnosed with a form of non-Hodgkin's lymphoma. After a courageous battle, Brandon has gone into full remission, inspiring Alan to take a stand against the disease.
Haymakers for Hope's 2014 New York City fight night will take place November 6 at the Best Buy Theater in Times Square. Alan, dubbed "Duke" in the ring, will face off against John Beloin in three rounds. Tickets can be purchased with the promo code "alanpearlstein"here.
If you are unable to attend the match, but would like to support Alan's fight for a cure, please make your donations here. Alan's goal is to raise $25,000, and his team donations are currently weighing in at over $18,000!