Yelp wants to see itself as a community, but I see it more as a research tool for consumers. If I just want the address for a business, I'll probably look it up on Google. But when I want to get a better feel for a business, I go to Yelp.
Your customers are on Yelp. Your competitors are on Yelp. Even your pets are probably on Yelp.
Reviews can make a business listing rank higher in local search. They play a huge part in increasing sales both in-store and online. Of course, businesses will try many different tactics to make themselves look good, and Yelp has occasionally resorted to some harsh measures for those businesses that want to manipulate the system.
Yelp does what it can to live up to its tagline of " Real Reviews. Real people." As Yelp's CEO Jeremy Stoppelman explains, in order to preserve Yelp's authentic, word-of-mouth experience, the site uses a review filter to weed out fake reviews, such as that glowing review left by the store owner's best friend, which was the first and last time that person ever contributed to Yelp.
Yelp will also look at review patterns to decide whether a review is suspect. For example, a sudden influx of positive reviews may have come from a business owner emailing a slew of his or her contacts, asking them to please (please!) leave a favorable review in order to boost the business' star rating.
The problem is, this filter often captures legitimate reviews. And when you only have a dozen or so reviews showing, each new positive review becomes even more valuable in maintaining or improving your star rating. There are some things you can do to free your reviews from review filter purgatory. More on that later.
So how do you get your customers to leave positive reviews without resorting to disreputable tactics (which can be costly and hurt your business in the long run)? It may seem like a daunting task, but it doesn't have to be. Here are some basic steps that you can take to get the reviews that help your business, plus some tips on how to escape the review filter.
10-step plan
1. Claim and Optimize Your Yelp Listing
Even if your business is already listed on Yelp, you should go ahead and claim your business. That way you can correct any errors, add information that is useful and relevant to your customers, respond to reviews, and create offers. You can claim your listing with Yelp for Business Owners.
Items you should pay particular attention to include -
Name
Address
Phone
Website
Description
Categories (Very important!)
Hours
Include all the information that your customers are looking for. (Do you take credit cards, or are you cash only? What is the price range?) Your customers may be searching for your business on their phone or tablet. It's better that they have the information right in front of them, rather than making them search for it on your website.
Don't make your customer jump through hoops to find information.
2. Make Sure People Know You're on Yelp
Tell your customers that you're on Yelp. (Customers are not mind readers!) Include either a line of text or an image in the following locations:
Website (with a link back to your Yelp listing)
Facebook (About Us page)
Google Plus page
Email signature
Yelp sticker on your store window *(See note.)
In-store sign
Receipt
Business card
*Yelp determines which stores are eligible for stickers. However, you can download graphics from this Flickr page that was created by Yelp. These images can be used on in-store signage and on your website.
3. Create a check-in offer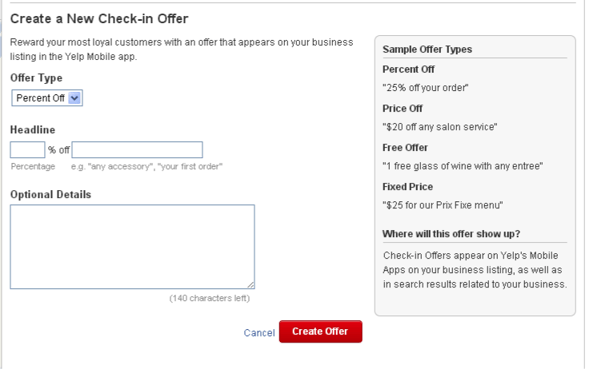 A check-in offer may be the carrot that entices a customer to drop by your store. Chances are that person is a regular Yelper. Reviews written by this group are more likely to escape the review filter if they are active contributors.
Yelp provides instructions on how to create a Yelp Check-In Offer.
4. Incorporate Yelp into your email marketing strategy
Email can be a very effective way to gain Yelp reviews. (It's much easier to click the link from an email.)
If you send emails to your customers on a regular basis, such as a weekly newsletter, you can add a Yelp badge to your template by using an image from Yelp's Flickr page and linking back to your listing. (Or, simply include a text line in the header or body of your email, such as "Check us out on Yelp!")
You can also create emails showcasing positive reviews to send to your preferred customer segment or whichever segment of customers who are more likely to have had positive interactions. This group may be inspired to share their own experiences.
5. Reach out to the people who know you best
This includes your unwavering fans, customers who happen to be your friends, family and business contacts. The point of this strategy is to get the occasional quality review, rather then to obtain a quantity of positive reviews. Remember, you don't want to create a sudden influx of carefully worded, positive reviews that may trigger the review filter.
6. Share your positive Yelp reviews on Facebook
To share your review on Facebook, click on Send to a Friend.

This will bring up a pop-up window that will give you the options to either share the review on Facebook or via email.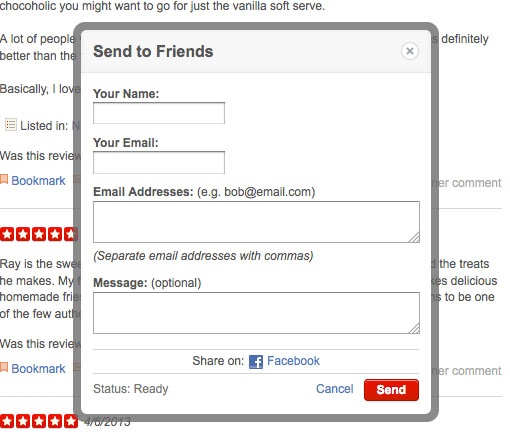 Write a descriptive message that will catch the eye of your Facebook followers, and post.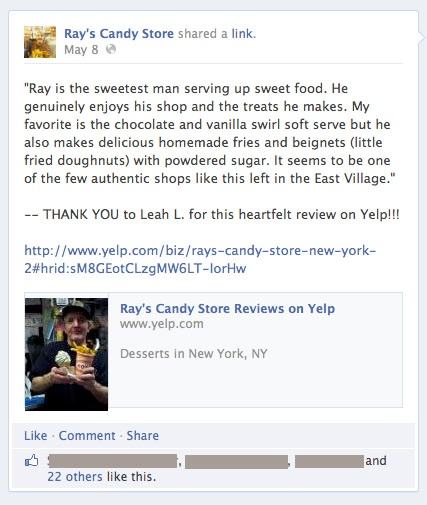 (You can always print the review and display it in store, if you're more old school.)
7. Positive Reinforcement
People like to be acknowledged. (Writing a review can be hard work!) Respond with an owner's comment, when you feel it's appropriate. Yelp allows you to respond privately to your reviewers, so take advantage!
Another way to acknowledge those who left positive reviews is by logging onto Yelp through your own personal account and checking these reviews as useful, funny, or cool.
It's the little things that encourage your existing customers to remember you and recommend you to their friends/potential-reviewers-of-your-business.
8. Keep your employees informed

Do remember to share any news and developments with your staff. Let them know of both positive and negative customer reviews, so they can either feel good about the service provided or learn where improvements should be made. If you create an offer, your staff should know about it. An informed employee leaves a positive impression, which can lead to a positive review.
9. Don't try to game the system
Don't offer rewards for a review.
Don't buy reviews. (Yelp will publicly shame you, if you're caught.)
Don't ask customers to post a review that you've written.
Don't ask your friends/customers to post the same review on multiple sites.
Don't create review stations in your store. (Your business listing may be flagged if a large number are submitted from the same Internet Proctocol (IP) address.)
Some tips on how to escape the review filter
Yelp's review filter is not perfect. It does hide legitimate reviews. Often times, it is because the reviewer is new to Yelp, and so there isn't the same level of trust as with someone who uses Yelp on a regular basis. But filtered reviews can become public, if that new reviewer continues to actively participate in Yelp. Some of the things you can do to help include –
Friending your customers through your personal Yelp account
Sending them a Yelp compliment
Checking their review as useful, funny, or cool
Sending the reviewer a private Yelp message encouraging them to fill out his/her person profile and review other businesses. (You can position this as you wanting to share some ideas on how to help them get the most out of Yelp.)
10. Stick to the plan
Schedule a time over periodic intervals to go back through the previous steps. Have you changed your hours or added a new service? Update your listing. Did someone just post a really cool write-up on Yelp? Share it with your customers (and staff).
When you're already providing a quality experience for your customers, all you need to do to get them to leave a fantastic and honest review of your business is to give them the occasional nudge.