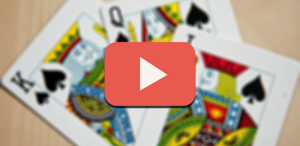 What Are YouTube Cards?
YouTube Cards create more chances for your viewers to interact with your YouTube video uploads and can be customized for each video you upload. Depending on the card type, a customized image, title and call-to-action text will be displayed. Cards are displayed on the right hand sides as a scroll-bar, and are surfaced after clicking on a "I" icon in the top-right-hand corner. YouTube Analytics also provides reporting on the performance of each card type. Here's a brief overview of YouTube cards via YouTube Help.
What the different Card Types?
Merchandise Card – links to approved retailers to an individual product or storefront (e.g. Google Play, iTunes).
Fundraising Card – links to approved fundraising sites drive awareness and support for creative campaigns (e.g. Indiegogo, Kickstarter).
Video or playlist Card – link to another public YouTube playlist or video that would be of interest to the viewer.
Associated Website Card – link directly to a client's website after accepting the terms & conditions (must have access to webmaster*).
Fan Funding Card – allows viewers to make donations on video page (must enable Fan Funding for YouTube channel*).
Please note that a YouTube account must be verified (found in "status & features" menu below) and in "Good Standing" in order to add YouTube Cards. You can find additional information HERE.
How Do You Add Cards/ Best Practices?
It's incredible easy to add cards to videos. In a client's "Video Manager" simply click "edit" on a video > click "Card" on top tab bar > click "add card" > choose card type. These can be added at any timeframe in the video and must include a valid URL depending on card type. More details HERE. You can add up to 5 cards to a YouTube Video at this time.
Best Practices – if you are adding more than one card to a video, make sure to space them out evenly throughout the presentation. Cards should complement some aspect of the video to which you add them, giving context or additional information.
ProTip: be sure previously added "annotations" do not conflict with your card(s) or display redundant information. Also, your YouTube channel watermark will now be displayed in the bottom right of your video. Be sure there are no conflicting visuals in this area of your video.
https://youtu.be/I_5lZai2aiQ
I've experimented with CT Corporation's "Annual Reports Managed Services" as an example by adding the "CT Corporation" playlist in the very beginning using a "Playlist Card." Also, at 0.34 seconds I've added a "Video Card," which suggests a compliance "Business Compliance Basics" video at the exact time the "Annual Reports Managed Services" video mentions "compliance."