This holiday season, retailers are implementing a range of strategies to optimize their targeting efforts. One technology proving effective is Rich Media Messaging (RMM), a technology that allows brands to engage with consumers via customized mobile content. Invodo and Lyons Consulting Group have projected that one in three holiday purchases in 2015 will be made on mobile devices. Rich media ads have the ability to positively influence this statistic. Bringing the product and brand to the palm of the consumer's hand, accompanied by a call to action, can assist in driving mobile purchases and overall brand awareness
We asked Elissa Brown, associate media director at Women's Marketing, to explain RMM and how brands can use this technology to drive sales at retail.
How Does RMM work?
"Rich Media Messaging is a form of mobile advertising in which users can interact or engage with the advertisement at hand," says Elissa. Brands can deliver personalized, rich content across a variety of devices, including smartphones and tablets. RMM leverages consumer's mobile behaviors to provide higher engagement and interaction rates.
"With rich media, a brand message is delivered directly to the most relevant consumer's fingertips. Brands can push out a message optimized for specific devices; message types include images, video, links to existing apps on your phone, coupons, incentives, sweepstakes, as well as links to your social share apps," Elissa explains.
How can marketers use Rich Media Messaging during the holiday season?
"According to Invodo and Lyons Consulting Group's 'Get Ready for Holiday 2015: Three Ways to Stand Out,' last year, video viewership increased 500% on Black Friday and Cyber Monday. Patrick Cole, digital consultant at Lyons Consulting explained that a consumer who views a given video during the holiday season is 60% more likely to make a purchase than someone who does not. It is clear that engaging cross-device content is a driver for holiday sales," Elissa says.
Strategists use rich media ads to drive sales both in-store and online. For example, a pushdown coupon with a near-term expiration date can drive the consumer to a bricks and mortar retailer, while an engaging video with a call-to-action landing on the brand's website/app can drive online sales.
Is RMM content sharable? Can coupons and images be shared on social to increase awareness and interest?
"While the sharing of imagery assists in propelling sales, sharing of coupons should be looked at differently," advises Elissa. "Typically brands provide unique codes to mobile coupons in an effort to see measurement of redemption versus the number of coupons being pushed out. Social sharing of these coupons muddles the ROI measurement so it should be approached with caution," she warns.
Can you provide examples of RMM that illustrate its capabilities?
"Yes, for one of our beauty clients, mobile vendor, Crisp, proposed a 320x50 smartphone adhesion banner which would have the ability to either tap to Sephora or other landing page or expand to a 320x372 smartphone ad unit potentially featuring, but not limited to, brand messaging, animation, social media links and galleries," explains Elissa.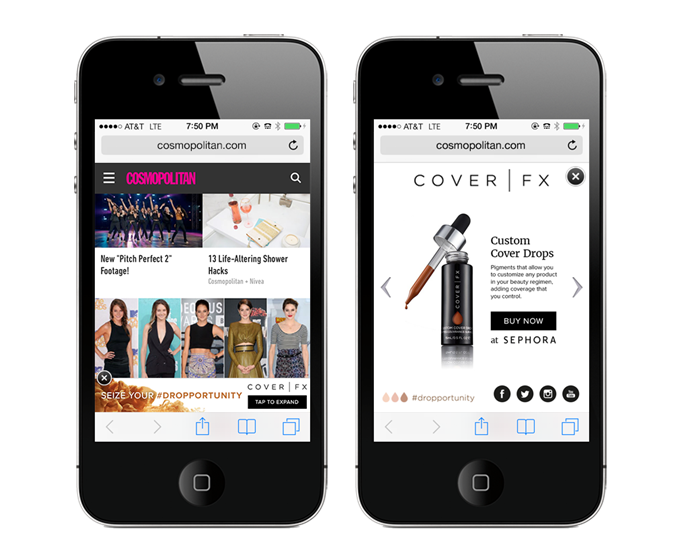 "Another campaign from Crisp featured a 320x50 smartphone adhesion banner that could either allow the consumer to tap-to-site or expand to a 320x372 ad unit. This unit has the ability to house brand messaging, animation and a store locator," she says.
"Both ads illustrate the possibilities marketers have when advertising with RMM," advises Elissa.
How can marketers integrate Rich Media Messaging campaigns into their marketing plans?
To integrate RMM into their marketing plans, marketers should look at what is trending in the marketplace and how it relates to their audience. Mobile is becoming the first and last touch point before a consumer converts. By utilizing rich media ads, marketers are hitting their target when they are most susceptible to the messaging and within contextually relevant content. "To integrate, marketers need to first hone in on the relevant target and then establish an appropriate call-to-action to entice the consumer. These RMM can be adapted through a video, product carousel or look book, store locator, coupon, pushdown… anything engaging and appropriate for the target audience. The possibilities and affirmative results are endless," Elissa says.
Rich media messaging is just one strategy that marketers can use to reach the female consumer. When utilized as part of a holistic media strategy it has the ability to be one of the first, and conceivably last, touch points an advertiser has with the consumer as they guide consumers through the purchase funnel. Is RMM right for your brand? Contact Women's Marketing to discuss opportunities in mobile for the upcoming holiday season.
Sources: Marketing Land Goodbye Email, Hello Rich Media Messaging, eMarketer Retailers Adopt Rich Media Messaging for Back to School Season, Clickz Doritos Moves from Mobile First to Mobile Only, Invodo and Lyons Consulting Group Webinar: Get Ready for Holiday 2015: Three Ways to Stand Out.
http://marketingland.com/goodbye-email-hello-rich-media-messaging-89184
http://www.emarketer.com/Article/Retailers-Adopt-Rich-Media-Messaging-Back-to-School-Season/1012692
http://www.clickz.com/clickz/news/2416728/doritos-moves-from-mobile-first-to-mobile-only
Invodo and Lyons Consulting Group's Webinar: "Get Ready for Holiday 2015: Three Ways to Stand Out"