Last week Facebook rolled out verified business badges for local businesses in the US, UK, Australia, and New Zealand. These verified badges are displayed as light grey check marks, and are similar to the blue badges that Facebook displays next to verified public icons, organizations, media groups, corporations, musicians, etc.
Why is this important?
Local businesses with physical locations will now be able to officially claim and verify their businesses on Facebook, helping customers to locate the correct and authentic accounts for their favorite local merchants.
Local business owners can attest to the common problem of rogue or same-name Facebook accounts, often confusing customers and leading them astray as they use the social platform to search for a local business. Hopefully, these verification pins will allow Facebook to serve better search results within their platform to users.
How to verify your local business on Facebook?
If you are looking to verify your local business page, you can access this feature from your Admin account settings. Facebook lists the process as follows:
Click Settings at the top of your Page
From General, click Page Verification
Click Verify this Page, then click Get Started
Enter a publicly listed phone number for your business, your country and language
Click Call Me Now to allow Facebook to call you with a verification code
Enter the 4-digit verification code and click Continue
If you don't have access to your business's phone, or would rather submit documentation, you can also verify your business with an official document listing your business's name and address. Just follow the steps above and click Verify this business with documents instead.
A case of verification
One local business page that recently verified their account is Fineline Tattoo NYC. Now, when I search for "fineline tattoo" in facebook search, fineline tattoo nyc comes up with a verification check mark next to its name. Not only does this verification mark tell me that fineline tattoo nyc is a legitimate business establishment, it also tells me that the name, address, and phone number provided on the Facebook page is accurate (I've been told that people make appointments at tattoo shops which are really across the country, because names are sometimes the same).
Interestingly enough, when I search "fineline tattoo" and click the pages tab, "fineline tattoo nyc" appears as the second result. Even though it is verified, and located in the same city as I am, it still shows up after a less liked, and further away location (the #1 result is located in the UK). See here: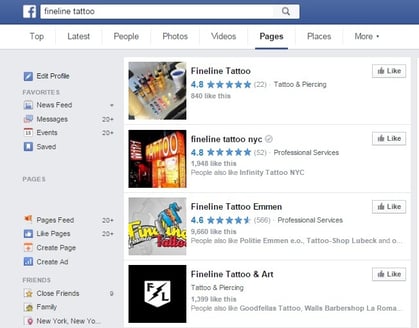 How will Facebook Verification affect SEO?
Below is the email which a local business received after verifying their account with Facebook. Notice that Facebook claims verified businesses will "show up higher in search results", which we take to mean search results within Facebook search. It's too early to say how this will impact Google or Bing search. However, it seems reasonable, given the way that Google ranks Facebook pages in general, that verifying your local business will only help with organic and local search results.
This new feature definitely exemplifies Facebook's growing focus on empowering businesses through the platform, and provides another free tool that shows potential for impact. The whole process doesn't take very long, especially if you do it by phone, and unquestionably makes your profile look more legitimate.