Written by Utsav Panchal and Matt Strietelmeier
The SEM world was abuzz this weekend with the confirmation that Google will be making a significant change in the way AdWords ads are displayed on desktop SERP pages beginning February 22.
What's changing in SERPs?
Text ads will no longer be displayed on the right-hand side bar. Text ads will only be displayed at the top and bottom of the page.
Product Listing Ads and the Knowledge Panel will still show up on the right hand of the page.
Four (rather than three) text ads will be displayed at the top of the page for "highly commercial queries".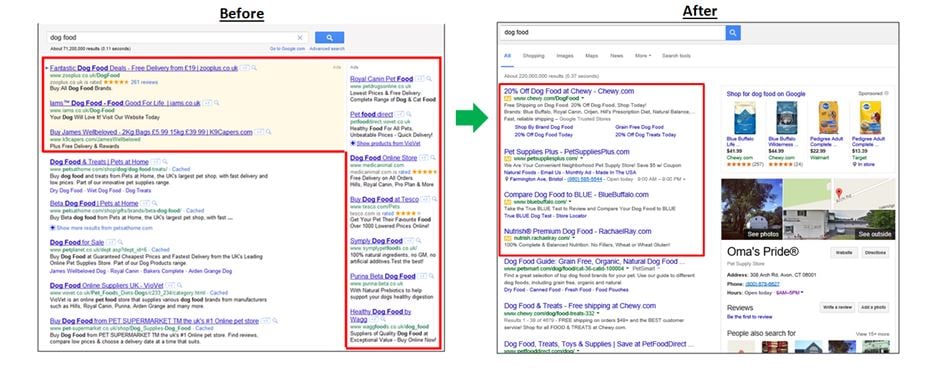 Why is Google making this change?
Google is constantly testing various ways to display ads and there's no doubt that this change comes as a result of that testing. According to Google, "this layout is able to provide more relevant results for people searching and better performance for advertisers."
How will this impact your PPC campaign strategy?
Based on the law of supply and demand, CPCs will increase. With the same number of advertisers competing for fewer ad positions, the AdWords auction will become more competitive. An even greater emphasis on Quality Score will be essential in order to keep costs down. And for those advertisers who are not yet participating in the Product Listing Ads space, now is the time to jump in. Product Listing ads will also help to minimize costs, as it expands your visibility options beyond the top 4 text ads on the page.
Fewer ad positions / Increased competition / Higher CPCs
Greater emphasis on Quality Score
Targeting top positions is now essential (in fact, it's your only option).
Product Listing Ads become even more important
Final Thoughts
This is a major change for the SEM world. The impact on your campaigns should be closely monitored and you should be ready to react to changes you observe. For many, this could force you to switch up your strategy in order to maintain visibility and efficiency.