Since its seemingly quick rollout in early October 2015, AMP (or Accelerated Mobile Pages) has been slowly affecting more and more mobile searches. If you haven't had the opportunity to experience AMP articles yet, the idea is simple—get rid of unnecessary page elements, make it super fast, and keep the experience of reading an AMP article a part of the Google search process. While the first two parts of the equation seem like an amazing addition to the experience of searching (and long overdue), that last part might be something we all should be concerned about.
AMP Overview
AMP was started as an open source project designed to make it easy for sites to mark up their pages so that a stripped-down version of the page could be served to the users. Nuzzel CEO, Jonathan Abrams described it as being similar to Facebook Instant Articles, and something his company was already trying to employ on its own through caching. This is more of an ad hoc approach where rather than forcing each page to be loaded over and over each time by the user, a page is served out of the existing cache.
This is great in theory, but it can get tricky with news stories that are updated all the time. (The cached version might not always be the latest version.)
When Nuzzel realized that Google had moved on the issue and made its own version of what they were already doing, the social news aggregator was one of the first companies to employ AMP across their site.
Many bigger brands like The New York Times and The Washington Post also got in on the party and "amped" their sites. When user experience is at stake and there is a reward in place (AMP has its own carousel in results), publishers have no choice but to adapt quickly. And if we take into consideration how the whole program was pitched, it's no wonder that many brands quickly moved on this technology in an attempt to immediately gain ground on what sounds like a pretty lucrative space.
The Benefits of AMP
At first glance, moving forward with AMP is a no-brainer:
Pages that take longer than three seconds to load have a 40% user drop off rate.
If ads keep slowing down the user experience, users install ad-blockers.
AMP is free!
There is SERP (search engine results page) real estate dedicated just to AMP results.
Having AMP installed might be a ranking factor in the future.
Not running AMP on your site seemed to make no sense. It would seem that your ads would have a better chance of showing up in this simple format than on your site (where ad blocker might hide them). Your content delivery would greatly improve through virtually immediate results. And for anyone still resisting, your competition would be more than happy to take your spot in the carousel.
The Drawbacks
At this point, most drawbacks are speculations at best. The way the product is pitched, very little information is given about what could go wrong or what the plan is for the distant future.
Here are some reasons why you may want to hold off on making your content comply with AMP:
The experience is native to the Google platform and not to your website. When stripped of all the big juicy mark up, articles become nothing more than plain text and some pictures.
Unless the search is branded, the user can freely scroll across other domains for posts on this topic (highlighted in red). Or if they are not perfectly content with what they are seeing, they can just click back and search again (highlighted in yellow).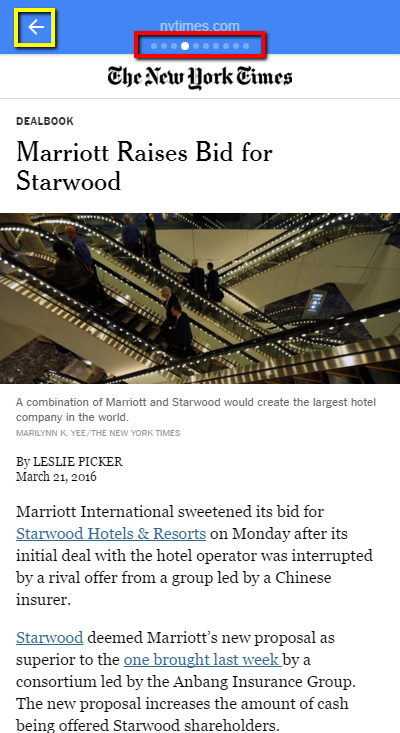 Subscription interstitials are respected at the moment. (The New York Times will let you read few articles free, but then ask you to subscribe to read more.)But if this is to continue, will Google begin penalizing sites that use AMP results to take users to an interstitial landing page telling them they must pay? Interstitials as a whole have been regarded as poor user experience, and app interstitials have even been penalized.I highly doubt that AMP has any chance of success if the majority of publications begin using it as an outlet to bait-and-switch users into paying. One possible solution could be telling users which results are completely free to read. (Kind of like "Mobile Friendly" alerts in mobile search.) But ultimately, I don't see things like the example below making the cut in the long run.
An AMP article gets reduced to an attempt to lure the user into checking out more on the same site. If the user doesn't click on a link within the post that takes him to the mobile site, he's still technically browsing Google
(e.g. https://www.google.com/amp/amp.timeinc.net/time/4267086/donald-trump-aipac-speech-israel/#)
Otherwise, here are some likely scenarios:
a. Users finds what they wanted, and they're done. (But hopefully they want to read more on your site now.)
b. Users are not completely satisfied, and they scroll through other posts in the AMP carousel.
c. Users are dissatisfied with all results, and they refine their search.
d. Users ignore AMP altogether and go for organic results instead. (This is a tricky scenario since it seems that an AMP article won't rank on page one again in organic results.)
The big question here is: Would I rather rank first in organic results or in the AMP carousel? In the example below, I would wonder if Salon.com is benefiting from not having to compete with all the AMP pages in organic listings. (Unfortunately I do not have the CTR data for this query but that would be really interesting to know).
Pages/sessions will suffer. As someone who's seen a good amount of user activity patterns from the publisher side, I personally believe that the best way to engage someone is to bring them to your site. The numbers would often tell the tale of quality vs. quantity when comparing organic inbound traffic and social inbound traffic. Namely, Twitter or Facebook may bring a lot more individual sessions than organic search if your social media team is posting all day, but these users will likely bounce and return to browsing on social media.
Conclusion: To Amp or Not to Amp?
Search has always been an opportunity to capture users who already wanted to find you. It was an open market of people looking for answers, products, or simply trying to find the site they already know was there, but didn't have bookmarked. Adding the element of browsing in a SERP can make users more hesitant to leave the said SERP.
In terms of user retention, this might be a good move on Google's part. But will it continue to conduct periodic "land grabs" that take bites out of publishers' market share? Moreover, if this does in fact lead to drops in traffic, will the likes of The Washington Post reconsider its participation in AMP, and go for organic results instead? Time will tell if my cynicism is warranted, or if I'm just letting my nihilism with respect to Google affect my opinions.
Stella Rising helps fast-growth emerging brands as well as established and enterprise brands with their SEO efforts. If that sounds like you, reach out today to learn more about how we can help.