Things are heating up this summer in the Google AdWords User Interface. Google is rolling out a new "Price Extension" ad extension and testing to replace the "Seller Rating" ad extension's yellow stars. Both ad extensions are focused on one thing: optimizing the mobile experience.
Seller Rating Extension Test: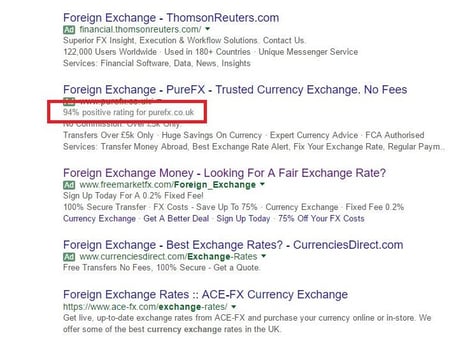 Seller Rating Extensions allow for users to view your online business' ratings as 1-5 yellow gold stars. The ratings are based on several sources including Google Trusted Stores, Stella Service, and Google Consumer Surveys. However, advertisers recently noticed a new change to the ratings- Grey text was located below their ad copy stating "X% positive ratings for X website" replacing the normal, eye-catching stars.
Why is Google testing this new format? Probably for the same reason Google changed the yellow "ad" label to the green "ad" label – to decrease the amount of colors on the SERP to create a better experience for users, specifically mobile users, when they scan the SERP.
Price Extensions Roll Out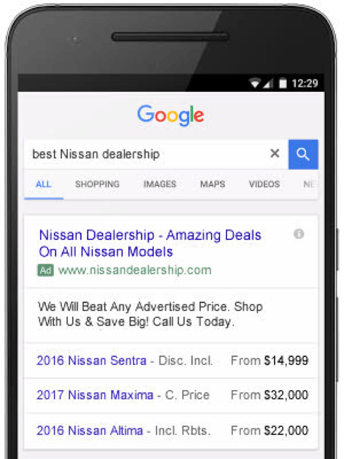 Price Extensions, formerly known as the "Table Extension" Beta, allows mobile and tablet searchers to scroll left or right through the prices of products and services. Upon clicking, users will be taken to the advertiser's webpage for that product
Price Extension Details
In the extensions tab of that AdWords interface, you'll be able to set the price, final URL, a header and a 25 character limit description to highlight your products and entice the user to click. Price qualifiers are available to be used if your prices are flexible. Finally, you input the information for the price and the final URL.
Currently, the Price Extension ad unit can be applied at the account, campaign, or ad group level, but will require you to be in first position on the SERP for the ad extension to appear.
Utilizing this new feature can help improve your search advertising's effectiveness by providing searchers with more information and taking up more real estate on the SERP.
Need experts to manage your Adwords campaigns? See what our PPC philosophy is all about.