Adam is an Associate Director, SEO, at Stella Rising
On August 11th, I woke up and checked Twitter as I frequently do. I saw that Independent SEO Consultant, Dr. Marie Haynes, had tweeted this:
That tweet, of course, gave me cause for concern. At the time, it seemed that whatever happened had resolved itself, but
SEO is an ever-changing world
where one company can see massive gains while another can drop off the face of the Earth, all at the same time. So, our team quickly went to the analytics.
This graph depicts the rankings we saw for one of our clients: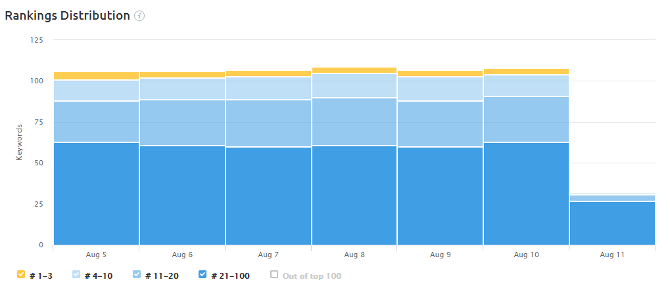 Source: SEMRush
Worse yet, it wasn't just SEMRush's indexing; Google Analytics also reflected a significant drop in traffic.
While that example was one of the worst, dozens of other sites told a similar story. By the time we had started reviewing those profiles, though, the changes had been reverted. Overnight, John Mueller, Webmaster Trends Analyst at Google, had clarified that it was a "glitch."

That's what I get for going to bed at a decent hour for once.
For those of us who work in SEO, digital marketing, or on an ecommerce brand, this situation is our worst nightmare. A thousand worries ran through my head: algorithm updates and clients giving notice, while even considering changing industries and transitioning into something less stressful, like firefighting or politics. And we already knew that the ranking drops likely weren't even real! I can't imagine what my blood pressure would have read had I checked it the night before.
A discussion cropped up on Twitter to do with the negatives of being dependent on a single company for digital strategy. Those negatives are real—if your brand's revenue is based entirely on Amazon or Google Shopping, you ought to consider diversifying, and fast. But what about SEO as a channel? Google owns 86% of the market for organic search, and since the same site is served up to every search engine, it's exceedingly difficult to diversify without risking damage to your brand's Google traffic. So, how can we approach this SEO conundrum strategically?
Jokes about quitting the industry aside, SEO has long since shifted away from a strict "keywords increase Google traffic" methodology; it is high time we considered the implications of algorithm updates, glitches, and Google gobbling up organic traffic. Here are ways that Stella Rising is focused on getting ahead:
Increased Reporting on Metrics Aside from Traffic

: We work hard on revenue reporting, tying—as best we can—organic traffic to actual dollars. But organic traffic is also normally one of the healthiest channels that a site will have! Given the nature of search intent, metrics from SEO such as bounce rate, time on page, and conversions will typically fare extremely well when compared to other channels. It's time to lean more on the quality of the traffic, not only the quantity.

Get Into Conversion Rate Optimization (CRO), Fast

: What's the point of driving great traffic if it lands on crummy pages? CRO is a natural evolution for brands to focus on lower-funnel traffic, exploring how users behave on a site. CRO is also an optimal way to achieve quick wins while an organic strategy develops.



What's Your Development Game Like? In recent years, we've seen a call for more development-minded SEOs, team members who can implement changes to on-page speed, as an example, not just recommend those updates. Stella Rising is redefining the line between consultancy and implementation, to better support clients. Our focus is to implement as many changes as we can, and by focusing in on the details, we can better understand our clients' development teams. As such, we're equipped to make better recommendations that use less resource.
This instance may have been a glitch, but the next big update might not be. Through smart SEO strategy and execution, our team sees the wisdom in preparing for the worst, given the current climate.