All too often there is a disconnect between paid search and paid social efforts. This is problematic—paid search and paid social go together like Serena and Venus, Mario and Luigi, or oat milk and espresso. In this blog, we'll show you how to integrate paid search and social efforts to drive stronger marketing results for your brand.
By leveraging both channels simultaneously, you are creating brand touchpoints and giving your audience different ways to engage with your brand. As marketers, we understand that an omnichannel strategy is crucial because there are so many touchpoints needed for a consumer to become a customer. Ensuring paid search and paid social work together can keep a consumer on the right track to becoming YOUR brand's customer.
How Paid Search & Paid Social Work Together at Stella Rising:
Creative & Ad Copy
One of the primary tenants of success on paid social is creative and message testing, given the more visual nature of the platforms. At Stella Rising, we proactively run these tests on paid social platforms for continuous learning and improvement. Once we understand what creative resonates best with our key audience, we can share those results across teams so paid search discovery campaigns can benefit from the strong creative. There is no HIPPA in place to protect data sharing.
Additionally, this testing and learning and sharing of insights works with messaging. We can ensure that the winning ad copy from social is utilized in either headlines or text descriptions on search. On the flip side of that, the paid search team shares keywords that are driving strong performance from search ads to leverage in Meta campaigns, fueling new ideas for ad copy and headline testing.
By using consistent messaging across both channels, your audience can get to know and understand your brand as you create a dialogue. Having a consistent brand voice allows users to perceive the brand as reliable and understandable.
Collect Keywords for Paid Search & Social Media
The paid search team constantly mines for new keywords and ensures the latest trending search terms are captured through keyword bidding and relevant ad copy. This keyword data is extremely helpful for Pinterest campaigns. Pinterest has its own search engine, and brands can target based on Pinterest keywords. This process has proven instrumental in increasing audience sizes in the most qualified way. Qualified audience expansion for paid social is key for success, especially with brands that have niche audiences.
Build Remarketing Audiences
Social casts a wide net building brand awareness and driving users to a brand website. We recapture those users on Google in multiple ways. If users that see your brand's content on their feed start executing branded Google searches or additional research on the service or product they are looking for, we can then reach those users through paid search ads. Brand awareness generated from social media drives increased branded searches on Google. A notable example of this collaboration comes from a Stella Rising health client; we increased Meta spend by 87%, driving a 122% increase in click traffic. Paid search benefited from that incremental traffic with a 27% increase in branded searches the following month.
Additionally, users that visited the website through a social ad fall into a remarketing bucket and we can retarget those users through Performance Max or Display remarketing campaigns. Another very strategic way to leverage paid social within paid search is to use remarketing lists for search ads (RLSAs), which essentially is remarketing overlaid on the searches we are bidding on. We can create social audiences in Google Analytics, then pull those audiences into Google Ads.
This process can work in the opposite direction, too. Google ads send incredibly high value traffic through to the site, but that doesn't mean they convert ALL the time. In Meta, a fantastic way to utilize the Google traffic is to build custom audiences based on the Google Click ID (GCLID) URL parameter. We can use this information for retargeting audiences to send them a consistent brand message and hammer home unique selling propositions or winning ad copy. We can also use GCLID for prospecting. Based on the GCLID audience, we can build lookalikes. We know that lookalike users are high quality and coming from a search or shopping ad in most instances—these lookalikes tend to perform stronger than, say, a general site visitor lookalike audience. GCLID also helps expand the targeting beyond a traditional purchaser lookalike list.
TikTok
While TikTok doesn't technically identify as a Social Media Platform (it identifies as an entertainment platform), we still take advantage of current trends, content, and TikTok's search engine to help inform the proverbial Google search campaigns.
One way we use TikTok to inform search marketing is through the search preview results. For example: say we're working with a skincare client; in that case, we type "skincare" into the TikTok search bar and then the results populate additional ideas based on the most popular and voluminous search queries.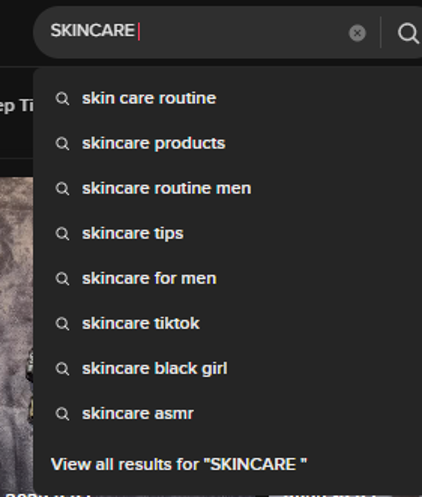 Taking that a step further, we can unpack "skincare routine" by prompting that in the search bar.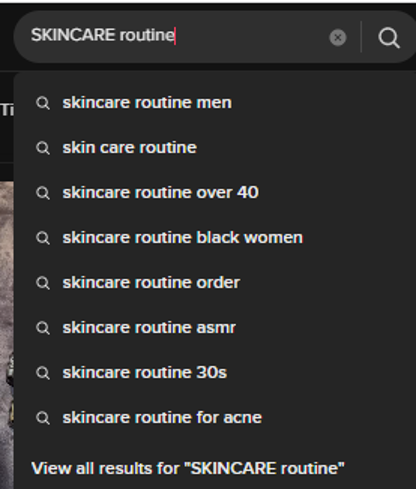 Here we have additional, more specific ideas for longer tail keywords. This helps inform Google Search campaigns with ideas for keywords, headlines, and descriptions for ad copy.
Tie these concepts together across various channels and an overarching, but paramount theme emerges: consistent messaging and one brand voice across all channels promotes greater trust and a streamlined experience for consumers. There is enough clutter and competition out there, so reinforcing consistent messaging helps with retention and ultimately stronger conversion rates.
At Stella Rising, our award-winning paid search and paid social teams work collaboratively to drive a superior brand experience and strong returns for our client brands. Looking to level up your brand in 2023 and beyond? Connect with us.