#HelloLemon8. Described as the love child of powerhouse platforms Instagram and Pinterest, Lemon8 is a Gen-Z targeted, influencer-inspired social media app that allows users to share images and videos with their followers. Brought to you by the makers of TikTok (ByteDance), Lemon8 has quickly made waves in the social media space.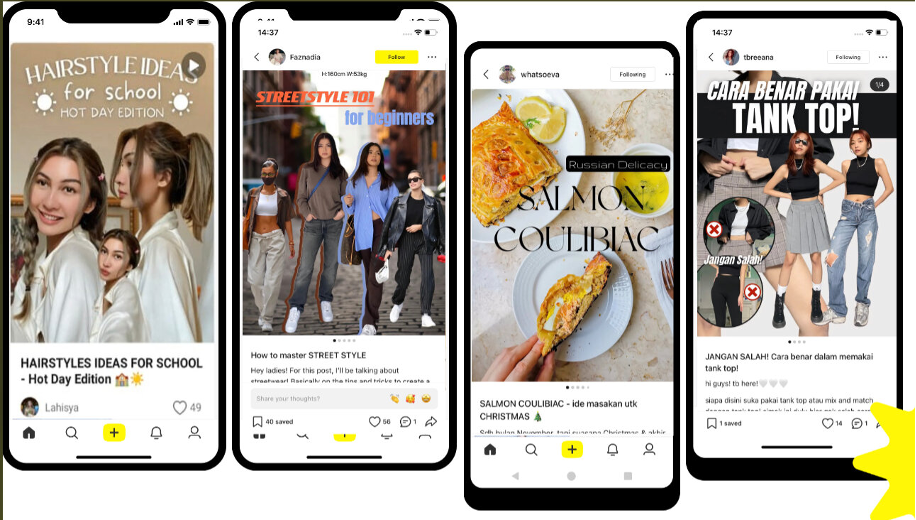 Source: The New York Times
The TikTok sister app officially launched in the U.S. and UK in February 2023, but has been around since March 2020 in select Asian countries. After just a few short months, the app currently sits at the No. 2 spot in the Apple App Store for the top lifestyle apps and has over 5M downloads in the Google Play store. So, what sets Lemon8 apart from other social media platforms? Here's what you need to know.
HOW IS LEMON8 DIFFERENT?
Unlike the vertical scroll of TikTok, Lemon8 favors an interactive, Pinterest board style comprised of both video and image formats across six categories: Fashion, Beauty, Food, Wellness, Travel and Home. But that's not all…
Like TikTok, Instagram, and Pinterest, Lemon8 is packed with product recommendations and tips with a key focus on shopping. What sets the app apart from other big players is how content is presented.
Source: Lemon8
Lemon8 strongly encourages posts with "aesthetic fonts and design elements," avoiding generic-looking posts that may resemble ads. Creators are also encouraged to be a little more text-happy with their posts (i.e., recipe instructions, outfit details, trip recommendations, etc.) While some of this may seem similar to Instagram captions, there's one key difference: templates. Lemon8 offers programmed templates to help format and design your content to align with your personal aesthetic. There are also caption templates for Fashion, Shopping Finds, Beauty, Food, and Travel categories for those that need some extra copy inspo. Users can tag brands and locations and add stickers and anything else that may add to the overall attractiveness of the post.
POSTING ON LEMON8
You've created an account—yay! Now what? First, start by introducing your brand! An intro post along with some collage-style posts showcasing your brand's vibe will help show users what they can expect from your page before hitting the follow button.
As with TikTok, the Lemon8 seems to push posts that use the platform's editing and templates features. The mechanics behind Lemon8's algorithm are unclear at this time but are believed to be the same as those on TikTok, meaning that interacting with Lemon8's For You page, liking posts, and ignoring posts you don't like will train your account's algorithm.
On your own profile you can also see how many views your content received. If users are following your account, you can come up on their Following page or organically on their For You page. From there, users can like, comment, save, or share your content and follow your page.
| | |
| --- | --- |
| Source: Lemon8 | Source: Lemon8 |
ADVERTISING ON LEMON8
Currently, there are no paid advertising opportunities on Lemon8, however, due to its rapidly increasing popularity, it is unlikely that the app will stay ad-free for long. In the meantime, Lemon8 as a platform and brands are working directly with creators to feature their products.
With the app still in its early stages, no one knows what its future holds, however, with the threat of a U.S. TikTok ban, creators are jumping on the Lemon8 bandwagon early as a precaution; it is unclear if the ban could impact Lemon8. The timing of pushing Lemon8 is certainly interesting, and ByteDance has high hopes of making the lifestyle app another hit among brands and influencers.
Lemon8 is an app to keep your eye on. We recommend brands assess whether they should start making their mark organically while staying tuned for future advertising opportunities. Being an early adopter on a fast-growing platform has its advantages, especially for smaller brands trying to make a splash. Experimenting early shows social savvy and offers a chance to connect with a new community of creators and users.