For thousands of years, women handcrafted beauty treatments from ingredients that grew in their own backyards using recipes that had been handed down for generations. It was with this in mind that Tina Hedges launched LOLI, her back-to-basics beauty box.
LOLI, an acronym for "living organic loving ingredients," began when Hedges, a former beauty marketing executive, observed that women were concerned about the quantity of chemicals in beauty products and wanted to offer a completely natural and transparent option. Each month, Hedges' company delivers subscribers a monthly supply of organic, fair-trade, and food-grade ingredients and a customizable recipe to blend hair, skin, or bath products in their own kitchen. Read on to learn more about her inspiration, challenges in launching an indie beauty brand, and the mindset of her customer.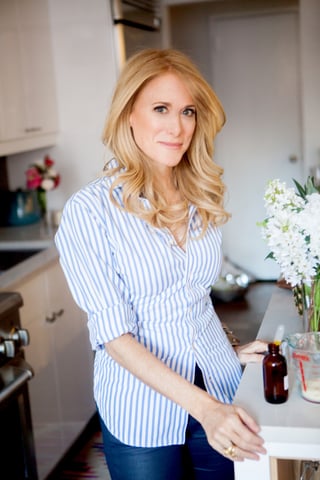 LOLI Beauty founder, TIna Hedges
Women's Marketing: Your DIY beauty box concept is so unique! Tell us how you conceived of the idea.
Tina Hedges: On the surface it seems like a $12 pressed juice and a trip to The Filling Station were the tipping points. I was advising a start-up brand in the face oil category and sipping on a fresh smoothie while staring at the olive oil casks at a retail outpost in Chelsea Market in New York City. All of a sudden, it hit me: why can't women shop for beauty the same way they shop for food? Why do we buy expensive oils, butters, and powders with no idea of the purity, provenance or freshness of the ingredients?
I knew right then and there that my mission was to #unbottlebeauty or re-engineer personal care products—eliminate the excess packaging and marketing gimmicks and offer high quality blends. With our on-line subscription #LOLIbox and our offline pop-up beauty blending bars, we make it easy for women to be their own beauty-blenders and discover, personalize, and share beauty ingredients, recipes and rituals. Think slow food meets farm-to-table for beauty, LOLI stands for "living organic loving ingredients." We like to say that we are the "Blue Apron" of beauty with plans to reinvent beauty retailing.
Women's Marketing: What consumer trends did you see that led you to believe that LOLI would be successful?
Tina Hedges: For over a decade, I had a wonderful corporate career at the beauty biggies (and was involved with launching many of the marquee name brands on the top shelf of every woman's bathroom cabinet), but often pushed the envelope and asked "why"––why did we need to use preservatives, why did we need to use formaldehyde, why did we want to extend a product's shelf life to 2+ years? Years later in my first start-up, I broke with convention and launched the first sulfate-free, vegan hair care brand in specialty stores. It was 2005 and green beauty was considered niche, and I remember getting push back from both retailers and industry leaders who said that women would never give up their beloved, foamy 'poo. Now, natural beauty even has dedicated retailers, like Credo, and being free of sulfates, parabens and other "nasties" is almost a requirement given that 46% of consumers are concerned about chemicals in their personal care products
But it's not just what's in your product that matters—the provenance and purity of ingredients matter as well. Prior to the emergence of the farm-to-table movement, we were detached from the provenance of our food. In beauty, I believe there still is a lack of transparency and authenticity surrounding ingredients. Add in a dash of wanting to personalize beauty products to meet my specific needs and the idea of blending your own small batch beauty just seemed so obvious, a necessary and timely solution.
Women's Marketing: How have consumers responded to LOLI beauty? Who is your core demographic?
Tina Hedges: It's amazing to see how LOLI resonates across traditional marketing demographics. LOLI appeals to a woman who has a "Millennial mindset" versus fitting into a specific age group. We have loyal customers who are 22 and equally enthusiastic women who are 42+. The common denominator is they care about what they eat (from seeking out clean food to being vegan), they are committed to self-care and wellness (yoga, meditation, etc..) and they are mindful of the environment.
Women's Marketing: How do you develop the "recipes" for your products and keep it fresh each month?
Tina Hedges: This is the wonderful aspect of LOLI. We can be seasonal and use fresh ingredients, like herbs and flowers, according to the month. Our boxes and products are also inspired by ancient wisdom from around the globe. In fact, women have blended natural beauty in their kitchens for centuries. We pair these recipes with affirmations to bring the heightened energy of ritual back into beauty, too.
We also have a mind + body + spirit theme. Every box contains several products, each with multiple uses and these products can be mixed and matched to customize multiple treatments. In fact, the value for the consumer is huge—many natural brands charge the same price for one product that we charge for our monthly box!
Although our subscription box changes every month, we do have favorites (selected by our community) and our next step is to offer these products for replenishment.
Women's Marketing: What are the challenges you face in sourcing ingredients?
Tina Hedges: It can be quite daunting when you know all the potential pitfalls and stumbling blocks to launching a new beauty brand, but I also remain convinced that the world doesn't need more "stuff" in bottles and that belief keeps me energized to reengineer beauty.
This is not my first time in the start-up world, so even though there are a lot of moving pieces and we source ingredients from around the world, we know how to juggle what otherwise can be daunting for an indie brand. For instance, we don't stockpile ingredients 6 months to a year in advance, as everything is fresh and made to order.
Also, as a member of MADEINTHEFREEWORLD.org, it is super important to us to police the supply chain for people trafficking. Even NGO's in India that are dedicated to stopping people trafficking may be unknowingly importing organic cotton, for example, that comes from sources that traffic people.
Women's Marketing: Your commitment to natural and organic is evident in your products, but also in your sustainable packaging, and in your support of charitable causes. Why do you believe this is important to your consumers?
Tina Hedges: We are committed to making beauty mindfully which involves thoughtful sourcing––so we can be "people free" (as in no people trafficking), recyclable, and recycled. We also have a new initiative to be as "tree free" (paper and boxes) as possible thanks to our recent collaboration with VERITIV Corp.
This mission comes down to our disdain for the overabundance of goop in non-recyclable bottles. Our thinking is how we can make it more sustainable? Women deserve to get premium, ingredient-based solutions at the best price that they can tailor to meet their particular needs. Even better if we can give them an alternative solution that also happens to be earth-friendly and MADEINTHEFREEWORLD.org
Want to learn more about the latest trends in natural beauty? Watch our webinar to learn how wellness is impacting every industry, download our whitepaper on the latest beauty trends, or contact us to tap into our expertise in the beauty category!