Search Engine Optimization and ecommerce merchandising are closely intertwined, and yet most ecommerce brands separate the two as if they were entirely disparate concepts. However, if brands were to marry merchandising and SEO, they would be able to reach more consumers while providing better UX, ultimately moving customers down the funnel faster.
Not convinced? Let's consider the role of each.
At its most basic level, the purpose of SEO for ecommerce brands is to enable top-of-funnel brand discovery and increase organic traffic. But brands often underestimate the scope of SEO and its effect on all stages of the buyer's journey. As search engines make user experience increasingly important to organic rankings, SEO strives to engage mid-funnel users with various on-page optimizations and content creation. And naturally, SEO always has its eye on lower-funnel KPIs: namely, sales revenue, average order value, and conversion rate.
On the other hand, ecommerce merchandising is the process of curating customer shopping experiences to encourage sales once the customer is already engaged with the brand—just like brick and mortar merchandising. An effective merchandising strategy will enable product discovery, engage people, and convert users into buyers.
Sounds a bit familiar, doesn't it? Fundamentally, SEO and merchandising both touch on all aspects of the Buyer's Journey: awareness, consideration, and decision.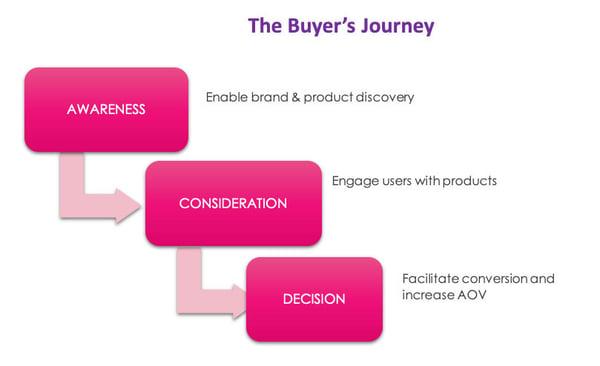 Bringing these two strategies together makes them each more effective. Ultimately, infusing your merchandising strategy with SEO will have a positive impact on organic rankings and traffic (SEO), conversion rate optimization (CRO), average order value (AOV), and more.
SEO Merchandising for Your Brand
If you haven't already integrated SEO into your merchandising strategy, here are several key components to watch for according to various stages along the path to purchase.
Enable Discovery
Discovery happens in two stages: brand discovery and product discovery. Imagine your business is brick and mortar, and a roaming shopper stumbles upon your store windows. The first thing that consumer will do is poke their head in to see if they like the atmosphere. If the store is poorly laid out or the ambiance is just 'off,' they will immediately bounce over to the quaint boutique next door.
Google Search is the same. Successful SEO has earned your site real estate on page one of the SERP. Your title tags and meta descriptions are your shop windows. A user decides to click through, immediately assessing whether they might buy from the brand. Solid merchandising wins them over, and they move from the brand discovery phase to the product discovery phase. But if your navigation or page layout looks disorganized or disreputable? The user bounces over to the competition.
To facilitate product discovery at both the organic and internal levels, here are some of the first elements we examine:
Page Titles

and

Product Naming Conventions

:

D

o page titles and product names compel users to click through? Do they contain target keywords?
Main Navigation

and

Site Architecture

:

Is

the main navigation intuitive? Where

might

a user become stuck or unsatisfied?
Related Products

:

Can

users easily discover related products on a given product page? How are thematically related products grouped on category pages?
Upsells

:

Can

a given product be bundled or upgraded? How is the upgrade displayed?
Engage
Engaging with users once they have discovered your brand or products is critical in nurturing the path to purchase. Ecommerce shoppers should feel like your products are at the tips of their fingers: they could pick the product up, try it on for size, or ask questions of a knowledgeable salesperson. This will likely mean that your site has in-depth content; more content means more on-page elements to optimize for target keywords.
Here are some of the key elements to analyze when asking how your audience can engage with your products:
Images, Videos, and Visuals

:

Do

product images draw users in, communicate your message, and/or display relevant product angles? Are alt text, file size, closed captions, etc. SEO-friendly?
Product Page Content

:

D

o product pages demonstrate value and address audience concerns? Is this content optimized for target and semantically related keywords?
Blog or Topical Content

:

A

re product or category pages and blog content interlinked with optimized anchor text? Is this content optimized for target and semantically related keywords?
Convert
The critical, final step in the Buyer's Journey is Conversion Rate Optimization. Here, we are not only aiming to eliminate distraction and direct the consumer to the check-out line, but also to increase the average order value. Here's what we look at first:
Urgency

: A

re sales events advertised with a shopping deadline or countdown timer? Are shipping estimates provided in a time-sensitive format

?

Recently Viewed

: C

an users easily re-discover products they have recently viewed?
Discounts and Deals

: O

n the checkout page, can users see discounts both by line item and on the order total? Can users see how much more money they will need to spend to qualify for free shipping?
We ask these questions because they lead to opportunities around improving brand and product discovery, enhancing user experience, and encouraging conversions.
How An Agency Can Help
At Stella Rising, our award-winning team merges SEO expertise with extensive competitive analyses to help your brand create an informed, SEO-optimized merchandising strategy. Learn more about our SEO services, on-site strategies, and content management services by connecting with us today.