Using AI in effective marketing strategies is not new; at Stella Rising, we have long been focused on the ideal balance of human touch and machine automation. However, generative AI is a new—and transformational—tool, one which our broader agency is committed to using to drive efficiencies across paid search, paid social, and SEO (see how we do it here).
Particularly in the paid search space, automation has been beneficial for optimizations, freeing our team to focus on strategy. What's more, search advertising has become increasingly complex—platform restrictions, cookie deprecation, and iOS updates have all played a role in making it more difficult to reach target audiences. Machine learning algorithms help us analyze vast amounts of data to identify patterns and insights that can be used to optimize campaigns, gaining efficiencies and wins in spite of new digital hurdles.
In 2022, Google's Performance Max was a big development and—when managed properly—has driven outstanding gains for Stella clients. What are the key advancements that have been unleashed since?
RECAPPING RECENT AI INNOVATION FROM GOOGLE
Demand Gen is an upgrade from Google Discovery and combines the best of YouTube Video Action with Discovery into one AI-powered format to maximize performance. Demand Gen ads show up on Google's most entertainment-focused surfaces: YouTube Shorts, YouTube Instream, YouTube Feeds, Discover, and Gmail.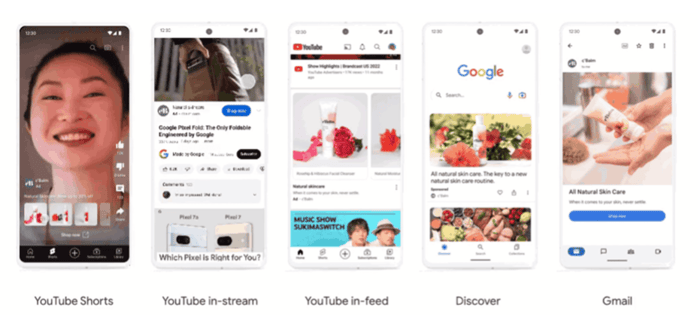 Image Source: Google
Google also has new functionality for AI-powered search ads in pilot. Through this advancement, generative AI works to tailor copy for each user based on their search intent and landing page content.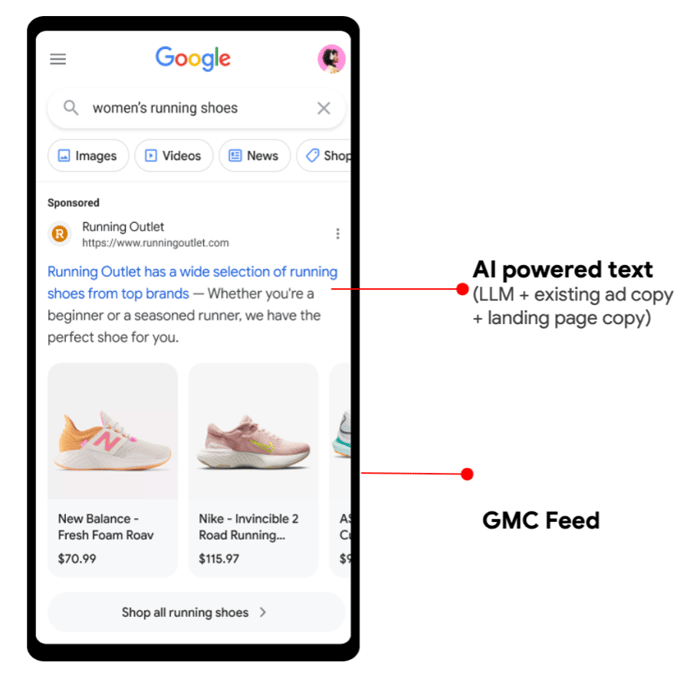 Image Source: Google
Google has also promoted Broad Match paired with Value Based Bidding (VBB). Google has even recommended brands pause Phrase Match and consolidate exact and broad within the same campaign, allowing the algorithm to do all of the heavy lifting. The Stella POV, however, is that Broad Match works to cast a wider net and that layering VBB helps guide the algorithm toward consumers primed for conversion. However, when brand and top-performing non branded terms are negated from Broad Match—we want a more controlled approach to maximize visibility—we see that Broad Match struggles to drive stellar efficiencies. Instead, Broad Match should be a means of expanding reach and honing in on new searches and consumers; performance expectation should align with that effort.
RECAPPING RECENT AI INNOVATION FROM MICROSOFT
Microsoft Ads recently launched Performance Max on Bing, offering advertisers increased capabilities and optimization opportunities.
Microsoft Ads also introduced Compare and Decide Ads—launching in early 2024—that provide advertisers with a new way to engage and capture the attention of potential customers. Through the Compare and Decide format, shoppers can compare different products using criteria that's valuable to them.

Ads for Chat API, announced in May, serves ads in chat platforms; Snapchat and Axel Springer have led the charge, embedding the technology into their own chatbots and customizing appropriately.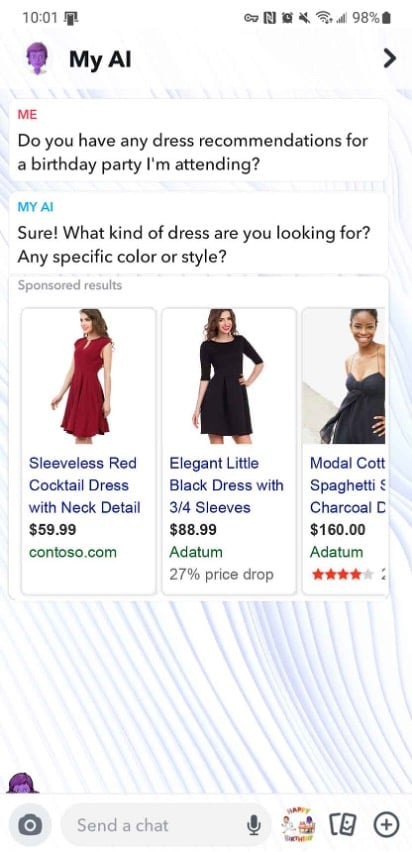 Image Source: Microsoft
Lastly,

Microsoft Ads offers Copilot, an AI-driven feature that provides insights and recommendations to improve campaign performance.
At Stella, we believe that AI—and generative AI—can maximize advertising efforts, but that perfection is in the balance. Every day, our team manages a blend of trusting algorithmic optimization and maintaining a hands-on approach. AI may not always perfectly align with a brand's identity, values, or unique customer base. What's more, algorithms are not able to predict unforeseen events or sudden shifts in market dynamics. The combination of human insight, creativity, storytelling, and emotional connections with audiences is crucial for advertising success.
As AI technology continues to improve, its role in search advertising will only become more critical. As Microsoft and Google invest significantly in AI-powered features and capabilities, we'll bring the best to our clients—driving a competitive edge—and keep you apprised of the most important advancements.