Before someone views a Twitter account's tweets, the first thing they notice are the number of Twitter followers versus the number of followings. Even if you do create the most interesting 140 characters, the impressions you receive on a tweet is determined by how many Twitter accounts are actually interested in or following them. Your number of followers is pretty much directly correlated with how many people find you interesting, thought-provoking, and/or an expert at whatever you claim to be. So, how can you improve it?
For those of you managing a brand's Twitter followers, I'm sure you have come across those propagandic offers that claim to offer X number of twitter followers for X amount of money. However, even if these do happen to work, there is little guarantee that your tweets will be exposed to the Twitter accounts you care most about. So, what can you do instead? Contrary to popular belief, and with a little effort each day, you can organically build your twitter community the right way. Here's a brief guide of how to do so using Flying Point Digital's proven success story!
Define Yourself
One of the first things you have to do decide is the general focus of your Twitter account. Whether it's a personal account or a branded account, you have to ask yourself, "What am I (are we) an expert in?" and "Who is my target audience?"
As a digital marketing agency that focuses on e-commerce and retail industries, we can give our insights on a quite a few topics: SEO, SEM, Social Media Marketing, Paid Search, Facebook Ads, etc. Of course, this is only a short list, but it gives us a place to start. Secondly, our target audience seems to be comprised mainly of our digital marketing peers (thought leaders) and DIY marketing small business owners.
Answering these two questions is half the battle! The more clearly you can define yourself and your target audience, the easier it will be to start building a large quality of followers.
Optimize for Search-ability
Before you start going crazy with hashtags, the first thing to do is update your "About Us" section with keywords your audience will be searching for. In our case we chose, "The premier #digitalmarketing agency for #retail and #ecommerce." Keep this statement as clear as possible so people know who you are prior to viewing your profile. Also, be sure to include key hashtags. They will increase your exposure for people searching specifically for the keywords you use. If you'd like, it's also nice to add your location and any links to your personal or brand's website or blog.
Twitter's updated streamlined design has given you a huge space for your cover and profile picture. Be sure to optimize both of these to complement each other no matter what screen size! We found that simple is better to avoid any resolution issues: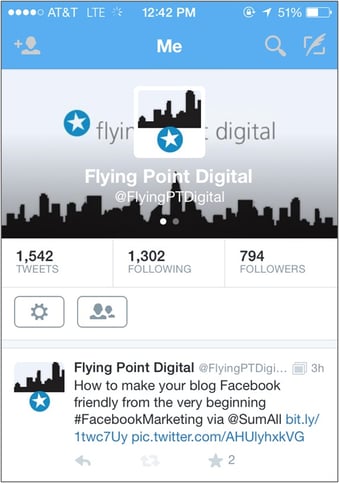 Strategically Follow
There are a few ways to start looking for accounts to follow. You can start by utilizing Twitter's own "people" search. Below is how we started to find industry leaders in "#SEO". This is an easy way to find important thought leaders. Invariably, this will also create more follow-back opportunities!

As you begin your search, also check to see if other Twitter accounts have created lists. In a nutshell, lists are a sub-community created within a Twitter account. largely underutilized, lists serve as a sort of short cut to help you discover accounts that have piqued the interest of your community. @Buffer, a fantastic online social media management tool, has created a list of Social Media Pros that allowed us to quickly follow some awesome accounts.
Another way, and by no means the last way, is to use the #Discover tool located at the top of your account. Twitter has made is simple to find suggested accounts to follow based on your interests, following and content that you tweet.
Note: It's also worth auditing your Twitter following every week. If a Twitter account is inactive (2+ weeks or so) or hasn't followed you back for some time it's definitely worth revisiting why you followed them in the first place. JustUnfollow is a great FREE tool to do this.
Strategically Tweet
When fashioning a tweet make sure to hit that "sweet spot". Your first order of business is to attach an image. Tweets with images have a 94% better chance of being retweeted. Make sure to aim for no more than two #hashtags with 70 to 100 characters, and research when your Twitter community is online. Tools like FollowerWonk, Klout or Buffer are just a few options. Weekends are also your best bet for a great CTR. You can read more hand tips from Twittercounter here.
Once you have built you community, you'll have a rich source of tailored content. Start getting used to RT (retweeting) and MT (modified tweet) followed by the @author and their content. The best way to get noticed is to quote your fellow Twitter followers when they publish something interesting. It will get you noticed and direct others back to your Twitter handle! You could also repurpose interesting articles you read as a tweet. Just remember to give credit where it should be given.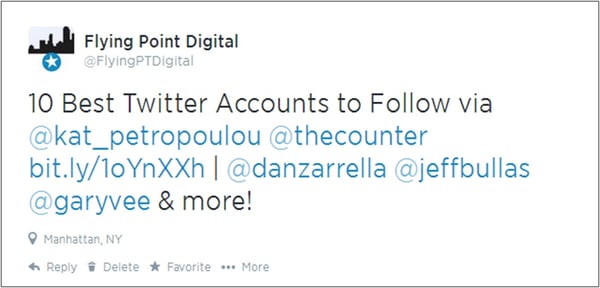 Join a Twitter chat! Twitter chats are a surefire way to get yourself noticed. There are many sectors that host Twitter chats so it's important to find ones you care about. Share your expertise, reply to other thought leaders, and gain some great exposure. A few of them we love are #BufferChat, #BrandWatchTips, and #MediaChat.
Also, make sure you are responding to tweets that catch your eye. People-to-People or Brand-to-Brand engagement is an excellent way to incentivize a follow-back or and leverage others' followers. You can always use the quick options below each tweet to favorite or retweet as well.
Our Results!
In a little over a month we grew our Twitter following by 212%, from 253 to just about 800 followers! And wouldn't you know, our Klout score followed the same trend! A big shout out to our @FlyingPTDigital Twitter followers for helping us grow.