Have you ever noticed the positive correlation between the rate at which technology changes and the rate at which consumers change? How does this happen? A brand creates an app or shares an interactive quiz, and suddenly consumers expect all brands to have an app and interactive quiz. If X Company is doing this, why isn't Y Company also doing this?
We can both thank and blame the digital first movers of any industry for taking the lead and forcing other companies to keep up. When brands innovate their content and social media strategies, consumers expect all other brands to innovate and update at the same pace. They expect the latest and greatest digital experiences before they even know what the latest and greatest is. How can any brand possibly stay ahead of the curve?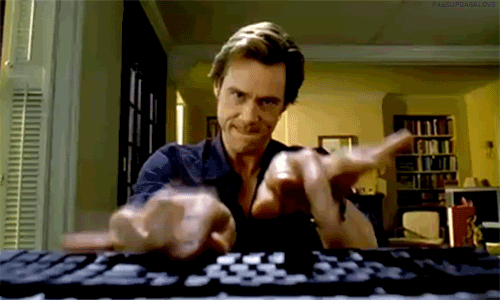 The answer will come as no surprise: interactive media. According to the Content Marketing Institute, 73% of content creators plan to prioritize creating more engaging content in 2016, and 55% plan to prioritize creating visual content.
Regardless of your campaign or brand objectives, incorporating visual, interactive media in your social media strategy is necessary to stay relevant. Consumer demand for engaging content is becoming the norm, and your brand can see shocking ROI increases when you begin transforming your visual content.
The human brain processes visual information 60% faster than text, which is the driving force behind the need to continually test the boundaries of interactive media and visuals.
Visual content is more than 40 times more likely to get shared on social media than other types of content. (Hubspot)
Shoppers who view video are 1.81 times more likely to purchase than non-viewers. (Hubspot)
Infographics are liked and shared on social media 3X more than other any other type of content. (Hubspot)
People following directions with text and illustrations do 323% better than people following directions without illustrations. (Hubspot)
80% of the most shared articles on social media are quizzes. (SnappApp)
All the cool kids are doing it…
The value of visual and interactive media is obvious. It's a topic that's highly discussed in the social media industry, and a lot of marketers are sprinting to update their initial campaign plans. With consumers seeing 86 sponsored posts every month, it's only a natural progression for social media marketers to start innovating what they're presenting to the consumer. As everyone is jumping on board the visual content train, how can we anticipate what train is coming next and gather the resources necessary to keep us from being stranded on the platform?
A few months ago, Facebook released Canvas, "an immersive and expressive experience on Facebook for businesses to tell their stories and showcase their products." Canvas allows brands to use combinations of videos, images, and CTAs to create interesting content for consumers to view. In Canvas, people can swipe through a carousel of images, tilt to view panoramic images and zoom in to view images in detail. Facebook boasts that "some of the world's best brands are already telling their stories on Canvas", and go on to include logos from Macy's Target, and BMW as examples. Not everyone can update their strategies and turn around new creative and content within the millisecond speeds those brands like Macy's, Target, and BMW can.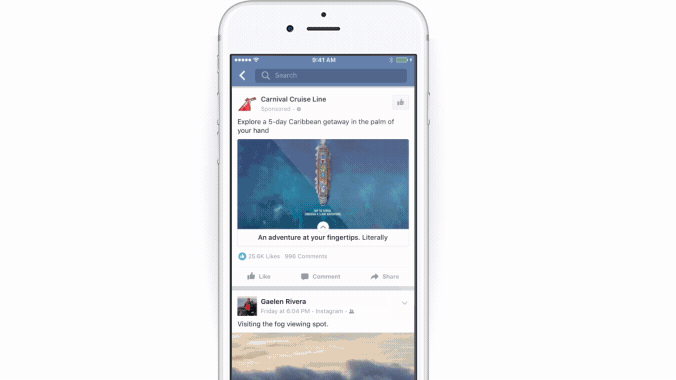 This spring, Clinique launched an interactive microsite campaign titled "Play with Pop", where British singer Zara Larsson is featured in 4 different bold Clinique makeup looks. The microsite fully immerses you into their brand, the campaign, the singer, and does an impressive job of enticing you to try the products by engaging you through the story of the campaign. When you first arrive to the site, you're forced to choose a lipstick color to continue. As you explore the 4 different lipstick shades, you explore how they change the way Zara looks and dresses based on the different facets of her personality. Sounds just like you right? Do you change your lipstick shade based on your mood? Yup, Clinique is spot on.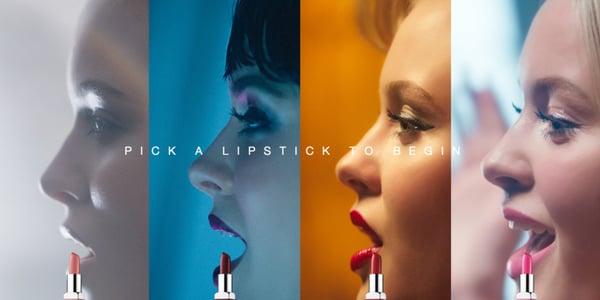 How can you join the interactive social movement without being a Fortune 500 company?
People love to be the star of their own story. Brands should offer consumers an experience to not just see or follow their story, but also an opportunity to engage with and become a part of the storytelling experience.
Quizzes and Surveys: Quizzes and surveys are a way for your consumers to identify which of your products or services fit their needs best. For example, a brand could offer a personality test to help determine which jewelry collection a consumer should wear based on his or her personality, or a skin type quiz that determines what type of makeup is best for his or her complexion. Consider embedding the quiz or survey on your website to increase your social referrals, or create a custom Facebook application where consumers can answer questions.
Calculators: For brands that aim to advertise a product or service that will help serve a consumer or company's bottom line, an interactive calculator that allows them to see the potential impact your product could have on their sales or lifestyles will absolutely have a bearing on whether or not they want to purchase what you're selling them. For example, a wine of the month club could create a calculator that determines how much money consumers can save if they purchase wine through their system instead of through local liquor stores.
Infographics: Although infographics aren't exactly interactive, they still have strong potential to grab consumer attention. Statistically, infographics are the most enticing type of image on social media, and allow you to tell a story through images, which is a powerful tool. Although it helps, Infographics don't have to be sprinkled with numbers and data. Use this form of visual content to educate your consumer. (We love Piktochart!) For example, if you're an organic food brand, create an infographic that describes why your products are much safer than the average product in your category. By doing this, you're educating and "wowing" your consumer with facts they never knew!
User Generated Content: What better what to incorporate your consumer into your brand's storytelling then by featuring their photos and experiences with your brand? According to an Elite Daily study, 62% of Millennials say that if a brand engages with them on social, they are more likely to become loyal customers. Consumers will love being featured on your social media channels or website, and will feel that they're making an impact on the story of your brand. To encourage user-generated content and to create a beautiful curation of 'grams featuring your products, considering using tools like Pixlee or Olapic to share user-generated content on your website. For example, see our our client Adrianna Papell's website!
Videos and GIFs: Need we say more? They're all over your newsfeed, and probably always will be. Utilize these types of visual content to increase engagement and relate to your consumer. Video has the ability to convey a powerful message to viewers, in a way that static forms of content cannot. Pose questions in your videos that you think your consumers might have. For example, a makeup brand trying to sell a new line of makeup removers can create GIFs or videos that relate to how lazy women can be at night when it comes to removing their makeup.
Often, the hardest part in creating unique, fresh social media experiences is a lack of resources or time. Below, our infographic lists of some of our favorite visual media tools that your brand can utilize to innovate the consumer's social media experience.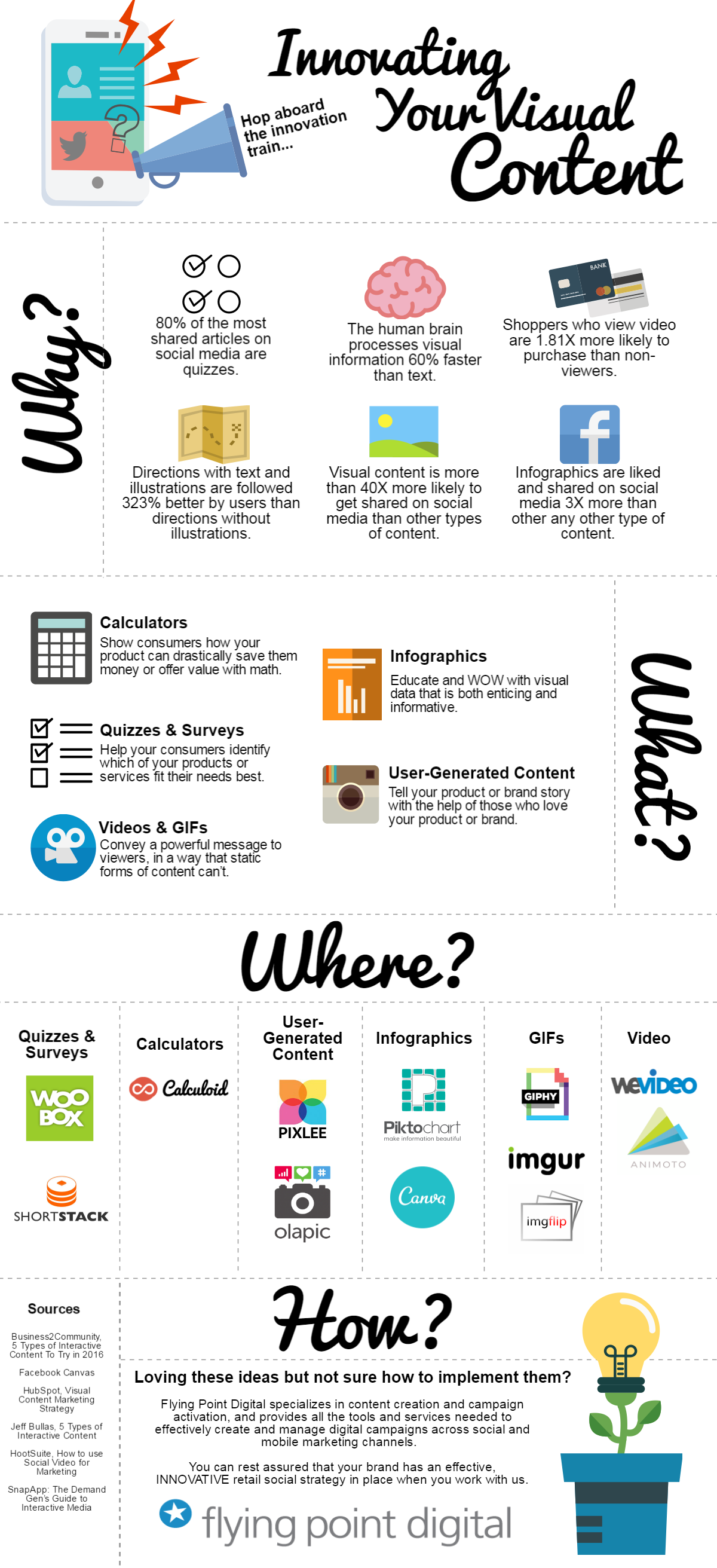 Loving these ideas but not sure how they relate to you?
We can help! Flying Point Digital specializes in content creation and campaign activation for retail and e-commerce. We provide all the tools and services needed to effectively create and manage digital campaigns across social and mobile marketing channels so you can rest assured that your brand has an effective, INNOVATIVE retail social strategy in place.
Sources:
SnapApp: The Demand Gen's Guide to Interactive Media [Whitepaper]
Business2Community, 5 Types of Interactive Content To Try in 2016
HubSpot, Visual Content Marketing Strategy
Jeff Bullas, 5 Types of Interactive ContentHootSuite, How to use Social Video for Marketing