Google recently announced that it will be redesigning the now 15 year old AdWords platform for a multi-device world and so that advertisers can navigate and use the platform easier. The new AdWords experience is set to fully release by the end of 2017, but over the next 12-18 months, pieces of the redesign will roll out for testing and feedback.
Why Is AdWords Changing?
According to Paul Feng, the AdWords product manager director "AdWords was built when Google was just figuring out what search advertising was…and there is now increased demand on marketers and on AdWords as a platform — advertisers are running ads in search, display, shopping, mobile, video."
What's changing In AdWords & How?
Google AdWords interface will be redesigned using Google's Material Design Language, which is a visual language that merges the principles of design with innovation, technology and science. Google already uses Material Design for Gmail, Maps and Search.
What we know now is that functionality will not change in the new interface, instead the way data is displayed and shown will be the focus of the redesign. While information is limited right now, based on the screenshots provided, we can see a simplified, culled down version of the interface forming:
Overview Screen: A dashboard view available at the campaign, ad group and ad level which will include four main metrics
Secondary Navigation: Secondary navigation in the overview screen surfaces locations, ad extensions, ad schedules and devices, rather than being buried under the settings or in a different view in the existing interface.
Simplified Keyword View: Google will remove the non-keyword related navigation from the view, leaving just keywrods, search terms and negative keywords in view/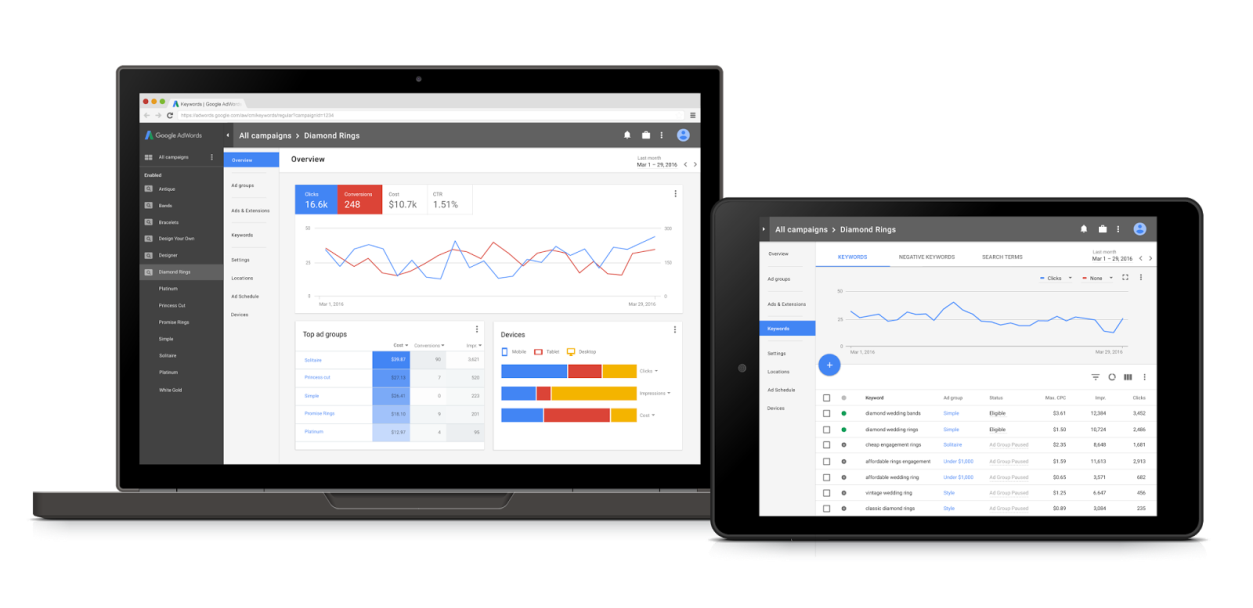 What this means for Paid Search Advertisers
While we wait for the release (and hopefully the call from Google to participate in testing), Paid Search advertisers should be excited for the new release- A simplified platform, with easier navigation and more detailed views can help cut back on optimization and improve overall campaign performance.