2017 is shaping up to be "the year of video". A few years ago, Buffer predicted that by 2020, 80% of all online communication will be in the form of video. Every year is "the year of video" until we find another content type that proves to be even more engaging and an even better driver of brand or product awareness.
But, it's not enough to just start sharing videos tomorrow. There are endless tips, tricks, and strategies to craft the perfect social video that will truly stop users in their tracks as they're scrolling through their feeds. We like to call this "scroll-stopping" content. If a brand can't grab viewers' attention within the first 10 seconds with a "WOW" moment, they can effectively slow the "speed of the feed" and make users stop and absorb your marketing message.
So, how can you ride the video wave and produce scroll-stopping, optimized footage? We're so glad you asked…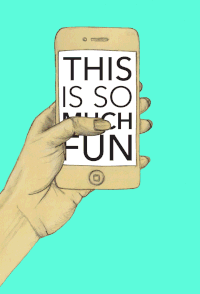 As champions of social content, Flying Point Digital is constantly bookmarking the newest and next best practices for the art of video across beauty, food, and retail industries. Here are our top 5 video insights to keep in mind before your cameras start rolling.
1. Don't Push Your Limits
The length of your brand's video content should be optimized per social channel you plan to share it on. The maximum time each channel holds is as follows:
Facebook: 120 minutes
Twitter recommends keeping videos under 30 seconds
Instagram: 60 seconds
Snapchat: 10 seconds
However, keep in mind that just because those are the MAX video lengths, doesn't mean you should use all of the time you have to use. If you think you can hold a user's attention on Facebook for 120 minutes, think again! Of the most engaging uploads on YouTube, videos that were between 16 seconds and 2 minutes in length had 53.8% of all views. On Facebook and Instagram, the sweet spot for a 100% video completion rate is 10 – 20 seconds.
YouTube is the place to house your longer video content. Over 100 million of YouTube's watched HOURS are spent on how-to tutorials. Taking time to explain how to apply mineral foundation or craft the perfect cheeseburger with step-by-step direction will engage your viewers and hopefully encourage them to buy your product.
Even though there is no limit to how long video can be, cut out the fluff and keep video as short as possible without hindering content value.
2. Push Play for a Purpose
What is the marketing message you want to get across in your video? How many seconds do you need to use to get your point across? Are you introducing a new product or launching a new collection? Are you educating consumers or increasing awareness? Whatever your objective may be, make it known clearly, concisely, and quickly. Along with starting strong, feature movement within the first few frames. Don't open with a brand's logo. The movement will catch users' eyes and draw them in. Finally, of course, include a strong CTA to drive your point home.
3. Did You Hear That?
Studies show that your viewers most likely didn't. While Facebook, Twitter, and Instagram all offer "Autoplay" to immediately have your video run in newsfeeds, the video plays automatically without sound. It's no surprise then that 85% of Facebook videos are watched without sound. Make your message and content clear to users without them needing to pump up the volume. If your video can't fulfill its purpose without voice overlay, use captions! Facebook Video View ads with captions receive an increase in watch time by an average of 12%.
4. Get Vertical
Simply put, we hold our phones vertically 94% of the time. Because of this, brands need to remember to craft video vertical first, especially considering that mobile devices account for more than 70% of the total views (at least on Facebook!). From that 70%, 94% of those views are being watched with vertically. Not many users rotate their screen to avoid the black border. Provide a better user experience and maximize screen by going vertical.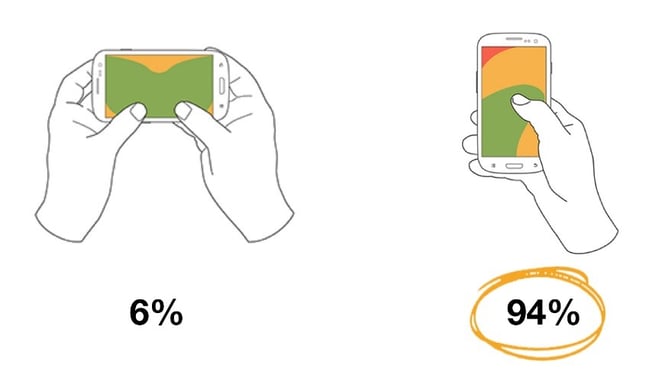 Image Source: Form Meets Function
5. Channel Each Channel
To really win at social video, craft content specific to each channel, channeling the style of the platform you're own . Facebook says their best performing video content is "smart, shareable, and personal". Twitter claims to be the best for "direct, social, and real" video footage. Snapchat says their best performing video content is "getting attention".
Facebook is rated as the most impactful social channel for video — 8.4X higher than any other social channel. That adds up to over 100 million hours of video watched every day. To put it into perspective, it would take 1 person over 11,000 years to watch all the video content society consumes daily. If you can't create unique video per platform you plan to share on, take a Facebook first approach.
---
Below are a few of our favorite pieces of video content from a few of our brands to help inspire your video marketing strategy.
Food: La Bottega di BelGioioso
[embed]https://www.instagram.com/p/BUpiNfYBKHR/[/embed]
Makeup: jane iredale
[embed]https://www.youtube.com/watch?v=yJ0-nDCYpig[/embed]
Hair: Drybar
[embed]https://www.youtube.com/watch?v=2AIpAg_BMqU[/embed]
All in all, keep your video strategy simple and focus on perfecting one channel (we recommend Facebook) before trying to do it all.