During the last six months, social media usage has soared, helping shape the shift to ecommerce. Consumers are relying on social media for product discovery, and brands are investing in the increased engagement. Amazon, recognizing the power of social, has launched a beta program that mimics the look and feel of social media, specifically Instagram. The beta is called Amazon Posts, and it aims to push browsing behavior on-site. As I expand growth for our clients via Amazon, I am constantly exploring new ways to drive traffic, engagement, and sales; here is a breakdown of Amazon Posts and the ways it may benefit your brand.
WHAT IS THE AMAZON POSTS PROGRAM?
Amazon Posts is Amazon's attempt to bring an image-based browsing experience to its platform. Once enrolled, brands are able to create posts that highlight their brand and products in the hope of inspiring consumers to shop. Brands can link posts to their ASINs, driving consumers directly to the product page for conversion.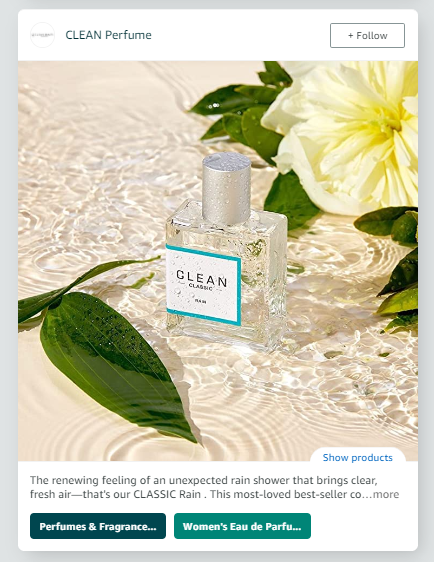 WHAT ARE THE BENEFITS OF AMAZON POSTS?
The largest benefit to the Amazon Posts program is an increase in brand awareness. By repurposing content previously created for social channels, new and existing consumers are able to view and interact with posts in a variety of locations throughout Amazon. Another benefit of the Amazon Posts program is that it is currently free to participate in. As there is no cost associated at this time, the opportunity to engage with consumers and drive potential incremental revenue can only benefit participating brands.
ELIGIBILITY AND SIGNING UP
To participate in the Amazon Posts program, brands must be enrolled in Amazon Brand Registry and have an active Store on Amazon in the United States. If they meet the listed criteria, brands are able to visit the Amazon Posts landing page and select "Get started" to enroll.

HOW TO APPROACH A CONTENT PLAN
As mentioned, an easy way for brands to begin posting is by repurposing product-focused content from their social channels. These posts should be brief, highlight the product featured in the image, and tag the ASIN in the post. Brands should share their content in Amazon Posts as often as they are on their social channels. A consistent stream of new content is a great way for brands to feature a wide range of products as well as test which content speaks to the Amazon consumer. At this time there is no limit to how often brands can post!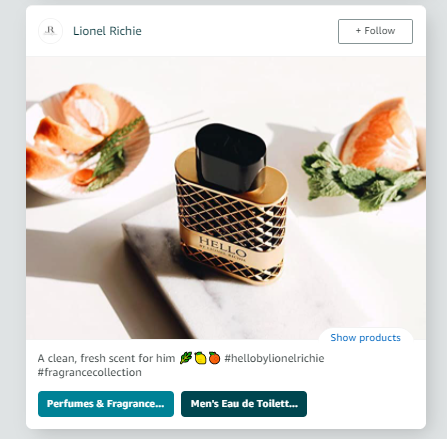 CAN I SELECT WHERE MY POSTS DISPLAY ON AMAZON?
Currently, brands are unable to control where their Amazon Posts will display; like many new Amazon programs, Amazon determines the placement. Amazon's systems automatically share a brand's posts within relevant locations based on customer engagement. These locations include product detail pages as well as the feeds of relevant products and relevant categories. As these categories are systemically chosen based on relevancy, they also depict interactive tags that allow consumers to further explore the brand or other posts within that specific category. Additionally, consumers are able to select the brand name on the post and go directly to the brand's feed to further engage with posts and products specific to the selected brand.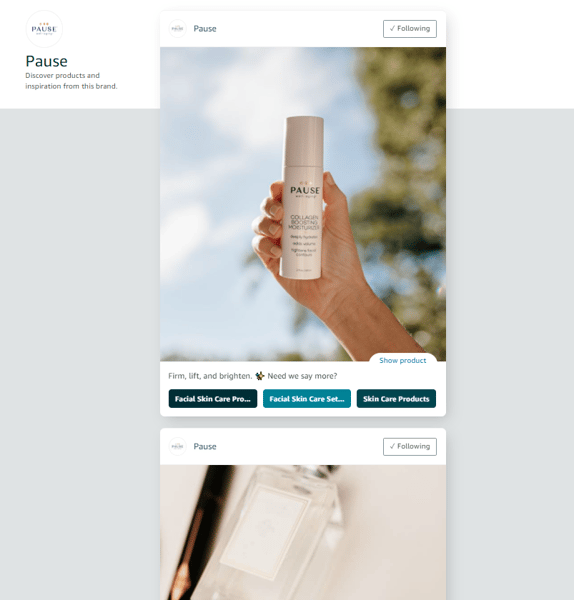 METRICS TO EXPECT
Amazon provides a variety of metrics on the available data from Amazon Posts, including viewable impressions, total engagement, clicks to detail page, clicks to brand feed, clicks to related feed, clicks to show product, clicks to expand caption, and engagement rate. Unfortunately, at this time brands are unable to directly attribute revenue to any posts. While conversion metrics from posts are unavailable, the program does provide valuable metrics and allows for A/B testing, offering brands insight into which content speaks to their consumer group.
Amazon Posts aids brands in increasing discoverability through consumer engagement on Amazon at no additional cost. The image-based browsing experience works to increase brand awareness by sharing cultivated posts across a variety of locations on Amazon. While only available to qualified brands, the Amazon Posts program assists these brands by providing another social channel to engage in customer acquisition during this critical time. In a crowded marketplace, leveraging Amazon Posts is yet another tool brands can use to differentiate themselves from the competition. If your brand is interested in leveraging Amazon Posts, or addressing your larger Amazon strategy, connect with us.