There is a new Amazon brand benefit on the block—and it could be the key to getting an edge on the competition in an ever-changing and constantly growing marketplace. After quietly enrolling select brands in their Virtual Bundle BETA Program over the past few months, Amazon made an official announcement on September 25th, stating that the virtual product bundles tool is now available to all registered brand owners. As a Senior Marketplace Account Manager at Stella Rising, I always look for new ways to grow our clients' business; here is an overview of how Amazon's Virtual Bundling tool presents brands with a unique opportunity to increase sales and brand awareness.
WHAT ARE VIRTUAL BUNDLES?
Virtual Bundles are single-ASIN (Amazon Standard Identification Number) listings that allow brands to group together 2-5 complementary products to be sold together as a set. By allowing brands to bundle products together virtually, items no longer need to be repackaged by a logistics team as a single sellable unit prior to shipping inventory to Amazon's Fulfillment Centers. Instead, when a customer purchases a Virtual Bundle, the respective products are pulled from the existing Fulfillment by Amazon (FBA) inventory, so no extra packaging or touches are required on the brand's end. The best part? There are no additional costs or fees associated with creating or selling Virtual Bundles.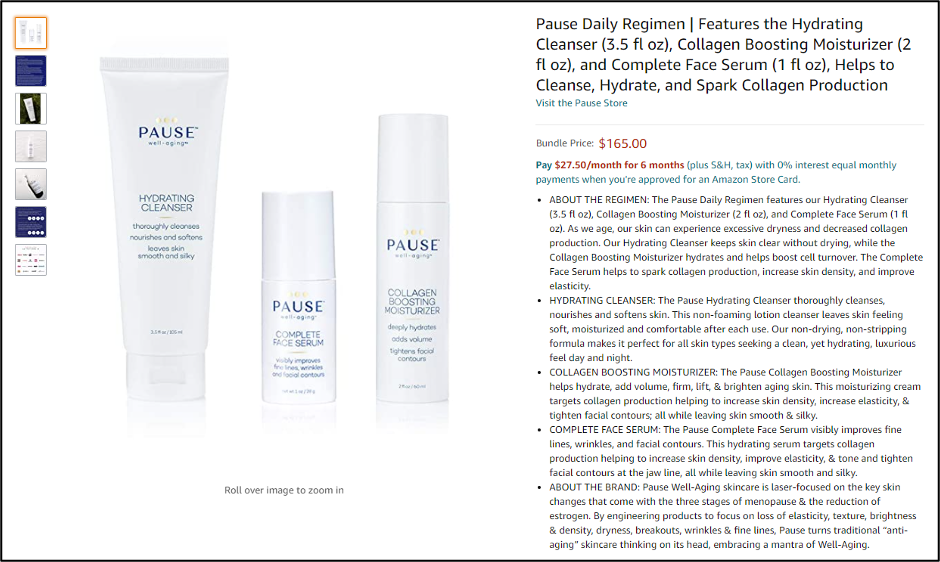 WHY USE VIRTUAL BUNDLES?
Perhaps the most obvious benefit to Virtual Bundles is the opportunity to increase customers' basket size by offering the convenience of purchasing multiple complementary products from a single product detail page. Virtual Bundles also allow brands to introduce newer or lesser-known products within their catalog by pairing them with complementary top-selling items. Lastly, Virtual Bundles are a great option for brands with multiple complementary products or accessories that are looking for new and unique ways to convey that information to consumers.
BUILDING YOUR BUNDLE
When creating Virtual Bundles, brands should be mindful when selecting products to group together. We recommend creating bundles of products that work with one another or appeal to the same type of shopper. For example, a brand that sells haircare products might create a Virtual Bundle containing a shampoo, conditioner, and styling product formulated for curly hair. This grouping makes sense because these products complement one another and likely all appeal to a single consumer—one with curly hair.
Another thing to keep in mind when creating a Virtual Bundle is the bundle's price point. Setting an attractive price point—one that incentivizes customers to purchase from the bundle listing rather than from each of the individual product listings—will greatly improve the chances of each Virtual Bundle driving sales on Amazon.
VIRTUAL BUNDLE LIMITATIONS
There are a few limitations to Virtual Bundles that need to be considered prior to moving forward. Below I have outlined key considerations when building your Virtual Bundle strategy:
Virtual Bundles are only available to Brand Registered sellers
All ASINs included in the bundle must have active FBA inventory in "new" condition
Virtual Bundles are not currently available to Premium Beauty brands
Products with the same ASIN may not be grouped together in a Virtual Bundle
The products that make up the bundle cannot be edited once saved
Virtual Bundle ASINs may not be part of variation listings
Virtual Bundle ASINs have separate reviews and ratings from those of the component ASINs in the bundle, so customer reviews will not pool together in the bundle listing
Virtual Bundle ASINs are not eligible for advertising via Sponsored Product campaigns at this time, though they may be included in Sponsored Brand campaigns
Bundling has always been a popular strategy amongst sellers, but due to Amazon's inability to take on this operationally time-consuming task within their fulfillment centers, the ability to bundle items virtually has been a long time coming. Virtual Bundles provide brands with an exciting and unique opportunity to increase sales, grow brand awareness, and educate consumers about complementary items within their current product offering. The fact that they require no additional legwork and come with a $0 price tag makes them that much more appealing. If you are a Brand Registered FBA seller interested in leveraging Amazon's Virtual Bundling Program, or addressing your larger Amazon strategy, please connect with us.