WHAT IS BEREAL?
Developed in December 2019, social network BeReal has created a new way to share pictures with friends. Every day at a different time, everyone on the app is notified simultaneously and prompted to capture and share a photo in two minutes. Users take a photo on the BeReal app using front and back phone cameras to show what they are doing at that precise moment. No filters, no editing, just realness: BeReal comes at a time when users are fatigued by the curated content shared on social platforms like Instagram and instead want authentic snapshots of real life.
Each post (called a 'BeReal') that a user creates is only shared with their friends. However, it is possible to publicly share a BeReal on the Discovery timeline. This Discovery timeline includes all photos from public users on the platform. Users can retake the photo, but the number of retakes is visible. Also, users cannot view anyone else's posts until they post their own photo. After 24 hours everything disappears, though users can access their old posts. Users can comment or react to their friends posts with "RealMojis."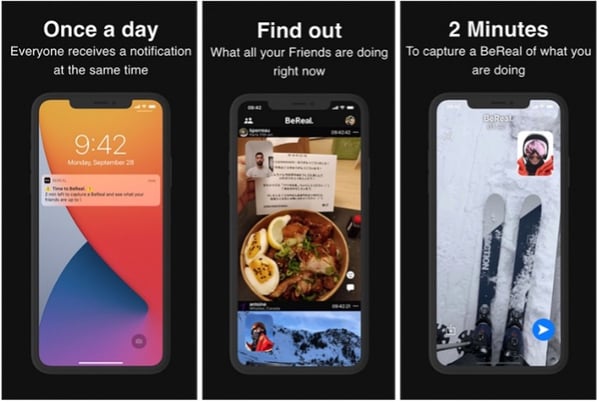 APP INSTALLS & USERS
BeReal has gained 13.5M global installs via the App Store and Google Play since July 2021, with more than 2.70M of those installations in the U.S. (as of May 2022). BeReal also hit a growth spurt in April, garnering up to 3.6M installs during that month. As of April 2022, BeReal had 2.93M daily active users (+29,200% in the last year). As of July, BeReal is the #2 Social Networking app in the App Store.


Globally, the demographics for the app skew female and Gen Z, however, the case is different in the U.S. More than half of BeReal users (55%) in the U.S. are Millennials. Although the app has more female users across most regions, the U.S. saw the highest percentage of male users, at 42%. As for cross-platform usage habits, in the U.S. only 12% of BeReal's users use Facebook, 10% use WhatsApp or Snapchat, 7% use Instagram, and 5% use Twitter or TikTok. BeReal is clearly reaching a new audience.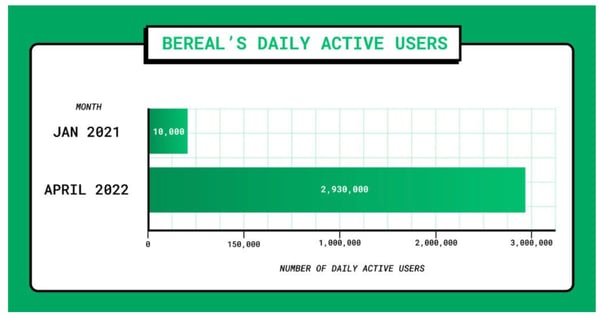 Source: Online Optimism
ADVERTISING ON BEREAL
Brands are not currently allowed to create ads on BeReal. However, due to its rapidly increasing popularity, it is unlikely that BeReal will stay ad-free for long. In the meantime, companies ranging from Chipotle to Delta to e.l.f. are joining the platform. Brands have so far used BeReal to tease new products, offer exclusive codes, and provide glimpses into office life.
We recommend brands stay tuned for future advertising opportunities but assess—right now—whether they should start dabbling organically. Being an early adopter shows social savvy and offers a chance to connect in a peer-to-peer type community. While by its very nature the app does not lend itself to editorial calendars, brands can still have an overarching plan, infusing authentic moments with product and sneak peaks.
Sources: Data.ai, "BeReal Surpassed 10 Million Cumulative Downloads to Date—Boosted by a 5x QoQ Surge in Q1 2022," 2022, Glossy, "K18, e.l.f. and Inn Beauty Project are Paving the Way for Brands on BeReal," 9 August 2022