Consumer taste and shopping preferences are changing profoundly, even in the candy and confection category, where Millennials are expecting higher quality ingredients, an omnichannel, social-first shopping experience, and an authentic brand story. Gourmet candy boutique Sugarfina, founded by Rosie O'Neill and Josh Resnick, has embraced this new approach to become the fastest-growing confections brand in the country. Since launching online in 2012, they've opened 24 Instagram-ready retail locations and 14 shop-in-shops in North America, and have plans to expand globally within the next year. Sugarfina's artisanal candy is made specifically for adults (rosé gummy bears and single-malt Scotch infused chocolates) and sourced from confectioners worldwide, with many products exclusive to Sugarfina. I had the pleasure of speaking with Rosie and discussing how her approach to product, branding, in-store experience, and omnichannel distribution has driven such phenomenal growth.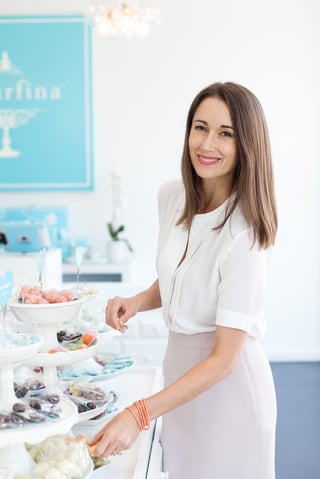 Photo Credit: Joanne Pio
Andrea Van Dam: How did your experience as a Marketing Director at Mattel, and specifically on the Barbie brand, prepare you for being an entrepreneur?
Rosie O'Neill: At Mattel, each of the brands operates as an independent business unit, so I felt a lot of ownership working on Barbie. We had a very rapid cycle of product development which prepared me for the pace of innovation that we have at Sugarfina today. I also had the opportunity to be involved in all aspects of the product life cycle—from design to packaging to customer research to planning to marketing—so I really understood how to take something from an idea to launch and what was needed to make it successful. My time at Mattel was instrumental in helping me develop the skills to launch a business and I wouldn't be where I am today without it. I realize I've probably had most little girls' dream career – first dolls, now candy. It's important to me to have fun and to work on things that bring other people happiness, even if just for a small moment in their day.
AVD: What was the most challenging aspect of launching a new business? What's the most rewarding?
RO: People and people. Your team will make or break your business, and your responsibility as a leader is to build an incredible team of people who work well together and empower them to do their best work. The right hire can change your life, because they can do the job much better than you can. But a bad hire can also change your life, because they have an impact not just on the business but on the team and the culture. Hire people who are intrinsically good people with high integrity and a positive, upbeat outlook on life. And if you make the wrong hire, transition them out quickly. I feel great about the team we have in place at Sugarfina today. They're passionate about the business, they truly own their roles, and they inspire me daily.
AVD: How do you balance responsibilities with your co-founder (and partner) Josh Resnick?
RO: Josh and I have a very clear split of responsibilities and I think that's a big part of why we work so well together. He handles the "back of house," everything related to finance, operations, legal, and HR. And he's great at it. I handle the "front of house," all the product development, design, marketing, retail, sales, and ecommerce. We come together for all the key decisions but we respect each other's domains. I feel incredibly lucky to have found not just my life partner but also my business partner. It brings a lot of fun to our lives to have a shared passion and build it into something great.
AVD: While so many retailers are struggling, Sugarfina is thriving. What makes Sugarfina so appealing to consumers?
RO: In today's retail environment, the successful brands are those who are innovating and offering an experience that you can't get online, and/or a product that is unlike anything else. These brands draw shoppers in because they're offering something fun and unique—there's an aspect of discovery, which leads to social sharing, which leads to more awareness and growth. We designed our store experience to be highly interactive, from our "design your own candy bento box" concept to our in-store tasting events. We're lucky in that we have a product that is enhanced by the in-person experience—everyone loves tasting candy!—but we've also worked very hard to make sure that experience is beautiful and inspiring and makes you feel good. Sugarfina is a candy store for grown-ups and we love to create that "kid in a candy store" feeling, but in a chic and fashionable way.
AVD: What trends are you seeing in retail and how are you responding to them?
RO: Many of the new shopping centers are offering more of a lifestyle experience vs. a straight shopping experience with a nice range of restaurants, theaters, and an interesting selection of boutiques that aren't what you find in your typical mall. Instead of just going there to shop, you're spending a day or an evening there. We do very well in these types of locations… Sugarfina is a great after-lunch or pre-movie treat.
Customization is another big trend. Our retail store is built around customization: one half of our store is dedicated to designing your own candy bento box and we also have the ability to customize our packaging such as for a wedding or baby shower. We're constantly looking for additional ways we can offer a personalized experience.
AVD: Everything about your product—from the packaging to the store interior seems built for social media. How has social played a role building the Sugarfina brand?
RO: Social media plays a big role in the lives of our shoppers and our Sugarfina team. I personally love Instagram because it allows us to develop a creative connection with our customers. I love seeing how they photograph the candies and their reactions to our new product launches. Nothing makes me happier than seeing someone post about making a special trip to the store and treating themselves, or receiving a Sugarfina gift from a friend. We're in the business of spreading sweetness and making people feel special and so it's great to have that constant feedback.
We also love all the fun trends that emerge on social media—it gives us lots of new product ideas. When pineapples were trending, we created the cutest little pineapple gummies. Flamingos are always a favorite, so we designed a pink grapefruit flamingo gummy as part of our tropical-themed collection. Although flavor and quality are our #1 priority, we also spend a lot of time thinking about the aesthetics.
AVD: Looking back, what's the one thing you would not have done?
RO: In a number of cases, we took on a lot of growth when we weren't necessarily ready to support it on the operational side. Demand has never been our problem, but keeping up with the demand is always a challenge. It's hard to say no when great opportunities come your way, but you have to be disciplined to ensure the right operational structure is in place to execute. And you need a team who can scale from where you are today to where you want to be several years from now. We had a couple years where we were barely hanging on to our crazy growth, but in the past year we've been able to build up a great team and the operational foundation to take us to the next stage. It's not perfect – and never will be – but we work hard to make the company a little better every day.
AVD: What piece of advice you would give to women entrepreneurs?
RO: First, make sure you really want to take the entrepreneurial path. We live in a world where anyone can start a business, but that doesn't mean that everyone should. Being an entrepreneur might be the hardest thing you'll ever do, and it will definitely infringe on your personal and family life. Go into it eyes wide open so you aren't surprised.
Once you've started, it's important to get to a proof of concept early. Create a sample or prototype of your idea and get it into the real world to test it. Don't just share it with family and friends! Most often they'll be kind and encouraging, so they're not a great representation of the real world which can be much tougher. Once you get an early concept out there in the market, listen and react. Be open to making changes and pivoting. At the end of the day, you shouldn't have to work too hard to sell your product. It should meet a need or solve a problem, and it should be intuitive. If selling it is too hard, that's a clear sign that maybe the product isn't right… yet.
AVD: It's 2020, what does the future of Sugarfina look like?
RO: Our goal is to build Sugarfina into a global brand so you'll start to see us expand internationally over the coming years. Our primary focus is on markets like the Middle East and Asia where gift giving and sweets are a big part of the culture. I'm so excited to open our first store overseas, hopefully early next year.