We've made it through the biggest shopping weekend of the year, so what can we learn from consumer behaviors during the Cyber Five? And how can brands use that insight to keep up the momentum as we round out the holiday shopping season?
The weekend brought plenty of good news for brands, kicking off with a strong Black Friday performance that resulted in a 12% year-over-year increase in U.S. retail sales (and Stella brands did much better than average!). After two years of pandemic uncertainties affecting in-store shopping, retailers saw in-store sales increase by 12% while in-store traffic increased by 2.9%. E-commerce also saw a spike, growing 14% year over year—paid search proved to be the biggest driver for Black Friday, representing 30% of all online sales.


KEY
TAKEAWAYS
While the holiday shopping season soft launched with Amazon's Prime Early Access Sale and Walmart sales back in October, it seems that many consumers spent most of November browsing, holding off until the Cyber Five to purchase. In fact, a record number of consumers (196.7 million) shopped during this time frame, up almost 17 million from last year.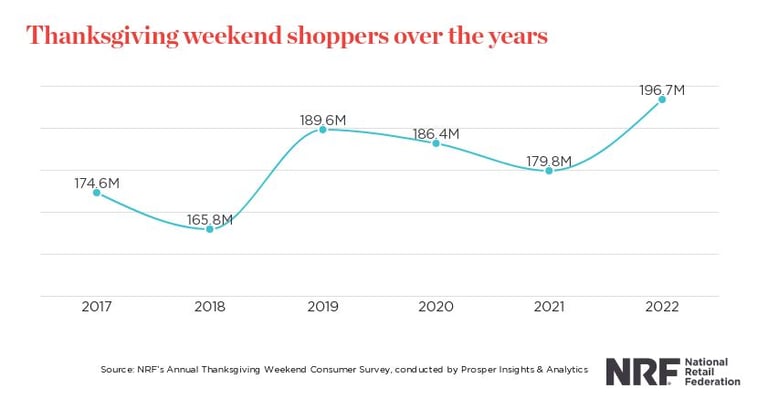 Along with the massive increase in the number of consumers making purchases during the Cyber Five weekend, more shoppers spent more money this year. The average shopper spent $325.44 on holiday-related purchases during this time frame—up 8% from last year. In addition, orders using the "buy now, pay later" method grew 78% the week of November 19 compared to the week prior, and revenue for those orders increased by 81%.


GOOGLE INSIGHTS
Cyber Monday held strong to its title as the top online spending day, driving over $11 billion in e-commerce sales—a 5.8% increase compared to last year. Sales attributed to Google Search had strong growth year over year, but while Black Friday generated a 19% increase in sales, these numbers dipped slightly over the weekend, with Cyber Monday showing an 18% increase in sales attributed to Google Search.
Overall, this popular shopping event definitely didn't disappoint in 2022: Cyber Five is projected to have contributed to 15.6% of the year's total retail spending. With an average discount rate of 30%, Google searches for "deals" increased by 25%, while searches for "gifts" decreased by 10%, providing a view into the shifting priorities of shoppers.
Amazon continued to aggressively bid on the Google Shopping auctions throughout the holiday week. This approach proved successful: Sales attributed to Amazon Sponsored Products reached 44% year-over-year growth by Cyber Monday.


SUCCESS FOR STELLA BRANDS
Here at Stella, our brand partners saw impressive results during Cyber Five—especially those brands that ramped up their efforts in advance. Brands that increased their investment by more than 30% saw strong growth over the holiday shopping weekend. In addition, brands that started early by building awareness and traffic before Cyber Five were able to leverage remarketing lists and first-party data to acquire new customers more easily and efficiently.


LOOKING FORWARD
There's still plenty more shopping action to come! Consumer spending is expected to stay strong through the season, with total spending anticipated to reach $1.297 trillion—a 7% increase compared to 2021.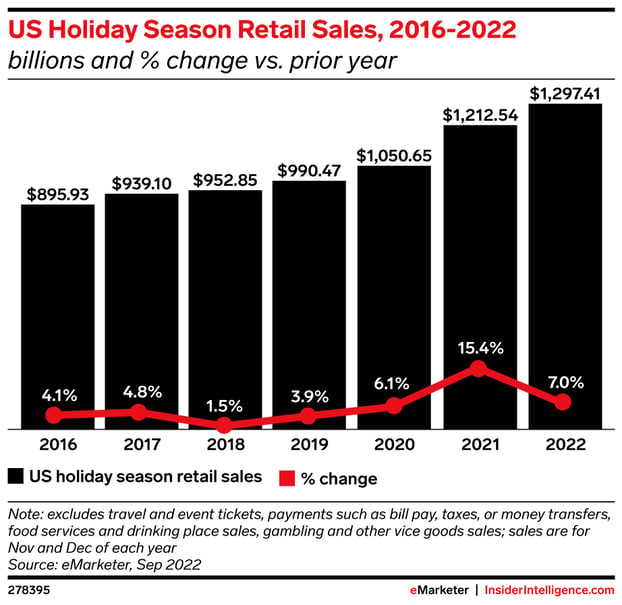 And Mastercard is projecting December to make up 35% of retail sales this quarter, so brands should continue remarketing to all of the traffic they were able to drive to the site. This is a great time to get back in front of consumers who browsed the brand but didn't purchase with an exclusive last-chance offer to close sales while shoppers are still engaged.
Want to discover how Stella Rising can help your brand grow? Contact us today to learn more about our experience partnering with superstar brands in the consumer middle market.
Sources: eMarketer, "Black Friday sales rise 12% YoY," 2022, eMarketer, "Paid search rules the Cyber Five," 2022, Adweek, "Black Friday Bounces Back With Record-Breaking Online Sales," 2022, eMarketer, "A record-setting 196.7 million US consumers shopped over the Cyber Five," 2022, National Retail Federation, "Record 196.7 Million Consumers Shop Over Thanksgiving Holiday Weekend," 2022.