The current upheaval at retail—with stores closing and apparel brands filing for bankruptcy nearly every week—is getting plenty of attention. Somewhat less documented is the fact that, when consumers do buy, they're expecting deep discounts at the register. From 2013-2016, the average price that consumers were willing to pay for apparel declined from an average of 78% of MSRP (manufacturer's suggested retail price) to 76%, meaning a consumer would only be willing to pay $22-24 for a top originally priced at $30. This trend aligns with the increasingly promotional nature of retail, the impact of multi-channel selling, the growth of off-price retail, fast-fashion, and of course, Amazon.
What Do Women Want to Pay for Clothes?
We know that consumers love a bargain, but exactly how much are they willing to pay for the items they want most? Using a modal range, researchers analyzed the average price point of classic apparel pieces (those that would not have been affected by trends) that sold out at full price this year across the most frequently-shopped price points; mass, premium, and luxury, to discover the sweet spot in apparel pricing. The findings reveal what women are comfortable spending at retail for basics such as a classic white shirt, skinny jeans, or office-worthy dress.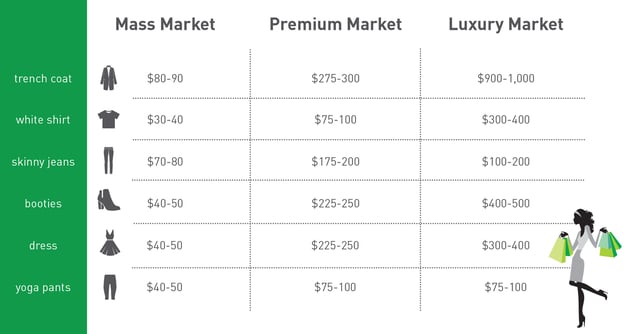 Some Categories Top Out at Premium
The data reveals some surprises at the premium price point—women don't want to pay luxury prices for skinny jeans or yoga pants, the prices top out at $200 and $100 respectively across both premium and luxury. This doesn't mean that female consumers aren't willing to splurge on the hottest new styles from PAIGE Denim or lululemon, but for the most part, this is what women are most comfortable spending. However, women will spend more than triple for luxury versions of certain items, such as a trench coat or classic white shirt, most likely due to the quality, craftsmanship, and timelessness of these items.
At Women's Marketing, we offer brands the consumer insights that matter most. Whether through third party data or our own proprietary research, we dive deep into the trends and behavior that accurately reflects the marketplace and how consumers shop today. Contact Women's Marketing to learn how we can offer your team actionable insights or conduct a research study on your behalf.

Sources: Fung Flobal Retail & Technology First Insight, In Womenswear Price Resistance is Increasing October 2016; Edited, What Do People Want to Pay for Their Clothes, May 2017