In March we introduced GenC as a "group whose behaviors and preferences will be significantly—and lastingly—influenced by Coronavirus." Now several months into the pandemic, with dramatically shifting consumer behaviors, we are presenting a data-packed update on how GenC is thinking and feeling, with a particular lens on their new priorities and thoughts on reopening.
WHAT REALLY MATTERS
New research reveals that since the start of the pandemic, 55% of consumers now feel that staying in touch with family and friends is a higher priority for them. They feel similarly regarding their mental health (47%) and local community (26%). When asked what they are most looking forward to when social distancing is relaxed, 48% responded that it was spending in-person time with friends and family.
Additional priorities are revealed by search patterns. Ending May 30th, YoY search volume had increased for the following categories:
Fitness - 153%

Sporting Goods - 68%

Home & Garden – 60%

Computers – 57%

Home Improvement – 49%

Toys & Games – 42%

Food & Groceries – 39%
Americans are looking to stave off boredom, gain control of certain aspects of their lives, and update their physical spaces as they prepare for a simpler summer.
ON REOPENING: CURIOUS YET CONFLICTED
Americans are eager to reopen and, notes Michael Mina, an assistant professor of epidemiology at the Harvard T.H. Chan School of Public Health, "There's very little appetite among the American public to go backwards."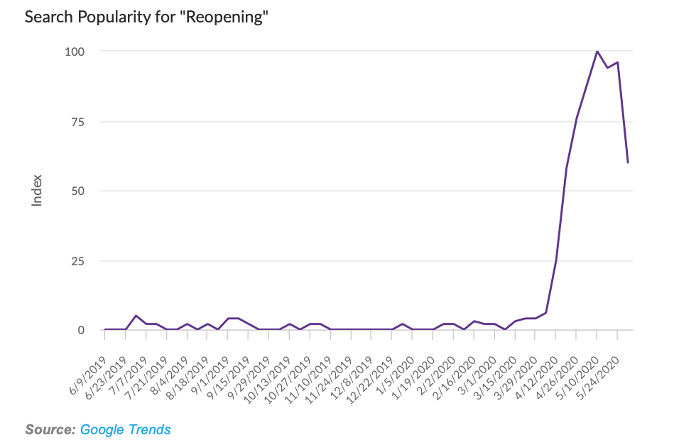 That said, there is still plenty of anxiety, with only 31% of consumers saying that they are comfortable going to a mall and 35% reporting the same for restaurants (as of June 2nd).
Cognizant of that data, retail companies need to continue with empathy and go out of their way to institute contactless payment, store restrictions, physical measures, curbside pick-up, and revised return policies. Consumers will expect much of brick and mortar, as even before the pandemic, in January, 65% agreed that it is the responsibility of brands not to harm customers' health and safety.
E-COMMERCE? NO CONFLICT
Consumers are resilient, so even though 65% plan to be more mindful of purchases post-pandemic, they have fueled major growth in e-commerce over the past few months. E-commerce's market penetration (% of retail sales) has skyrocketed from 16% in 2019 to 27% today. Per Stella Rising's Chief Digital Officer, Brandon Heagle, this means that, "e-commerce has grown more in the past two months than it has in the past 10 years." Brands that have invested in digital are seeing strong rewards and would be wise to continue that commitment: retail e-commerce sales are expected to climb steadily to $859.28B in 2022, up from $709.78B in 2020. Consumers are comfortable shopping from their devices, and with 30% reporting that they plan to visit stores less post-pandemic, many will continue spending that way. In the months and years to come, the brands that offer frictionless digital experiences will perform best, having catered to the host of new e-commerce consumers created by COVID-19.
Consumer behaviors are shifting quickly; at Stella Rising, consumer research and insights power all of our digital and media strategies. Looking to help your brand shine in the next normal? Connect with us.
Sources: eMarketer, "We Expect 7.4 Million New Digital Buyers in 2020 as Pandemic Alters Behaviors," 9 June 2020, eMarketer, May 2020, Fast Company, "You Don't Know Your Customer Anymore," 22 June 2020, Google search data by week, December 29 – May 30 2020 vs. 2019, Bank of America, U.S. Department of Commerce, ShowSpring Research, Mintel: "Leading with Purpose in a Post-COVID-19 World," June 2020, "Attitudes Toward Brand Ethics – US," January 2020, "Brands Welcome Back Consumers with (Re)Open Arms" 3 June 2020, The New York Times, "Americans Face New Virus Limbo as Some Reopenings Are Halted," 24 June 2020