Gen Z, a generation that contains multitudes, is changing fast. They are known for their values and activism—and for good reason: 30% of Gen Z adults and 23% of Gen Z teens look for brands that help make the world a better place; 52% want the brands they use to be involved in activism. Yet as they are still young—with most not yet working full time—many need to be cost-conscious. Gen Z will continue to form and prioritize values but—in the short-term—may also choose price over those values. An example: fast fashion brands Boohoo and Shein have exploded onto the scene thanks to Gen Z. Gen Z finances will evolve—and they will keep pushing brands toward stronger ethics.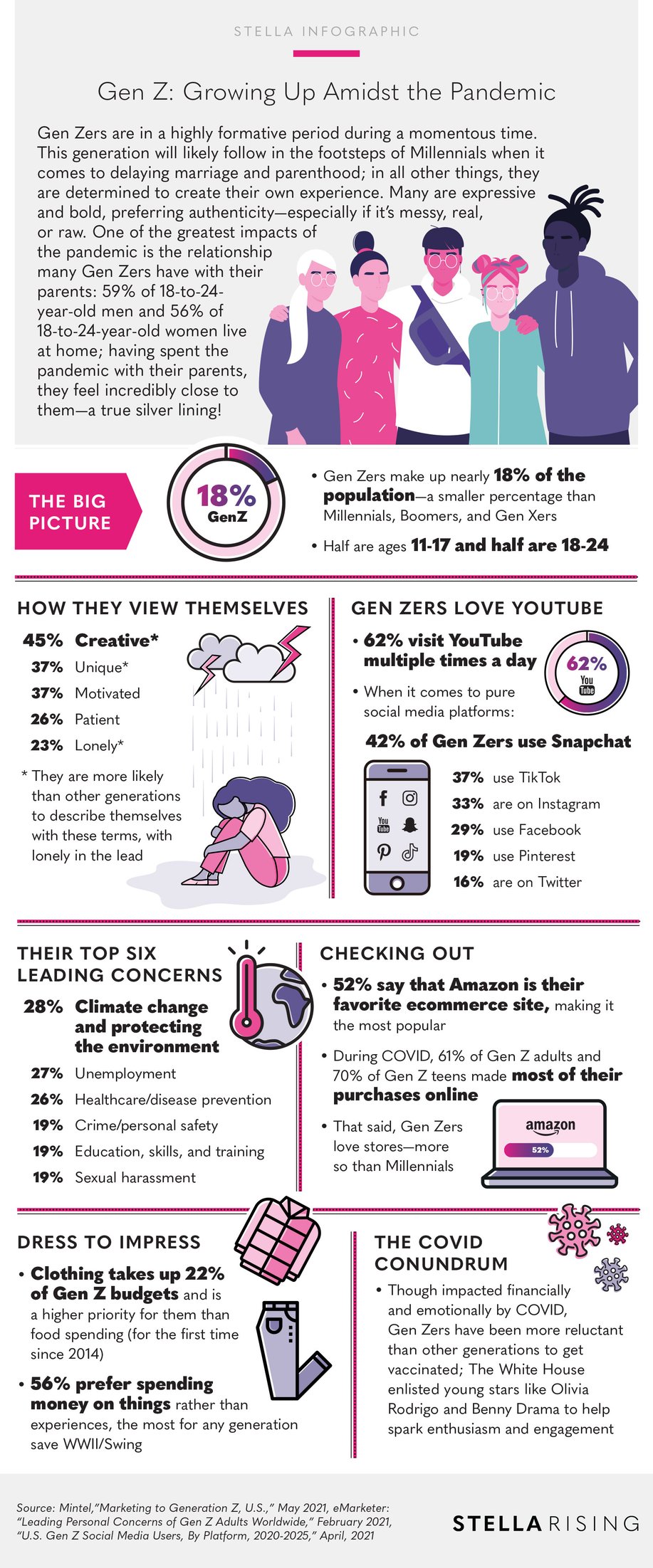 Gen Z in 2021: Infographic Highlights
Gen Zers make up nearly 18% of the population—a smaller percentage than Millennials, Boomers, and Gen Xers
They are more likely than other generations to describe themselves as lonely, creative, and unique
Gen Zers love YouTube and 62% visit the platform multiple times a day

Their Top Six Leading Concerns:

28% Climate change and protecting the environment

27% Unemployment

26% Healthcare/disease prevention

19% Crime/personal safety

19% Education, skills, and training

19% Sexual harassment

52% say that Amazon is their favorite ecommerce site,

making it the most popular

During COVID,

61% of Gen Z adults and 70% of Gen Z teens made most of their purchases online
At Stella Rising, our unparalleled understanding of consumers powers savvy media strategies, igniting growth. Connect with us to help your brand shine.
Additional Sources: Mintel, "Gen Z Beauty Consumer, U.S.," August 2021, Business of Fashion, "Why Fast Fashion Still Has Gen-Z's Heart," 11 October 2021