Grow Your Business With The Growth Opportunities Tool On Amazon
Amazon's Seller Central has a tool that many may not know about or utilize: the Growth Opportunities tool. It has quickly become, dare I say, my *favorite* and most frequently used tool on Seller Central. Now, you may have many questions on why this tool exists or how it is useful—I am here to break it down for you!
WHERE CAN YOU FIND IT?
In Seller Central, on your side bar menu, hover over "Growth" and hit "Growth Opportunities". You can also now see Growth Opportunity recommendations in the Detail Page Sales and Traffic by Parent Item and Detail Page Sales and Traffic by Child Item business reports.
WHAT DOES THIS TOOL DO?
The Growth Opportunities tool refreshes daily and identifies areas that your Amazon listings are not taking advantage of, with estimated revenue or net proceeds gain over a 90-day period should you implement the suggested changes. The Potential Sales Lift metric shows the incremental sales that could have been gained if action was taken on this recommendation, 90 days ago. The Net Proceeds metric shows cost-saving actions and the amount that can be gained in net proceeds over 90 days. You may also see a Beta label for new opportunities that are being tested and that do not have any impact estimates yet.
By showing these metrics, the tool identifies strategies to help grow your Amazon business that you may not be aware of. The tool identifies a variety of opportunities, which are bucketed as follows: product detail page (PDP) opportunities, advertising opportunities, operational and profitability opportunities, and overall account optimizations. There are a few ways that you can navigate the tool:
By different opportunity types listed on the left-hand menu
Switching to the Product Growth Optimizer view that is a checklist view among your ASINS
By ASIN
By product category
Downloaded to Excel for convenience
The tool also allows you to filter for High Value ASINS, which are the ASINS in your catalog with the top 10% of sessions or sales, and High Potential ASINS that are similar to other ASINS based on past performance in the Amazon catalog that have the potential to be successful with further optimizations. In addition to 90-day impact, the tool displays Daily Sessions, ASIN Conversion Rate, Category Conversion Rate, and Sales Rank for the last 30 days with a period-over-period trend, and current Inventory Count. The tool is extremely convenient for identifying areas of growth for you, as opposed to identifying opportunities on your own and preventing any major opportunities by ASIN to fall through the cracks.
STELLA TIP: Since the Growth Opportunities Tool refreshes daily, I recommend checking in at least once a week to see the new and always-changing opportunities that come up. If listing any new products to your catalog, I recommend utilizing this tool to ensure that you are optimizing your new products and building their BSR and algorithms.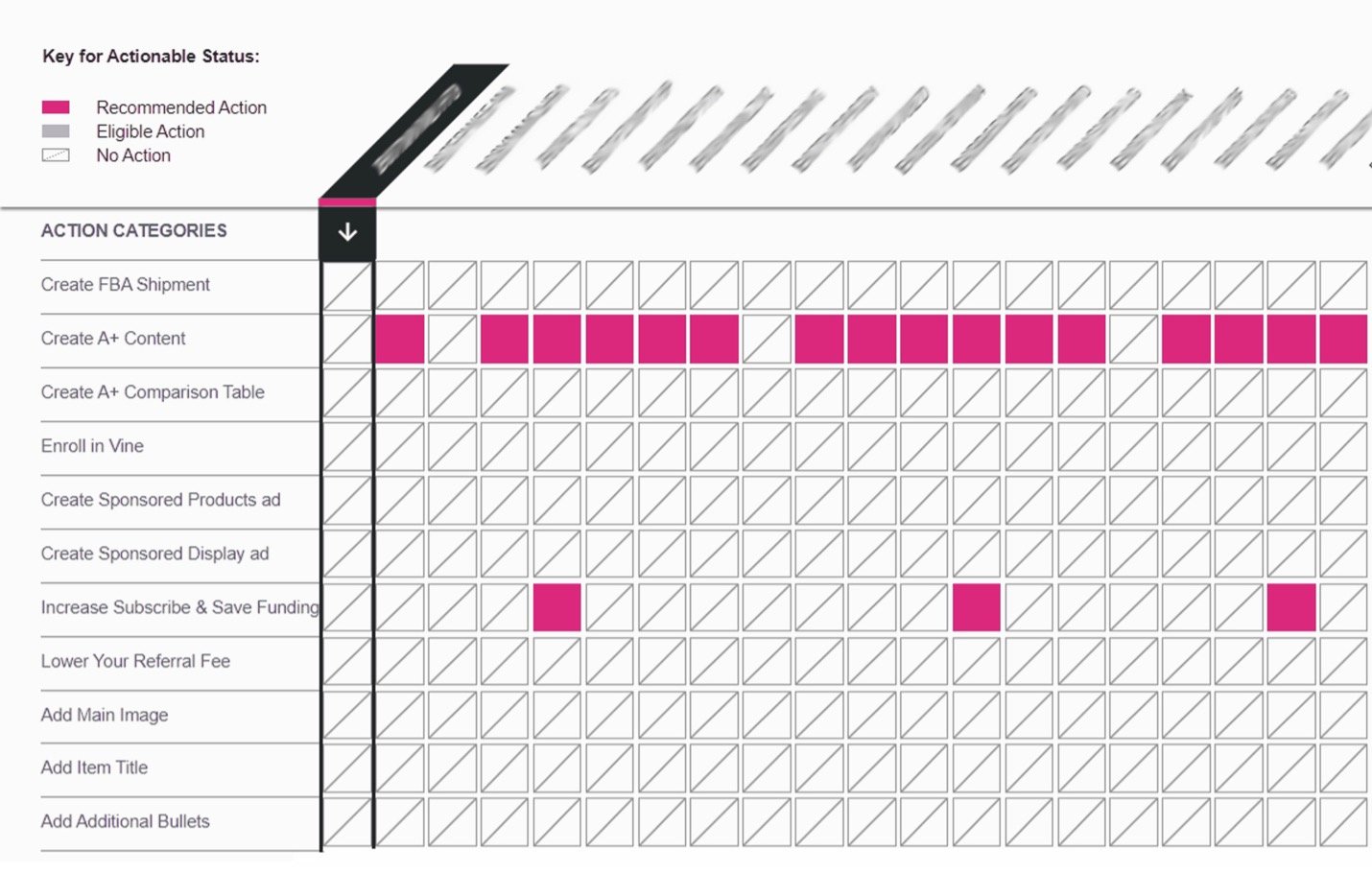 ASINS at top blurred intentionally
WHAT AREAS OF GROWTH DOES THE TOOL IDENTIFY?
The Growth Opportunities tool displays a variety of strategic recommendations ranging from creating A+ content to increasing Subscribe & Save funding. We put together the below chart showing all opportunity types and the business objective they support for an at-a-glance view:
HOW GROWTH OPPORTUNITIES TOOL HAS HELPED OUR CLIENTS
One Stella Rising client was not funding Subscribe & Save on their listings, giving customers no financial incentive to set up a repeat purchase. Amazon's calculated revenue gain over a 90-day period helped clarify to the client that by funding a discount as low as 5%, they could potentially gain thousands of dollars in a 90-day period. Once implemented, we saw Subscribe & Save revenue increase +76% MoM, units increase +93% MoM, and subscriptions increase +48% MoM! In turn, we saw an upward trend in our topline sales.
WHERE IS THE BEST PLACE TO START?
The Growth Opportunity tool has a ton of areas to pay attention to and can be overwhelming, but we are here to help! I have listed three tools that are quick to implement right away:
The Small and Light Program: If any of your products meet the retail price and dimension criteria to be part of the Small and Light Program, there is a one-click button to enroll these products and lower your fulfillment fee.
Increase Subscribe & Save Funding: ASINS that are enrolled in Subscribe & Save but do not have a discount incentive to subscribe are listed in this section. This is another easy one-click button to increase your funding which can help improve repeat purchases and brand loyalty and gives customers an incentive to have an automatic subscription.
Enroll in Vine: ASINS that have less than 30 reviews with FBA inventory are highlighted in this section as ASINS that could benefit from reviews. Consumers feel more confident purchasing products with a high review count, and advertising performance is also directly correlated to retail readiness with review count as well. At Stella Rising, we recommend having at least 20 reviews per product detail page. Enrolling in the Vine program takes only a few minutes.
At Stella Rising, we excel at helping our client brands shine amidst considerable Amazon competition. Amazon tool, program, and tactic expertise are just part of our broad, well-established Amazon and retail media practice. If you are interested in learning more, connect with us!