Despite the layoffs and drop in stock price, Meta remains one of the world's most-used social apps. But that doesn't mean Meta isn't constantly changing. In fact, for all you Friends fanatics, I'd say Meta is in a season of "PIVOT, PIVOT, PIVOT"-ing as it scrambles to remain competitive in the creative space.
The young but mighty social stronghold, TikTok, has given Meta a run for its money by transforming the typical consumer's path to purchase. Instead of discovering new brands by casually scrolling across a high-production, studio-produced product video in their feed, consumers now watch GRWMs on TikTok and learn about the benefits of Olive Squalene as a creator does their skincare routine. How's that for a little pivoting?
Before we can dive into the actual details of how to leverage low production, user generated content on Meta, we need to understand why that type of content is so important to your brand's media strategy. I am sure that no one forgets when we went into a world-wide, pandemic-induced shut down, amirite? Brands were stranded, creatively, with no access to studios for production. As TikTok emerged and creators started to develop, brands realized that contracting influencers was an ideal way to keep generating content for both organic and paid media. Enter the creator economy.
What influencers were able to achieve was wildly impressive. Viewers started buying anything and everything creators used merely because they had endorsed it (whether it was a brand deal or not). Products across all sorts of categories started going viral and selling out everywhere. It was (and still is) so successful because creators were delivering authentic, real-time reactions to these products and establishing connections with their followers. Now, retailers everywhere have in-store displays labeled "As Seen on TikTok," all because Alix Earle said the Shape Tape by Tarte was her holy grail and Charli D'Amelio can't live without her Born Dreamer Perfume from ULTA.
I was recently at a book signing for a very talented author and during the Q&A session a young girl asked, "A large group of us here are from BookTok and discovered your writing on TikTok. Did you feel the impact as your book went viral on the platform? Was that a strategy you used?" The author's response was very interesting as she stated, "You know, I actually had no idea that my book was going viral when it was. I had published this book back in 2016, so when I noticed the huge spike in sales and sell-outs of copies, I asked my manager what was going on and she said, 'Oh yeah, don't you know that your book is going viral on TikTok right now? We're making record sales.' I just didn't know because I hadn't been on the platform. But I am so thankful, because it gave me the opportunity to come here and meet you all."
Social media is powerful and can change the trajectory of your brand's business if you lean into what's working. But don't take my word for it. A recent study revealed that 46% of social media users have purchased products promoted by influencers. No wonder brand investment in influencer marketing is expected to increase by 23% in 2023.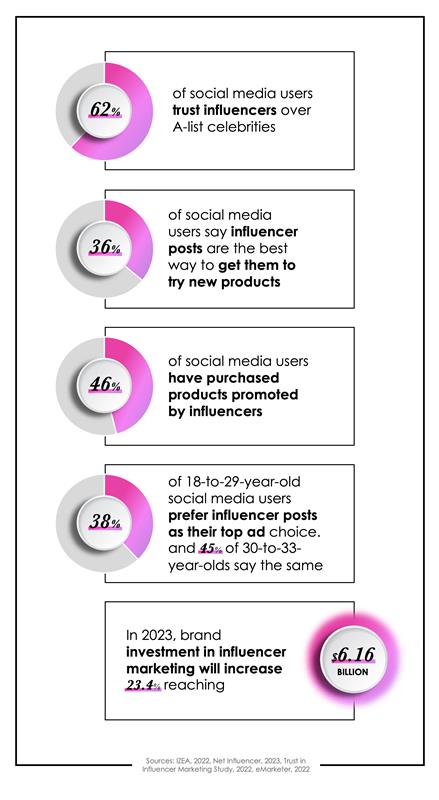 Now that we know the importance of leveraging creators and why they make such a difference, let's talk about how to do it. We know that TikTok is a platform that relies almost exclusively on entertaining video content, but how does this effect Meta? It's simple really. TikTok has changed the way viewers consume content, and Meta needs to remain competitive.
Which brings us to the launch of the Creator Marketplace. This is a new tool located in the Meta Business Suite that can be used to source creators, facilitate communications, easily locate creators who tag you in their organic content, and view portfolios of potential partnerships. This tool mimics the TikTok Creator Marketplace almost identically.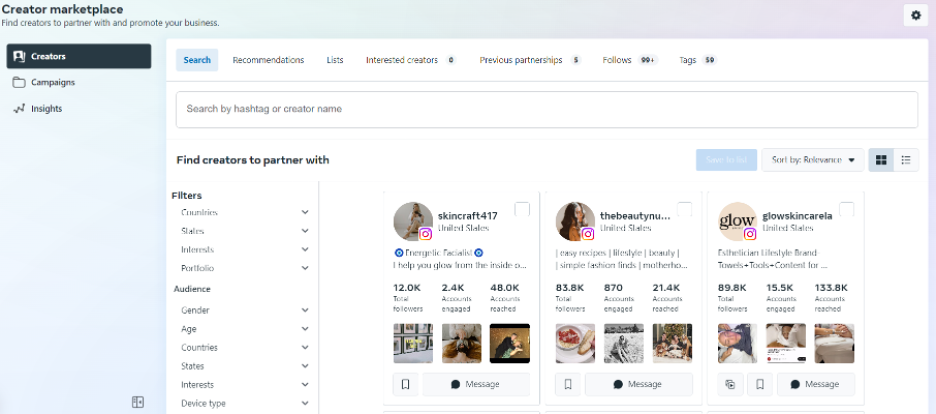 However, this is surprisingly not the avenue you would take to invite a creator to a branded partnership. Instead, locate the 'settings' icon within your Meta Business Suite account.

Once there, locate the "Ad Partnerships" tab.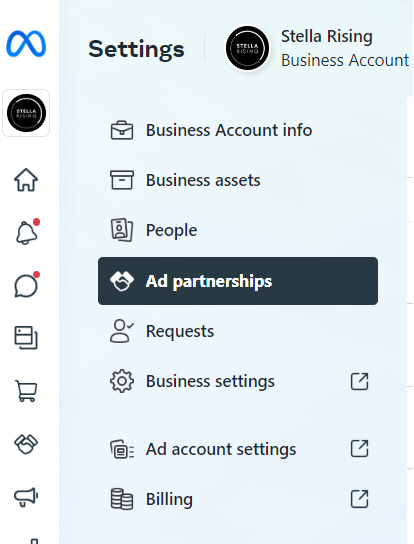 Here, you will have visibility into the status of every partnership you have, whether the invite is pending, active, or terminated.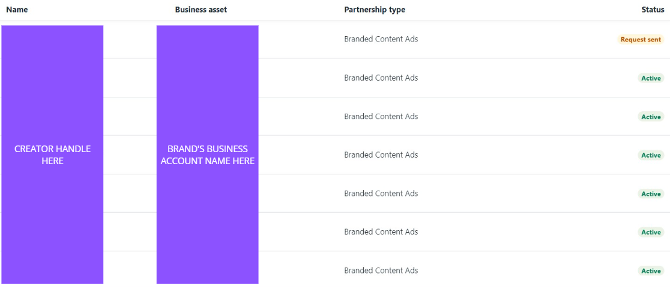 To add a partnership, navigate to the "Add Partnership" button located on the upper right-hand side of the page.

You will be prompted to choose the creator, then the brand business asset, review the request, and complete.

There you have it! Now you have successfully requested partnership.
Now that you know how to add a branded partnership in Meta, what exactly is it and why do you need one? A branded partnership is when the ad appears under the creator's social handle rather than your brand's handle, making the ad feel like it is just another part of the feed. A branded partnership gives social proof because consumers see that others have liked it and that an influencer has verified the product. This is especially the case if you boost a post that was already live on the creator's feed organically. Additionally, a branded partnership allows the creator to give the brand raw assets of their content to use as a dark ad under their handle in the event they do not want to clog up their organic feed with tons of branded content.
Branded partnerships also grant brands the ability to target the social followers of the creator they partnered with, increasing the number of net new consumers they can reach. With this partnership, you can run campaigns optimizing toward any type of objective whether it be engagement, traffic, conversions, or even video views.
This is not to be confused with Branded Content Codes. Those do not require a Meta partnership and are very similar to TikTok Spark Codes. Except, with Branded Content Codes, brands are limited to running the codes within a campaign that is optimized toward the engagement objective. They cannot be used for any other objective. If you are interested in brand awareness and increasing brand recall, this may be the best route for you. But if you are serious about doubling down on the creator economy and leveraging UGC-style of content within your paid ads, you will benefit from adding creator partnerships.
Setting up Branded Content Ads happens at the ad level of the campaign build. Rather than keeping the brand handle as the primary identity, toggle the "Branded Content Ad" button on.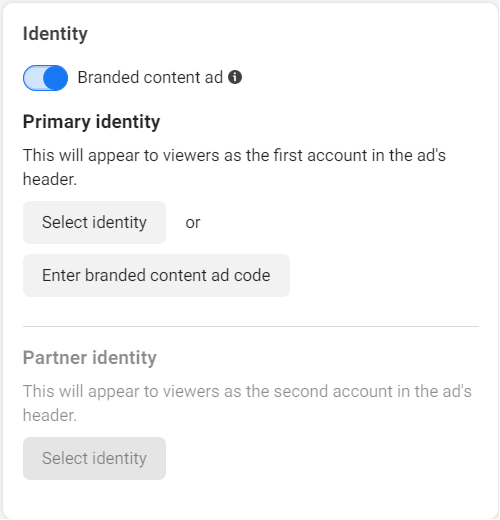 The creator's handle goes into the 'primary identity' piece, while the brand handle goes under 'partner identity'. Now remember, we are running a Branded Content Ad with creator partnership rights. So, we won't use the 'Branded Content Codes'—they can only be used for engagement campaigns.
After you hit 'Select identity' select 'Show more options' at the bottom left of the pop-up.

Here, you type in the username of the creator you are partnering with.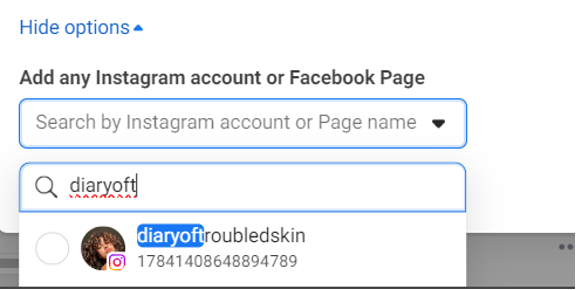 Once the creator is selected, move on to selecting the partner identity. If the creator has accepted the partnership invite, your brand will automatically appear as 'allowed' for usage.

If the creator has not accepted the invite, or an invite has not yet been sent, your brand will appear as 'permission required' under the 'create new ad' heading.

However, active partnership or not, your brand will always appear as 'allowed' under 'use existing post' because as long as you have a Branded Content Code from the creator, then you have access to use that one post. Of course, only for an engagement objective campaign.
Once you have chosen your partner identity, you can complete the ad build process. You can either use an existing post or create an ad with the raw assets the partner provides. Remember, if you are using an existing post, you cannot alter the copy or add a headline to the landing page that you are sending traffic to.
The million-dollar question: how does this style of content impact performance? We are currently testing this question with many of our clients and the early learnings provide a common theme: branded Content Ads vs. Native Ads advertising the same product for the same ad spend cost consistently generate an average decrease of 15% in CPC, 42% decrease in CPA, and a 49% increase in CTR.
The proof is in the pudding… I mean, partnership. Times are changing and influencers are paving their way. Brands need to make like Meta and, "PIVOT, PIVOT, PIVOT"!
Additional Sources: IZEA, 2022