Pinterest is probably best known for its inspiration and ideas capabilities, but the company's newest product, Shuffles, which quietly launched earlier this month, hopes to inspire users to stretch their creative muscles. Shuffles can be used for building collages using photos, image cutouts, and animated effects from your phone or Pinterest boards. The app is currently invite-only and only available to iPhone users, but all are encouraged to join the waitlist found on the app home screen.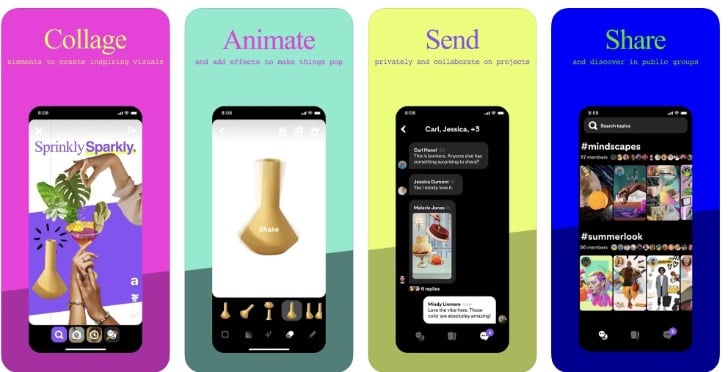 Like Pinterest, Shuffles provides its users with a space to plan and collaborate. With Shuffles, users can build their own collages using their phone's camera, Pinterest's photo library, and pins from their own Pinterest boards. Like a collage, images can be cut out, rotated, and layered, but Shuffles takes collage building into the digital age by allowing users to resize and add animations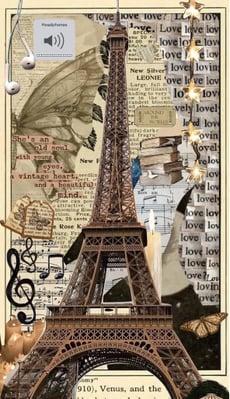 and effects. The finished product can be shared with friends to further collaborate on or with public groups, where other Shuffle users can "remix" the collage and make it their own. Users have also found the app useful as a moodboard to visualize home makeovers, fashion ideas, or event decor.
This isn't the first time we've seen a social network launch a collage app. A couple of years ago, Meta ran a collage app, E.gg, that allowed users to combine images, text, and GIFs, but the app didn't pick up and was ultimately abandoned by the social network giant.
And yet, even without advertising, Shuffles has piqued users' interest—videos of the app are becoming popular on TikTok and Instagram Reels, while on Twitter and Reddit users are refreshing tags and hashtags for the chance to gain an invite code, with some even offering to pay. The exclusivity has naturally helped build excitement around the app's official launch, which has yet to be announced.
Shuffles comes at a pivotal time in creativity on social. Instagram recently deprioritized friends' content and photos in favor of Reels to capitalize on the growing popularity of TikTok; Instagram will prioritize a video-first future. However, Instagram received backlash from users, who have asked the app to stop trying to be TikTok. We're anticipating a behavioral shift in how self-expression is shared to social. What remains to be seen is if a video-first future will be the outcome or if users will look to apps like Shuffles as an opportunity to share themselves creatively.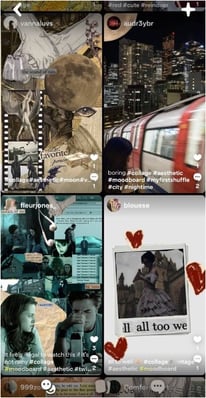 As Shuffles is invite-only right now, not many users have fully adopted it, but it lends itself well to brands. Shuffles can provide endless creative inspiration for brands in the short-term, and we can look to develop collage and moodboard-esque creative to share to brand feeds.
Long-term, we're excited to see the growth of this app. We believe this is a great opportunity to drive traffic to site, due to the fact that all images in a Shuffle stay linked. For brands that are active in social, it's important to develop content that resonates with your audience and the platform they're on, but also brings in meaningful leads. For brands who want to snag an early invite code, we recommend first building out a Pinterest profile and boards—that step will help to build many of the Shuffles shared to the platform. Those Shuffles will link back to Pinterest and ultimately your site. Once Pinterest has been established, consider building Shuffles that represent each board to give consumers a taste for the larger brand experience on the parent platform. And, of course, link everything so we get those leads! Given the organic buzz building around Shuffles, we're anticipating the platform's popularity to continue to grow and offer a new connection route in the digital consumer journey.
Sources: App Store, Reddit, TikTok, Twitter, Instagram, TechCrunch, "Facebook Launches E.gg, an Experimental Collage Making App," 18 November 2020