Each year, Q4 brings cooler temperatures, pumpkin spice everything and, of course, the biggest shopping season of the year. Though shopping activity builds in the weeks leading into December, most holiday spending takes place from the Thursday of Thanksgiving to Cyber Monday—also known as Cyber Week. 29% of shoppers believe Amazon has the best Black Friday and Cyber Monday deals.
Given the immense sales opportunity for brands on Amazon in Q4, it is essential to prepare and implement a well-thought-out plan and strategy. In my role as Director, Marketplace Advertising, I keep the following top of mind as I drive growth for our clients throughout the rest of Q4.
1. Maintain investment in Upper, Mid, and Lower Funnel campaign types and tactics
Amazon Sponsored Ads offers three different campaign types. The three campaign types differ in terms of ad format and targeting options. The ASINs that you will be promoting through advertising should be supported by multiple campaigns from all campaign types and targeting types. The purpose of running multiple campaigns is to speak to users at each stage of the path to purchase.
Campaign Types:
Sponsored Product Campaigns: Promote products to shoppers actively searching with related keywords or viewing similar products on Amazon.
Sponsored Brands: Help shoppers discover your brand and products on Amazon with rich, engaging creatives.
Sponsored Display: Reach users on and off Amazon. Retarget users who have visited your product pages or target shoppers based on the product categories they are browsing.
Campaign Targeting Options:
Keywords: Brand / Non Brand / Competitor Keywords. Available in Sponsored Product and Sponsored Brand campaigns.
Category / Product: Target users based on the specific products, categories, or brands they browse. Available in Sponsored Product and Sponsored Display campaigns.
Auto Targeting: Serve ads by contextually matching your product descriptions with a user search query or with similar products. Available in Sponsored Product campaigns only.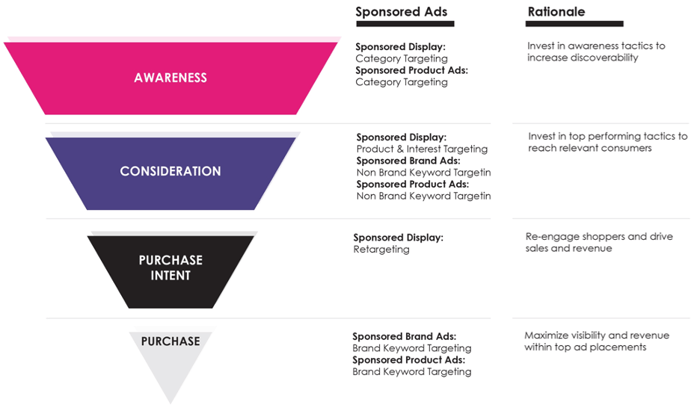 2. Target your competitors
Build brand awareness among a highly qualified audience by bidding on the branded search terms of your biggest competitors or by targeting and bidding on your competitors' ASINs and displaying your product ad on their product page.
Running a competitor campaign to coincide with promotional dates such as Black Friday/Cyber Monday is an excellent way to highlight the savings and communicate a point of differentiation between your brand and the competition.
3. Focus advertising on ASINs for which you will be running promotions
If you are running a promotion on a specific ASIN or group of ASINs, be sure to put your advertising dollars behind those ASINs. Stop promoting ASINs for which you are not offering a deal by pausing them within the campaign. ASINs that offer promotional pricing should be promoted with active ads.
4. Update Sponsored Brand Creative Headlines
Sponsored Brand campaigns help customers discover and engage with your brand. Ads appear in prominent placements including above search results and feature your brand logo and a custom headline, as well as up to three of your products.
If you are offering deals throughout Cyber Week, update your Sponsored Brand creative to highlight the discounted ASINs and revise your headline text to communicate the savings to shoppers.
5. Ensure you have sufficient budget to sustain your campaigns through holiday
We know that search traffic, and thus cost, will increase the week of Thanksgiving and spike from Black Friday to Cyber Monday. If you are budget limited, under-pace your spend in the first few weeks of November so that you can focus your budget on the weekend of Black Friday/Cyber Monday, when shoppers will be ready to buy and conversion rates will be higher.
6. Actively monitor performance on the day of key holiday shopping dates
Monitoring performance and live search results in real time throughout Black Friday/Cyber Monday will allow you to react to changes in the auction landscape so that bid and budget adjustments can be made as needed to ensure maximum visibility and prevent unnecessary CPC spikes.
For many brands, Q4 performance and, more specifically, Cyber Week, will be the determining factor that enables them to achieve their revenue goals or miss the mark. Having a plan in place to capitalize on the holiday shopping season is essential: my hope is that this Q4 preparation list will help you do just that.
At Stella Rising, our team executes on business goals with unparalleled expertise. If your brand is looking to excel in this critical moment, connect with us.