How CPG Brands Can Get the Most Out of SEO
For CPG brands—at any stage in their lifecycle—increasing their digital presence can supercharge their business. When looking for ways to simultaneously increase brand awareness and online conversions, CPG brands should put SEO at the top of their list.
As the marketing and media industries evolve, more and more CPG brands are focusing their efforts on digital media. When looking at SEO specifically, the following are a few main considerations that are particularly important for CPG brands.
Branded Search: Optimizing a site's content for branded terms can secure and improve both visibility and rankings

Content Strategy: Looking beyond product and category pages to create and publish content that brings new users to the site and supports existing customer-brand relationship

Structured Data/Schema: Depending on what the CPG brand produces, content on the site can be enhanced with schema types like recipe, FAQ, and review schema

Recognize Consumer Trends in Search: Organic search can help identify trends and drive strategy in facets of the business beyond SEO

How SEO Helps Facilitate ROI: When applied properly and effectively, SEO can help untap sources of conversions and revenue. Organic visits to CPG sites that we have studied have proven to show as much as a 70% correlation to household penetration
Branded Search for CPG
Owning the valuable real estate at the top of Google's search engine results page (or SERP) can sometimes be challenging for branded search if the brand's products are sold by major retailers like Amazon, Walmart, and others. Competing with Amazon for branded terms can be challenging, but it is not impossible. Though there may be retail heavyweights vying for positions 1-3 for your company's branded terms, ultimately, a brand should always optimize their site's content with their unique branding.
In a successful SEO campaign for any CPG brand, tracking and reporting on branded search is essential. If, for example, a new organic snack brand's goal is to rank on page one for some of the highest volume, most competitive keywords in the industry, that brand should reconsider its strategy. Be realistic about non-branded search: if you are, you can better allocate resources for overlooked branded keywords, which are not always a clean sweep.
Optimizing title tags, H1 tags, and on-page copy can be the first step to ensuring a brand's site is at the top of the SERPs for the most important branded keywords. Below is an example of how a client's title tag was easily optimized just by adding branding:

The above title tag and meta description contain no branded terms

The above title tag and meta description contain appropriate branding and are well optimized
A small change like the one above can make a big impact on a brand's performance in search. Wherever appropriate, branded keywords should be included in tags and copy. Optimizing pages on site for branded search is not limited to product and category pages either. If your brand publishes blog content, there is often opportunity to include branded terms in its copy and tags.
SEO Content Strategy for CPG Brands
Content on a CPG brand's site can vary greatly in topics, composition, and SEO strategy depending on the specific industry that the brand is in. Content for a food and beverage brand will differ drastically from that of a home care brand.
The first consideration for blog content is choosing topics that are both relevant to the brand and its consumers. One way to determine which topics the brand blog should incorporate is competitive analysis. Looking at direct competitors that have had success with content marketing and blogging can function as inspiration. A more SEO-focused method, however, would be an assessment of relevant long-tail keywords that the brand would like to rank for. Long-tail keywords are typically geared toward informational content and can serve as the backbone of a blog post. A long-tail keyword like "how to clean stone countertops" could be a great opportunity for a brand that sells multi-purpose cleaners, because a piece of content around that keyword directly answers a popular search query. That type of content also lends itself well to featured snippets, a Google SERP feature that ranks a page in the number one organic position and displays an excerpt of the content that has been deemed a suitable answer to the given query within the SERP.
| | |
| --- | --- |
| | |
When looking at the above screenshots of two different SERPs, the query itself may be the biggest difference: "dairy free yogurt" vs. "benefits of dairy free yogurt." Many of the results for both queries are content or informational pages. The query "dairy free yogurt" does yield some product page results, but there are still an abundance of content pages ranking for this term, indicating the intent is both informational and transactional. Meanwhile, "benefits of dairy free yogurt" asks for specific attributes of a product and there are brands and publications ranking for the term with content-based pages. Google aims to provide users with the most appropriate results for their search needs, answer their question, and ultimately match the intent of their query.
Content based on product offerings can also help foster a positive brand-customer relationship and increase brand loyalty. Creating "how to" content or other content that directly relates to a specific product or product line can help re-engage consumers—even post-conversion—and increase loyalty.
Content can also help build retargeting lists: integrating a promotions or newsletter sign up within the content on a site grows retargeting lists for social media ads, which tend to convert well.
Structured Data: From Review Schema to Recipe Schema and More
Structured Data or Schema are a type of tag that can be added to a site's HTML that can improve the way Google views content and presents it in search. For CPG brands, there are four types of schema that are particularly useful.
Organization schema is typically recommended for any site that represents a brand or company. This schema type lives on the homepage and can help improve a brand's knowledge panel in search.
Product schema is usually reserved for e-commerce sites or sites with dedicated product pages. Product schema, often paired with Offer schema, can help critical product information like price or stock status appear in search.

The above image depicts the features that are particularly useful for CPG brands


Rating schema can be especially useful for CPG brands regardless of their ecommerce status. Rating or AggregateRating schema is a schema type that allows customer ratings provided for a given product on your site to appear in search. AggregateRating will show the combined average of all ratings.


The above image depicts the star rating feature of Rating schema in search
Recipe schema is generally limited to CPG brands that produce food/beverage products. Recipe schema can be used for recipes on a site so that they appear in search with additional key details. This schema type can list some of the ingredients, a feature image, cook time and reviews within search, providing searchers the details they need to decide which recipe may be right for them.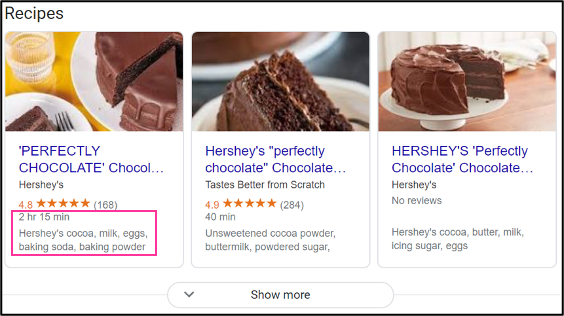 The above depicts how recipe schema offers recipe details, such as cook time, in search
Recognizing Trends in Search Through SEO Tracking and Measurement
One way to apply SEO practices and insights to other parts of a business is through the analysis of trends recognized in search. When looking at the patterns, trends and habits found in search, there are many observations to be made that can drive decisions in SEO and beyond.
The first step to grasping trends in your industry using SEO is tracking. Conducting keyword research and then tracking the relevant keywords is critical in identifying trends. Insights from these trends can be used to fuel other channels including R&D, SEM, and more. We recommend studying the consumer-driven trends at work—rather than those determined by marketers; this competitive edge will put your brand and website in the center of the industry action.
Results and How SEO Helps Facilitate ROI
When looking at all results measured in an SEO campaign, it is important to understand that SEO should be involved in digital marketing endeavors on an ongoing basis to truly see meaningful results. SEO is also reliant on many external factors, like the Google algorithm, that can impact results and cause them to fluctuate. Results may not be instantaneous, and it may take some time to get the most out of SEO optimizations. Seeing meaningful growth is always the goal, but seeing sustained growth is truly the mark of a successful SEO campaign.
For CPG brands that we have studied, organic site visits have shown as much as a 70% correlation to household penetration. When site sessions drop, we tend to see household penetration drop simultaneously. In the image below, we can observe the correlation between organic site sessions and non-promo sales. Investing in a comprehensive SEO campaign will have a significant impact on organic site sessions to your site.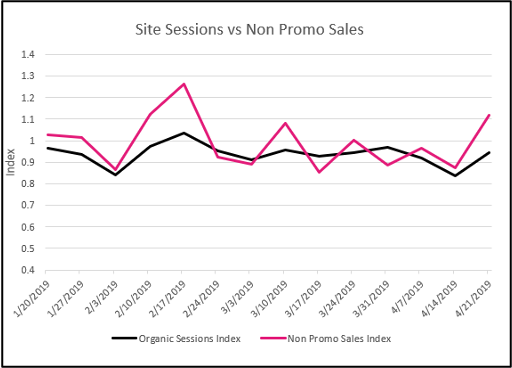 Organic traffic often leads to conversions; therefore, SEO is naturally the channel to optimize in order to maximize a site's organic traffic. Driving conversions or goal completions (newsletter sign up, email list, find a store, etc.) is always a main objective of an SEO campaign. Improving the content on the site, the site architecture, internal linking, and improving off-site performance can greatly impact revenue or goal completions. Tracking and reporting revenue or goal completions goes hand-in-hand with tracking keyword rankings, traffic, and backlink portfolio.
The potential for significant ROI from an SEO campaign can be enticing but measuring ROI can be complex. The most important thing to consider is that SEO is intended to be an integral part of a holistic digital marketing campaign with channels that work together to grow business performance. The key to measuring the impact and success of SEO starts at the beginning of the campaign when goals are established; it is important to keep those goals in sight for the duration of the campaign.
At Stella Rising, we have worked with countless CPG brands in many verticals that have seen great success in their SEO and overall digital marketing endeavors. We work tirelessly on client accounts, always keeping business goals in mind when making every recommendation. Our team of experts can provide any CPG brand with the SEO insights, recommendations, implementation, and strategy that will not only produce results, but transform the brand's presence in search.
Find out more about how our SEO services can be a game-changer for your CPG brand and connect with us today.