Neil Kraft, CEO of KraftWorks, a creative agency based in SoHo, has always taken a bold approach to advertising. Early in his career as the SVP of Advertising and Marketing at Barney's New York, he and legendary photographer Steven Meisel collaborated on ads that featured 40-year-old Lauren Hutton and a black and white series with emerging supermodels Naomi Campbell, Christy Turlington, and Linda Evangelista. While in a similar role at Calvin Klein, Kraft's provocative outdoor billboards of Mark Wahlberg, then known simply as Marky Mark, staring down the camera in his tighty-whities, and a fresh-faced Kate Moss wearing nothing but CKOne cologne, were among the decade's most talked-about ads. Today, Kraft continues to push boundaries through ground-breaking campaigns for fashion and beauty brands including Women's Marketing client Swimsuitsforall. We had a chance to talk to Neil about the most recent Swimsuitsforall campaign, how social media is influencing advertising, and get his expert advice for creating a brand marketing campaign that gets noticed.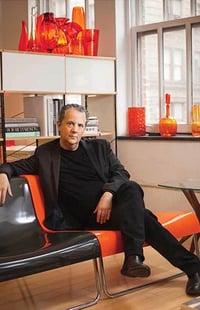 Women's Marketing: Let's talk about your work for Swimsuitsforall. In 2015, Ashley Graham made a splash as the first-ever plus-size model to appear in Sports Illustrated's Swimsuit Issue, and it was a tremendous success both from a PR perspective and making a statement that women don't have to be a size two to be beautiful. Along with Graham, this year's campaign for Sports Illustrated featured a 56-year-old woman and a dark-skinned British-Ghanian model. They look amazing, but what struck me about the images was how incredibly powerful and confident they appear. Was that a point that you intended to make and why?
Neil Kraft: Yes, it was the next iteration of the campaign. The first campaign with Ashley Graham in Sports Illustrated was a huge success, but we felt that it had been done. We wanted to take it to the next level and create the most powerful pictures we could. The client was incredibly supportive and encouraged us to go for it. They were hard pictures to pull off—we had to shoot in an hour before sunset and we did it over two days. During the shoot we were pushing them (the client) and they were pushing us to get better, stronger, more powerful images. Other brands wouldn't do something that risky, but it's always the clients that take risks that get noticed.
Women's Marketing: You've been in this industry a long time. How have images of beauty changed since you began your career?
Neil Kraft: With Swimsuitsforall and Lane Bryant, there's a huge groundswell for being more inclusive. What we wanted to show with Swimsuitsforall, was healthier, more real women. We're not pushing obesity, we're pushing women to be ok with their bodies. But mainstream fashion advertising hasn't changed that much. The fundamental world of fashion and beauty is not changing that much—when you flip through Vogue, you're still seeing the same type of models.
Women's Marketing: We're exposed to so many images on social media, are image-driven platforms like Instagram and Snapchat making it more difficult for brands to stand out?
Neil Kraft: Although the Swimsuitsforall campaign ran in print, it was social media that really blew these campaigns up. This means you have to do something that stands out even more and that's not going to happen with most standard fashion campaigns. Today, when we pitch a model, clients want to know how many followers she has on social media. Five years ago her personal life really didn't matter, now it's all about the whole back story and her social following.
Women's Marketing: Which beauty or fashion brands do you believe are getting it right?
Neil Kraft: Burberry is doing the best job of any brand that I've seen. Fashion was late to the social world and very late to embrace digital. Burberry is one of the pioneers and they're doing some really interesting things digitally.
Women's Marketing: Today, in addition to ads, brands have to create a constant stream of creative content for social media and their own websites. What suggestions can you give them?
Neil Kraft: There's tremendous pressure to create content and brands don't have huge budgets for it. They know they need to create something to come out once or twice a week in addition to ads, but it's not great quality. For example, I just saw one brand posting pictures of their friends wearing their bags on Twitter. It's not that interesting and it's not going to stand out. I'd rather see brands do something less often, but make it interesting and higher quality.
Women's Marketing: What are the best creative practices for beauty and fashion brands? What should they consider when working with an agency to develop a social campaign?
Neil Kraft: Think about what you can do differently. The campaigns that get noticed are the ones that take risks and are willing to do something completely different.
Be inclusive, but remember that models still have to look aspirational. We talk about authenticity, but what people have to realize is that every picture of Kim Kardashian on Instagram is retouched. Even in campaigns that claim to use unretouched photos, the girls they use are nearly perfect—they're genetically retouched.
A good creative agency understands it's a collaborative process between the client and the agency. The agency brings something to the table and the client does too. Great campaigns are the collaborative result of clients and agencies that are willing to take risks and push boundaries.
Women's Marketing: What is your favorite social platform?
Neil Kraft: I really like Instagram. I like that there's no algorithm filtering what I see. I have hundreds of friends on Facebook, but I seem to always see the same people in my feed, I feel like I'm missing other things that I might be interested in. Instagram is quicker, prettier, and smarter than other platforms. Pinterest is really interesting, but it's not as interactive.
We agree that great creative pushes beyond what's expected and gets consumers to think about your brand, or themselves, in a new way. But a campaign has to be seen—in the right place at the right time—to be effective. Women's Marketing offers our clients holistic, cutting-edge media strategies that reach women at every touchpoint including print, digital, and social media. Contact us today to learn how we can help your brand to stand out and get noticed.