TikTok is a gold mine for advertisers looking for content ideas, ad inspiration, and the latest trending conversations. With the addition of Audience Insights, TikTok has added serious extra sparkle to that gold mine.
WHAT IS THE AUDIENCE INSIGHTS TOOL?
Audience Insights is a blueprint for trending hashtags, conversations, and interest categories on the platform. The tool allows advertisers to look at a macro view of all TikTok users, but it can also drill down to custom audiences like CRM data or pixel-based audiences. Unpacking that further, the tool allows advertisers to see what the audiences are indexing against most from an interest-category perspective and trending hashtags. Audience Insights also helps break down demographic information like age and gender, while pulling in geographic data down to the state level.
While this level of data and detail is good, knowing how to apply it in a meaningful way is great. The two most significant applications of the data are creative and audience targeting.
Creative is the single most important factor to advertising success on TikTok. At this point, that's not headline-worthy news, but it's still as important as ever. Excellent creative is no easy task, and an even bigger challenge is how fast TikTok ad creative burns out. Brands and advertisers need to constantly produce new content to achieve sustainable results. Audience Insights can help there, sparking a plethora of new ideas based on current audience trends and interests.
Below are the top 10 trending hashtags from early January for users who are in the "Skin Care" category:

This data gives us 10 new sources of inspiration for ad creative. Let's say you have a skincare brand—the hashtags above are now potential ideas for compelling content, such as:
World cup watch party? Make sure that lip gloss is on point.

Date night at the movies? Get that soft and buttery skin with a bodycare product.

Dog walking? Make sure to add a layer of SPF!
If you want to take the insights one step further, type in one of these hashtags—#couples, for example—and see which videos surface into the top three positions on the results page. Look at what commonalities the videos have, what style the videos are in, how long they are, how they use audio and or text overlays, and emulate them with your own brand twist for new creative.
CREATIVE WAYS TO USE AUDIENCE INSIGHTS
Beyond the hashtags, the Ad Interest categories provide further insight for creative ideas.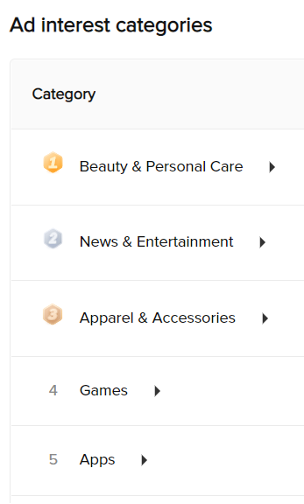 From here, we can see there are broad sweeping categories like "Beauty & Personal Care." But the cool thing is that we can dive deeper. The Beauty & Personal Care category consists of seven additional subcategories, with six of them having their own sub-categories.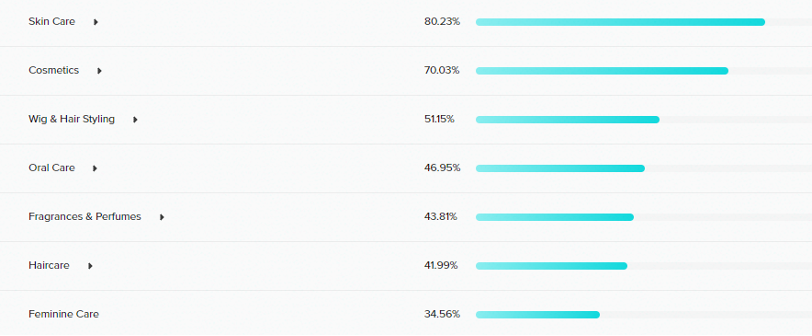 Now, go even deeper: pretend that you are looking more specifically for Skin Care—within that category, there are sub-segments:

This information will provide you with actionable data that will validate your target audience and spark new ideas for creative incorporation. Now, for beauty brands, looking at the Beauty & Personal Care Audience Insight data may be more validating than inspiring. But other categories, outside of Beauty directly, can also come into play.
For example, we have a beauty client with a high percentage of audience members scoring against the TikTok Wedding Photography category.

Here's where the true power of Audience Insights comes in, because now that brand can work with their design team to create content that speaks to the importance of having beautiful skin for a big wedding day.
This audience also indexes against desserts in the Food Category:

Our beauty client can collaborate with their creative team to show desserts in content, understanding that will hook more users and drive more viewership of the ads, ultimately leading to more sales.
Creative is critical, and without it, audience targeting isn't quite as important. But once you nail down the creative and have a good flow of creative ideation and output, then testing new audiences and dialing in on the top performers takes ad performance to the next level.
The Audience Insights tool can also be used to identify new audiences to target. As an example, say you are promoting a new moisturizer formula with a target audience of women ages 25-to-35; that audience indexes highest against these categories:

Further expanding the apparel and accessories category highlights that there are interesting opportunities for targeting. While it may sound odd, Men's Clothing is the highest subcategory—in this case, we'd recommend experimenting with it.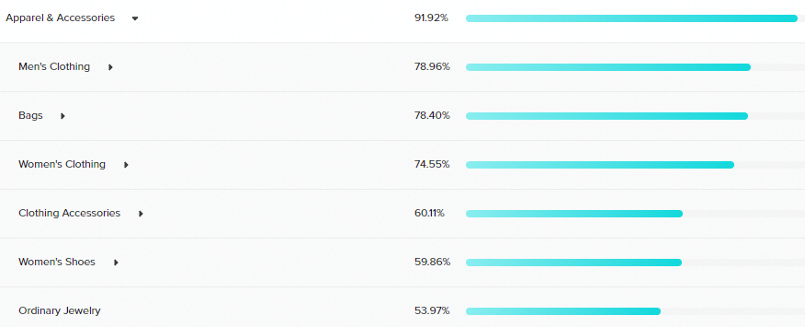 Taking that a step further, we see that "Jackets" is the highest indexing category underneath Men's Clothing.

Now the brand has data to support adding Men's Jackets into audience targeting—and testing new creative. Perhaps one test offers creative of a woman, aged 25-to-35, with glowing, moisturized skin, wearing a borrowed-from-the-boys style jacket. Another test could prompt that audience to: "show yourself love with skincare, while you shop for the perfect winter gift for him."
The audience insights tool can spark real creative insights for a platform on which creative is so imperative: embrace the creative inspiration and put it into practice.
Utilizing Audience Insights will make TikTok advertising a much more successful platform for your media mix. By fueling the machine that needs constant creative, and igniting ideas for audience targeting, your TikTok ads will be a smash hit.