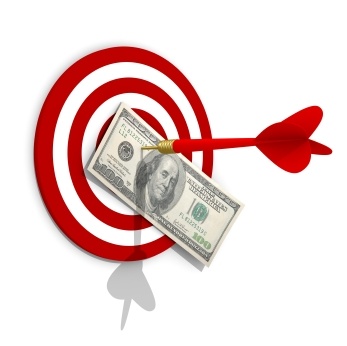 If you are managing multiple PPC budgets across different accounts, you have most likely faced the frustration of missing your targeted spend level by either over-spending or under-spending. This can be a major problem for advertisers that have a fixed budget. If you over-spend your budget, you may have to reallocate funds from another channel to cover the expense and if you under-spend you are missing out on opportunity to generate conversions.
Unfortunately, Google doesn't make things any easier. The campaign daily budget that you set in AdWords could be overspent by up to 20%. According to Google, this is to "help maximize your ROI", but I have a feeling it also helps maximize Google's ROI.
In this blog post I'll show you one way to efficiently manage multiple PPC budgets to maximize—but not exceed—your targeted spend.
PPC Budget Management Template
PPC campaign budgets are not something that you can just set and forget. Accounts with large budgets should be monitored daily, while you may be able to monitor accounts with smaller budgets less frequently. To help with this process I've created a budget management template you can easily recreate and adapt to your needs.
The template is made up of a "data tab" and "account tabs".
Data Tab: This is where you will enter daily spend data. All other tabs reference the data tab.
Account Tabs: Each account or budget gets its own account tab. This is where the account's daily spend adjustment is calculated.
Data Tab
A. Enter the account monthly budgets in this section.
B. Enter the total days in the top row.
Formulas:
Days Completed: =COUNTIF(C15:C45,">0")
Days Remaining: =C8-C9
C. Each account has its own column. Account columns are in alphabetical order. This will make it easier to input the spend data each day.
Account Tabs
A. Month-To-Date Actual:
The account's spend month-to-date
Formula: =SUM(C11:C41)
B. Month-To-Date Budget:
The amount that the account should have spent month-to-date, if the account was spending on budget
Formula: =(C6/SPEND_DATA!C8)*SPEND_DATA!C9
C. Total Monthly Budget:
D. Monthly Budget Remaining:
E. Target Daily Spend:
The amount that the account needs to spend per day to hit it's target budget for the month
Formula: =C7/SPEND_DATA!C10
F. Previous Day Spend:
Formula: =(LOOKUP(2,1/($C$11:$C$41>0),$C$11:$C$41))
G. Daily Spend Adjustment:
The amount that campaign daily budgets need to be increased or decreased in order to hit the account's target budget for the month
Formula: =C8-C9
H. Formula: =SPEND_DATA!C15
Using the Budget Management Template
1. Setup a report to be automatically run and emailed to you each morning.
The report in this example can be setup in the AdWords UI.
2. Sort the table alphabetically by "Account", then copy the "Cost" data.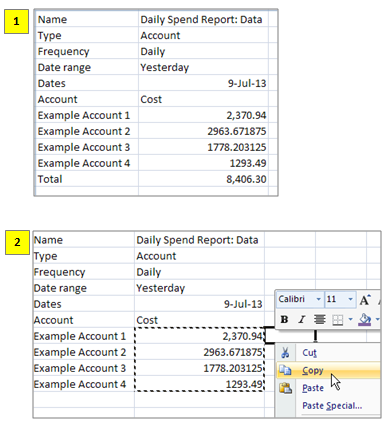 3. Within the "Data Tab" place the cursor in the spend cell for the previous day, within the left-most account column. Then, right-click and select "Paste Special".
4. Select "Values" and "Transpose"
5. Spend data is then pasted into the correct column. The spend data will also be populated in each accounts' corresponding "account tab".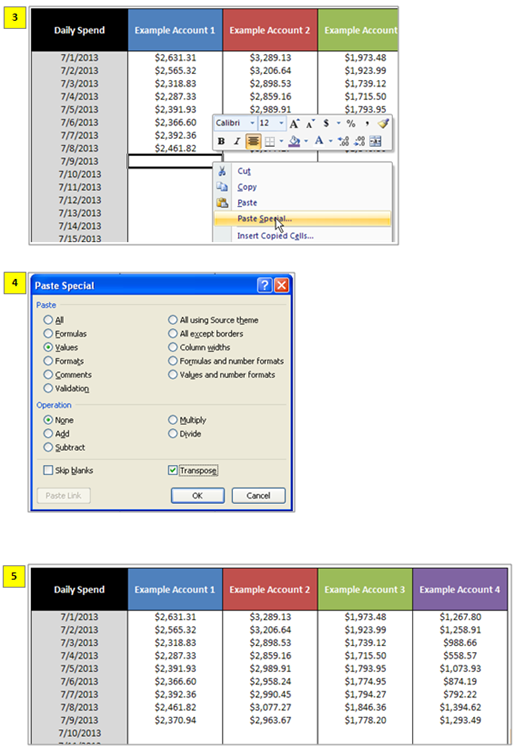 The next step is to adjust the daily campaign budgets within your accounts by the "spend adjustment" calculated in this template. You will need to determine which campaign budgets to increase or decrease based on each accounts' individual performance goals. For smaller accounts, you may be able to determine where to make the budget adjustment easily. However, larger accounts with many campaigns will require a bit of analysis. Not to worry, I have a template for that too. (Coming soon…)
Looking for help with your PPC campaigns? Contact us or learn more about our Search Engine Management Services today.