When It Comes to Online Reputation Management, Google's SERP Can Reveal Some Unpleasant Surprises
Turn on your computer and open your web browser to Google. Type in your business name alongside one of the following tags: scam(s), complaint(s), and/or review(s). Most likely the review site, Consumer Affairs, will surface on the first search engine results page (SERP). What's alarming is that this website usually ranks in one of the top three positions on Google.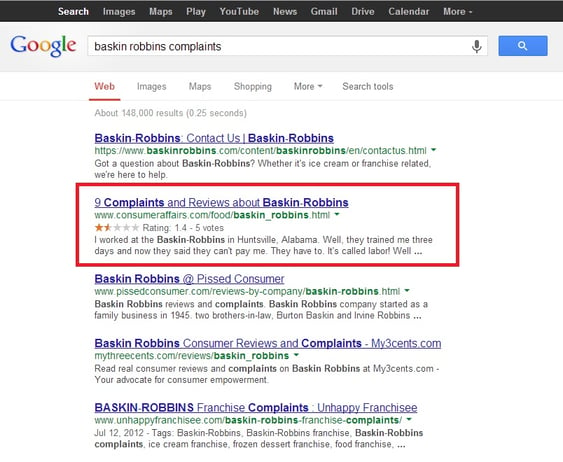 As Consumer Affairs directly impacts a brand's online reputation, and populates the most coveted digital real estate, it's hard to ignore. Your brand must manage its listing as well as respond to customer reviews as part of your overall digital reputation management strategy. However, are the benefits associated with a paid Consumer Affairs package worth its steep price tag?
Three Management Listing Packages Offered by Consumer Affairs
Free: Any business can maintain a free business listing on Consumer Affairs.
respond privately to customers who posted user reviews
edit company description and upload a business logo to listing
enable email alerts whenever a new review is written about your brand
Standard Package: $1,000 per month
respond publicly to consumers
verify review authenticity
access reviewer's "private" contact information
feature one testimonial at the top of your business listing
Premium Package: $5,000 per month
includes features in standard package
ability to dispute complaints
remove competitor advertising from business listing
access to premium analytics
display company awards and accolades
multiple user accounts
manage multiple pages
import customer satisfaction data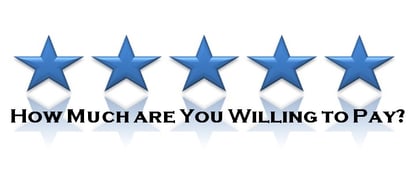 After careful research, I do not recommend brands signing up for a paid program through Consumer Affairs. The standard package is not worth its cost due to the simple fact that Consumer Affairs personally states during sales calls that the offered services will not help a business directly change its overall brand perception.
Then what about the Premium Package? It would seem this option would pack the most punch in improving your brand's online reputation. Let's take a closer look.
When you purchase the Premium Package, Consumer Affairs promises to actively work to change your brand's perception by offering your customers an incentive to review your business. Consumer Affairs will call 100 customers (hand-picked by the business) and will transcribe their opinions into "online reviews." With the premium package, businesses have the ability to dispute unfounded reviews, which encompass complaints that were resolved outside of Consumer Affairs as well as reviewers who did not respond to a business's direct outreach. Disputed reviews will eliminate negative star-ratings, presenting your business in a more positive light.
The last perk associated with the Premium Package, and arguably the best, is the prohibition of reviews on your listing that lack hard contact information. What this does is banish anonymous postings from going "live," in addition to granting your business full access to each reviewer's contact information: name, email address, and telephone number.
But, even with all the great perks, the Premium Package is still not worthy of its steep price tag. To put the cost into perspective, Yelp charges roughly $197 dollars per listing per year whereas Consumer Affairs charges approximately $5,000 per month per listing.
When in Doubt, Follow Best Practices
Concerns also arise from Consumer Affairs willingness to ignore industry standards in regards to how they operate. The fact that a business has to pay to dispute reviews goes against the policies of the more popular review and local sites (Yelp and Google+). I am afraid Consumer Affair's practice of enticing customers to leave reviews by providing incentives will only equate to a massive PR nightmare, as Google+ and Yelp often blacklist businesses for this practice. My last concern stems from the termination of a contract with Consumer Affairs. If a brand utilizes its services for six months and then chooses to cancel its contract due to success, will Consumer Affairs just as easily be able to manipulate all the positive data gained over this time into negative collateral?
Conclusion
If a brand has an extremely negative listing on Consumer Affairs that chronically surfaces on the first page of SERP for a brand name search, and can afford to pay $5,000 per month for eternity, then I recommend purchasing Consumer Affairs' Premium Package. However, the price tag and questionable business practices are not worth the risk for any business smaller than a Fortune 500. Investing in SEO efforts, combined with reputation management initiatives and the claiming of new local, review, and IYP sites, is a business's best strategy in combating the rise of spammy review sites, like Consumer Affairs, in SERP.
Note: All facts and figures used in this report were derived from a Consumer Affairs sales presentation sent to the author on 11.8.2012.
Looking for help with your Reputation Management? Contact us today or click here to learn more.