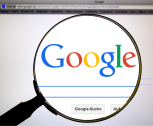 What is Google doing?
Last month, Google announced that they would be rolling out a new algorithm for its mobile search results, which rewards sites that are "mobile-friendly" with higher ranking.
Google is making the change in order to serve the most relevant results to users, especially as mobile usage has been growing faster than desktop for the last several years:
"Starting April 21, we will be expanding our use of mobile-friendliness as a ranking signal. This change will affect mobile searches in all languages worldwide and will have a significant impact in our search results. Consequently, users will find it easier to get relevant, high quality search results that are optimized for their devices."
A little history…
Google has never been shy about making sweeping changes to their ranking algorithm, but for the last several years, Google has been making updates to its mobile ranking algorithm specifically, while emphasizing how important it is that a user—whether on desktop, mobile, tablet, or feature phone—is getting the absolute best experience on the site.
Google is so focused on mobile because usage continues to grow year over year. For a long time, a typical user would only check their smartphone for directions, a phone numbers, or maybe quick product info before a purchase. Now, however, users are increasingly using their smartphones and tablets to go through the entire conversion funnel, from discovery all the way to the conversion.
Even if your desktop site is properly optimized, a positive mobile search experience involves different factors than with desktop. For example, search results change based on better access to location data or an awareness that the text on the landing page will be unreadable on your current device. Since Google's goal is to show their users the most relevant results, Google would rather not give their users a "so-so" mobile experience. If your mobile site is "so-so", that may mean trouble down the line.
What should your site do?
The good news is that Google is giving very clear instructions on how to fix your mobile site experience, if it's currently lacking.
First, test your mobile site. Google provides a free tool to see the current status of your mobile site, as well as what mobile optimization mistakes to avoid.
Access Google Webmaster Tools, and check if your site has any mobile specific messages or warnings. Google is serious about this mobile update, so anything that raises alarms will be displayed front and center along with a list of potential fixes.
This is list of potential mobile ranking issues directly from Google. If your site is currently experiencing one of these, there is time to take action.
If you already have a separate mobile site, such as m.domain.com, but still getting warnings in Webmaster Tools, you are in a much better position than not having the mobile site, but there are still precautions you can take to minimize any potential loss of rankings.
The algorithm considers each individual page rather than the site overall. This means that you can address your problem pages first, if there are any, without worrying about how the overall site will be affected by the changes.
If my mobile site is not up to par, can I just show mobile users my desktop site?
If your site is responsive, yes. If your site is not responsive, or if you have a separate m.domain.com mobile site, then the answer is NO.
Google is dedicated to the user experience, and they recently decided that if a user clicks on a mobile search result, and sees anything other than the content he expected to see, that's bad. Avoid any kind of mobile-homepage redirects, and, if you have a separate mobile site, use canonical tags to designate that the desktop and mobile pages are related, but separate entities.
Keep your site User Focused
Accompanying this letter, Flying Point Digital will bring to your attention any particular issues regarding your site. While in general, Google and the design-world is encouraging movement towards "responsive sites" that dynamically adapt on the browser to provide a device-optimized experience as the ultimate fix, we know that this is still some time off for clients who have made considerable investments into their current designs and technology. Since mobile-friendliness is evaluated by Google on a page-by-page basis, it is possible to adopt such strategies as tackling the homepage and select sub-pages such as location-pages or most popular click-paths first. Also, we are providing advice to ensure that any m.domain.com sites are properly associated with their desktop alternative sites.
Aside from the constant, gentile push towards responsive design, we have included the modest precautions you can take to minimize any potential impact of the expected April 21st "Mobilegeddon".