Structured snippets are a new, non-clickable ad extension recently released by Google early September 2015. The new ad extension allows advertisers to provide more information about their products without any additional cost.
Structured snippets are not to be confused with Google's previously released Dynamic Structured Snippets, in which Google automatically inserts messaging below ad text based upon the content categories of your website. With structured snippets, instead of dynamically inserting messaging, Google has shifted some of the control by allowing you to customize your content.
However, there is a catch: you have to choose from a predetermined set of categories that are very limiting and in some cases, too specific, such as "Insurance Coverage". Nevertheless, any opportunity to provide users with more reasons why they should choose you, while taking up additional ad space on the SERP, is a total no brainer.
Creating a Structured Snippet: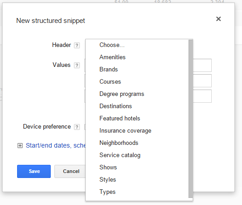 .
You are allowed up to 10 "Values", with a recommended minimum of 4, and a character limit of 25 for each. Here is where you are able to tailor your messaging based upon the "Header" you chose.
You can decide to opt into Mobile as well as implement scheduling and/or start-and-end dates for your Structured Snippets.
You must choose from a set of 12 categories found in the "Header" drop down. The category you select will appear to the left of your content followed by a colon on the SERP, making it essential that your messaging is in congruence with your header
Structured Snippets, Callout Extensions, and Sitelinks
Keep in mind, structured snippets appear below your ad copy and callout extensions, but above your sitelinks. Therefore, you want to ensure that the messaging in your structured snippet and the messaging in your sitelinks are not redundant.
According to Google, callouts should "highlight what makes your business or products/services unique" while structured snippets should "highlight a specific aspect of the products/services you offer"

Implementing structured snippets, in conjunction with any ad extension, will help improve your ad rank and Quality Score by increasing your ad relevancy and click-through rate. So don't skimp on ad extensions and be sure to take advantage of this new free and easy way to take up additional ad space while highlighting your products and services.