As of late, it appears to us that Instagram is at the vanguard of all things social. Even though skeptics of the platform's recent upgrades knock them for "ripping off" Snapchat and Pinterest, both marketers and everyday users have been quick to adopt their new features. Example A is Instagram Stories, which in Q1 of 2017 surpassed Snapchat in daily active users.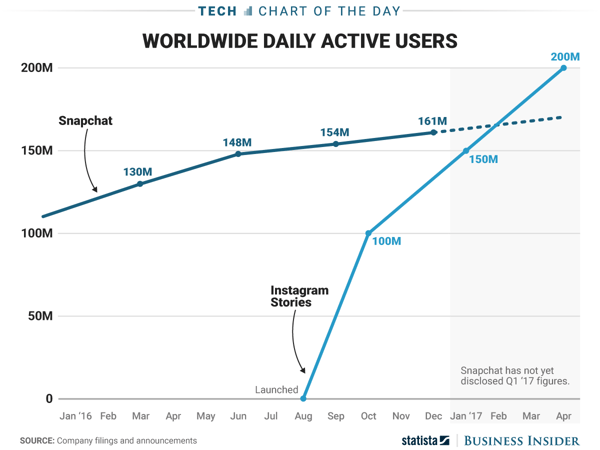 In the spirit of competition, Instagram took their "saving" function to the next level with the introduction of Collections on April 17th, 2017. Collections are private folders within your Instagram account to save your favorite posts. Although many say this is a "rip off" of Pinterest boards, we anticipate this feature to be used heavily as Instagram content is arguably more visual than Pinterest content. While Pinterest is a place for inspiration, the name of the Instagram game is high quality content.
---
Straight from Instagram's Help Center, here's how to create a new collection:
Go to your profile and tap
Tap in the top-right corner
Enter a name then tap Next
Tap any saved posts you'd like to add to your collection, then tap Done
You can also create a new collection as you save posts:
Below a post you'd like to include in your collection, tap and hold
Tap
Enter a name then tap Done
To see the collections you've created, go to your profile and tap

, then tap Collections at the top.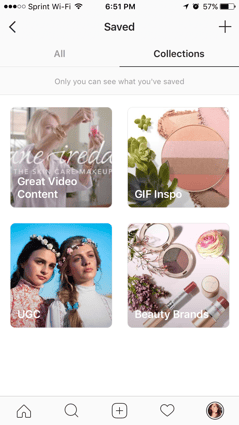 ---
Now that you know the logistics of how to use them, here are a few ideas for Collections that you can use for personal purposes on your own account.
Favorite Quotes
Favorite Recipes (if you're a foodie, break it down by desserts, apps, breakfast, cocktails, and more!)
Makeup Looks You Love
Style and Fashion
Products you've had your eye on
Home Décor Inspiration
Favorite photos from your friends
…and more!
If you're a marketer, Instagram Collections is a wonderful opportunity to encourage consumers to not only "like" your content, but to save it for later so they don't forget about it. Right now, Instagram only reports on "saves" when promoting content with dollars behind it, but we anticipate full "save" analytics to roll out eventually. In fact, when those analytics do become available (fingers crossed!) we anticipate marketers to strive for "saves" over "likes", which are a stronger sign of consumer affinity. Marketers will hopefully be able to use the performance metric to identify brand loyalists, more so than a simple like.
One strategy that may not seem immediately obvious, is the promotion of use of Instagram Collections from brand accounts. Use a "save this post" call to action in your next post, and encourage users to create a collection to save your brand content. If you're a beauty brand, encourage followers to save their favorites posts to a "Looks I Love" collection. If you're a food brand, encourage users to save your posts to a "Yummy Eats" collection. The options are endless!
In addition to the user-facing strategy above, there are other ways to use Instagram Collections for your internal marketing purposes.
Create a UGC Collection. When you ask users for permission to share their photo, it will be easy to jump back into your collection to see if they've responded. If they approve a brand's use of their image, consider moving the image to a "UGC (Yes)" folder to create an arsenal of sharable or re-grammable UGC.
Create a Competitor Collection. Save competitor content into a folder to refer to when crafting your social reports to share competitor analysis with clients. Whether you're saving posts about new launches, collaborations, or contests, it will be helpful to save information from multiple competitors into one folder. If your client requests heavy competitive analysis, consider creating a collection per competitor.
Create a Social Inspiration Board. Need I say more? Consider creating multiple boards by your client's different content buckets or categories. For example, I've created the following Collections for inspiration:

GIF & Video Inspo
Product Inspo
Lifestyle / Everyday Inspo
Model Inspo
On Trend
All in all, we're happy to see Instagram Collections launch, amongst the other social platform upgrades in the latest month, because it's created healthy competition in the market. When one platform develops new features, it forces others to follow suit. While we don't think Pinterest and its beautiful boards will be going away anytime soon, we do expect Instagram Collections to gain traction from regular users and brands alike.