With the introduction of expanded text ads (ETAs) last year, and the performance increase advertisers are seeing as a result of the upgraded ad format, I'm not at all surprised to learn that Bing has announced that as of July 31st, 2017, they will no longer support the creation of new standard text ads (STAs) or the editing of existing ones. This change applies to both the Bing Web UI as well as Bing Editor. For users not yet ready to transition to ETAs, Bing has specified that they will continue to serve STA's for the time being and has yet to announce a specific date in which they will stop serving the standard ad format all together.
Leveraging Bing to Easily Convert STAs to ETAs
In an effort to streamline the transition to ETAs, Bing has recently made changes within the Bing Ads Web UI as well as within Bing Editor that enables users to easily convert standard text ads to expanded text ads.
Upgrading to ETAs within the Bing Ads Web UI:
When editing STAs within the Bing Ads UI, Bing prepopulates the expanded text ad fields with information from the standard text ad allowing you to easily upgrade your ad to ETA format. Although Bing does most of the work for you, be sure to review all fields and make any necessary edits before saving your new expanded text ad.
Review Your URLs to ensure that your using Upgraded URLs. If using destination URL tracking, you will need to upgrade to an Upgraded URL by copying the landing page portion of your destination URL and pasting it into the Final URL box, and copying the tracking portion of your destination URL and pasting it into the Tracking template box found under "Ad URL Options".
Leverage all available fields in order to capitalize on the additional headline, character limits, and URL paths that the upgraded ad format offers.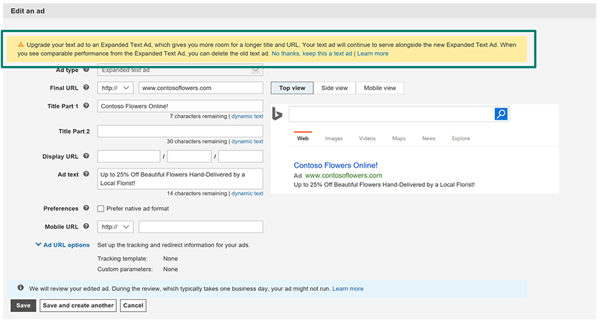 The text ad in which you created your expanded text ad from will continue to serve alongside the new ETA, allowing you to measure the performance of the upgraded ad format against your standard ad. Keep in mind, given Bing's recent announcement regarding the end of STA editing functionality, I would be sure to utilize this method prior to July 31st, 2017.
Upgrading to ETAs within Bing Editor:
Bing Editor makes it easy to upgrade ads in bulk by allowing you to export your current standard text ads as expanded text ads via the "Export as" drop-down menu. Your export sheet will contain all the necessary columns needed for your ETA upload. Before uploading your newly created ETAs, be sure to add a second headline within the "Title Part 2" column of your exported file as you will be unable to upload without it.

---
Understanding our client's business is paramount to our success in paid search. Flying Point's PPC and SEM specialists develop unique strategies tailored to fit our client's goals that are based off of in-depth market and competitor research. Utilizing state-of-the-art industry tools and technology, in combination with personalized review and analysis, our PPC and SEM experts carefully monitor and evaluate all campaigns, shaping them through constant testing to ensure our client's goals are achieved. Contact us!