The Zoom beauty boom has sent ecommerce sales skyrocketing: Ulta recently reported that their ecommerce sales were up more than 200% for the quarter ending August 1st. However, that surge has neither fully made up for in-store losses nor impacted segments equally. Consumers' strong interest in skincare has persisted, haircare is on the rise, and color cosmetics are—just as they were pre-pandemic—declining. That said, makeup will recover and its current role in the lives of beauty consumers holds important lessons for brands. Women are increasingly on camera—and also looking for an extra dose of fun in their lives—the color cosmetics brands that are strong digitally and communicate appropriately will outlast and then thrive.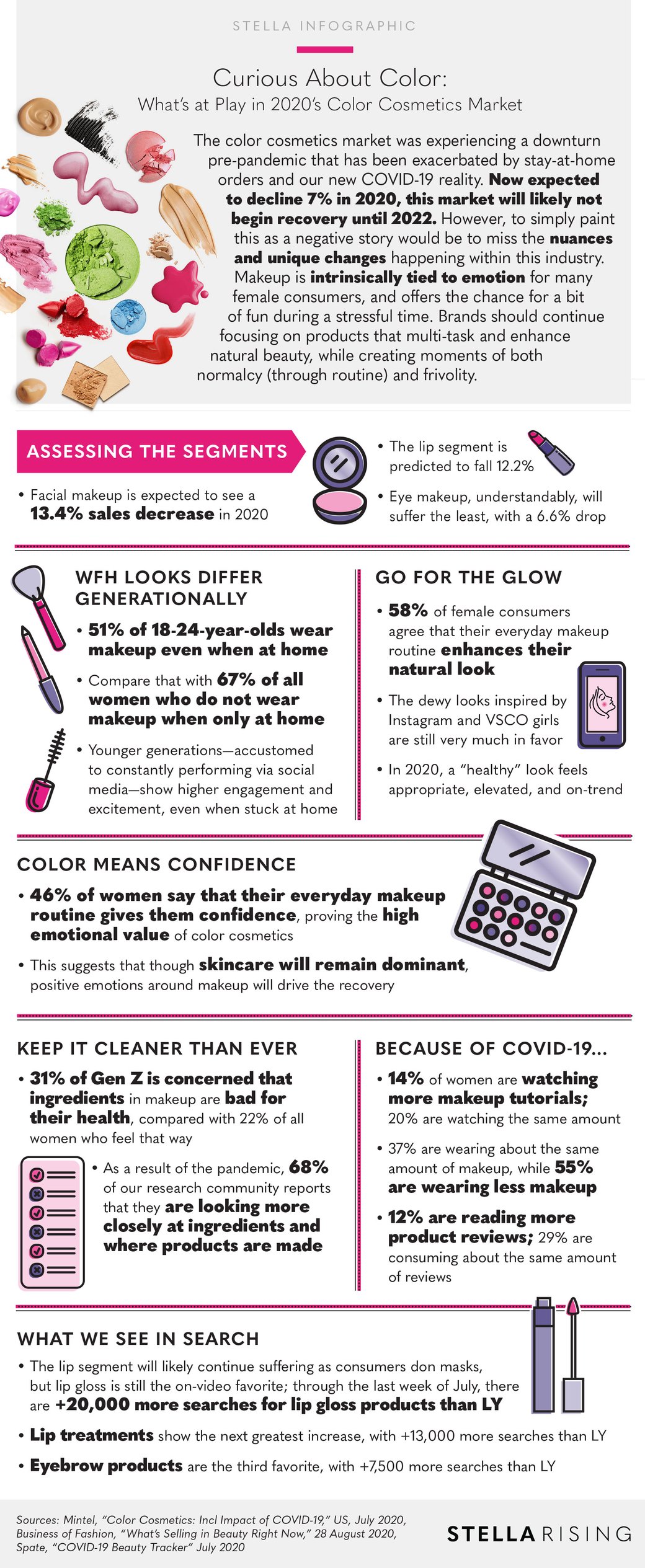 TOP TAKEAWAYS ON 2020'S COLOR COSMETICS CONSUMER
51% of 18-24-year-olds wear makeup even when at home.

Compare that with 67% of all women who do not wear makeup when only at home.

58%

of female consumers agree that their everyday makeup routine enhances their natural look. Remarks Alexa Inge, co-founder of Cult Beauty on today's consumers:

"They're not doing these elaborate makeup routines — because that glam look just feels so discordant with the day we're in — but elevating the look of healthy skin, healthy being the operative word."

46% of women say that their everyday makeup routine gives them confidence,

proving the high emotional value of color cosmetics

As a result of the pandemic, 68% of our research community reports that they are looking more closely at ingredients and where products are made

Because of COVID-19,

37% of consumers are wearing about the same amount of makeup, while 55% are wearing less makeup
At Stella Rising, we have helped build some of the world's most beloved beauty brands. We pair strong consumer research with an expertise in ecommerce, driving revenue, expanding audiences, and accelerating growth.