2020 has already seen an escalation in the Amazon vs. Walmart grocery wars. This week, Amazon launched its first Amazon Go Grocery, a full-scale, cashierless grocery store powered by discreet cameras and light sensors. Almost simultaneously, Walmart introduced a new e-commerce logistics hub for third-party sellers. As the two retailers engage in moves and countermoves, the winner will be the consumer. There are implications for everyone, and the time is now for brands to set and cement their strategies for the marketplace era. For this infographic, we focus on Amazon, the current e-commerce leader in the U.S. grocery market, as new methods have emerged for food and beverage brands to expand on the platform in a very meaningful way.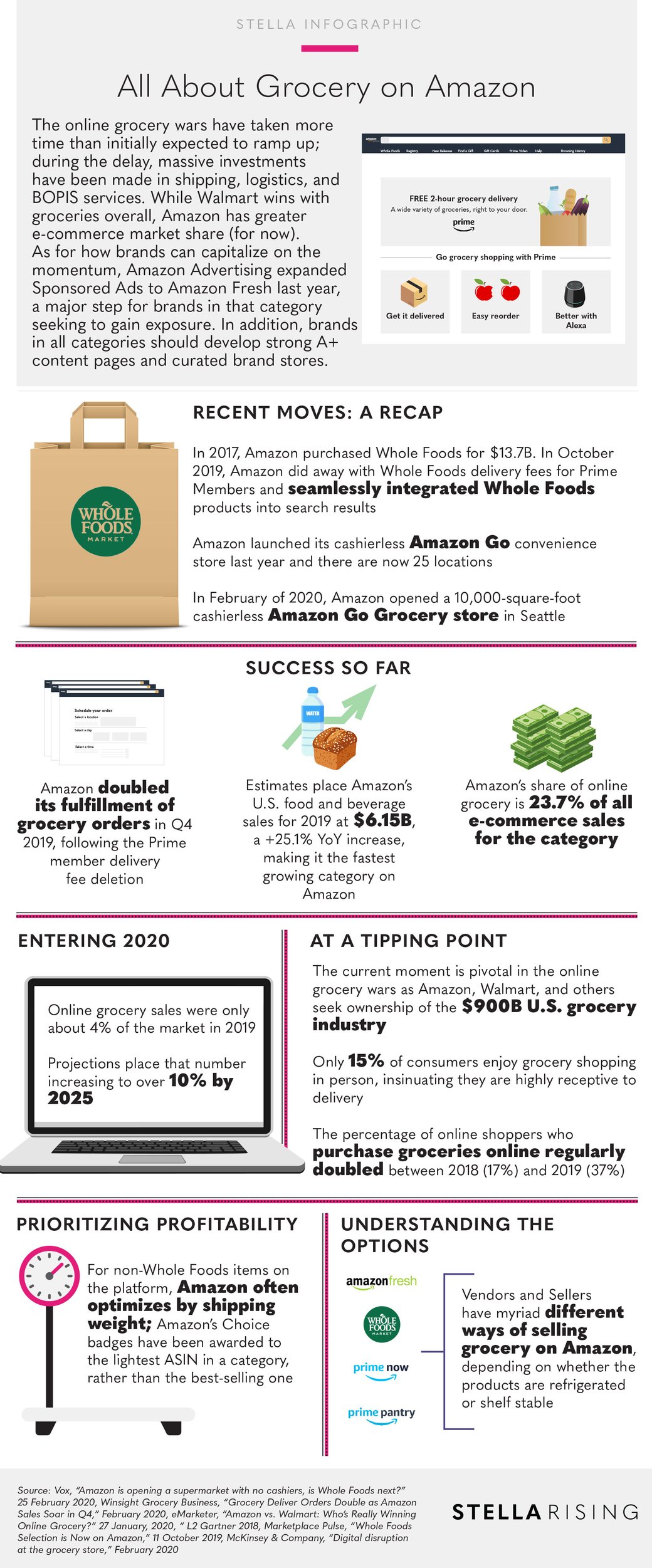 SIX HIGHLIGHTS THAT FOOD & BEVERAGE BRANDS NEED TO KNOW ABOUT THE E-COMMERCE GROCERY MARKET
Amazon doubled its fulfillment of grocery orders in Q4 2019, following the Prime member delivery fee deletion
Online grocery sales were only about 4% of the market in 2019, but projections place that number increasing to over 10% by 2025
The current moment is pivotal in the online grocery wars as Amazon, Walmart, and others seek ownership of the $900B U.S. grocery industry
Only 15% of consumers enjoy grocery shopping in person, insinuating they are highly receptive to delivery
The percentage of online shoppers who purchase groceries online regularly doubled between 2018 (17%) and 2019 (37%)
Amazon Fresh, Whole Foods, Prime Now, or Pantry: Vendors and Sellers have myriad different ways of selling grocery on Amazon, depending on whether the products are refrigerated or shelf stable
At Stella Rising, we provide best-in-class Amazon strategies, helping brands shine on the platform. Ready to stand out? Connect with us.