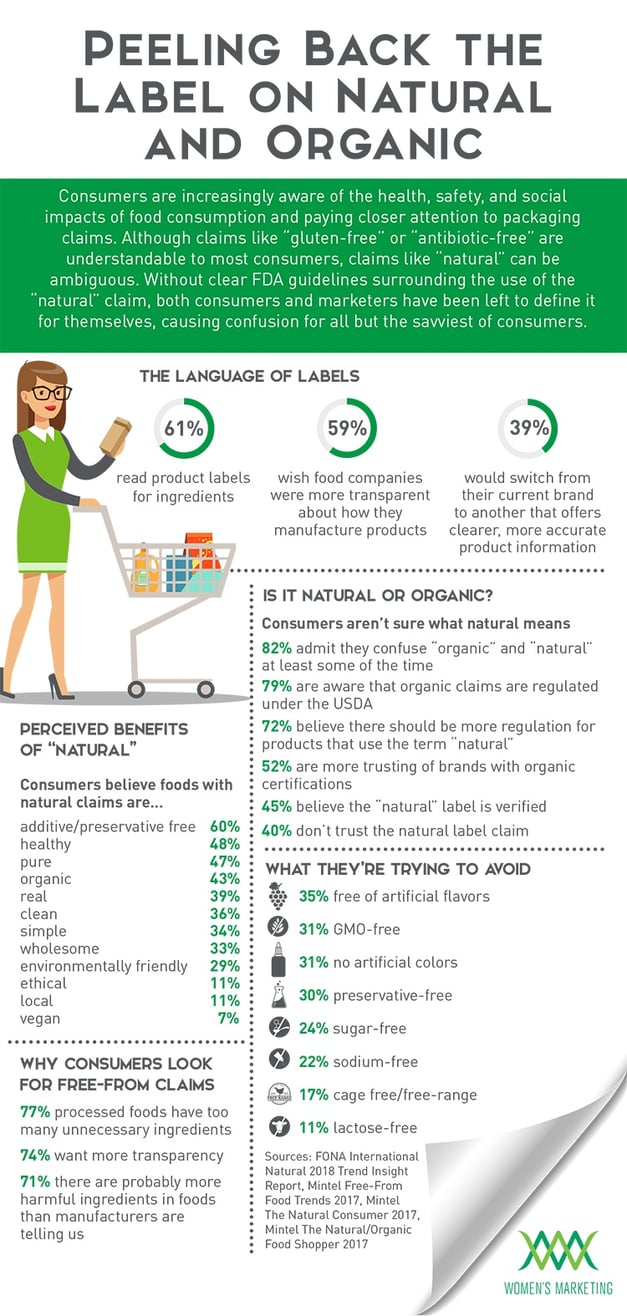 Consumers are increasingly aware of the health, safety, and social impacts of food consumption and paying closer attention to packaging claims. Although claims like "gluten-free" or "antibiotic-free" are understandable to most consumers, claims like "natural" can be ambiguous. Without clear FDA guidelines surrounding the use of the "natural" claim, both consumers and marketers have been left to define it for themselves causing confusion for all but the savviest of consumers. In our infographic, we look at what's confusing food and beverage consumers and how marketers can offer more substantive and transparent claims.
The Language of Labels: Consumer statistics regarding "natural" and "organic" label claims
61% read product labels for ingredients
59% wish food companies were more transparent about how they manufacture products
39% would switch from their current brand to another that offers clearer, more accurate product information
Is It Natural or Organic?
Consumers aren't sure what natural means
82% admit they confuse "organic" and "natural" at least some of the time
79% are aware that organic claims are regulated under the USDA
72% believe there should be more regulation for products that use the term "natural"
52% are more trusting of brands with organic certifications
45% believe the "natural" label is verified
40% don't trust the natural label claim
We are an insights-led practice with a deep understanding of how consumers engage with brands throughout the purchase journey. Contact Women's Marketing today to get started.