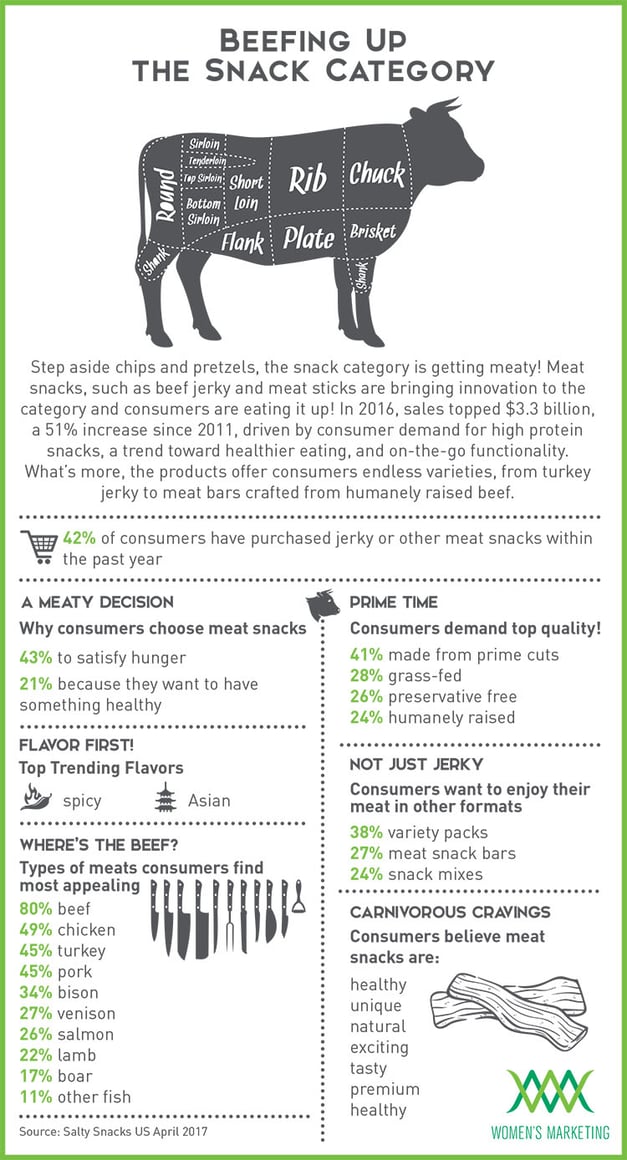 Step aside chips and pretzels, the snack category is getting meaty! Meat snacks, such as beef jerky and meat sticks are bringing innovation to the category and consumers are eating it up! In 2016, sales topped $3.3 billion, a 51% increase since 2011, driven by consumer demand for high protein snacks, a trend toward healthier eating, and on-the-go functionality. What's more, the products offer consumers endless varieties, from turkey jerky to meat bars crafted from humanely raised beef. In our infographic, you'll learn why more food and beverage consumers are asking, "where's the beef?"
The Top 5 Things Consumers Want in Meat Snacks
Consumers want top quality!
1. Made from prime cuts of meat
2. Free from preservatives
3. Humanely raised
4. Spicy or Asian-influenced flavors
5. A variety of formats, including: jerky, snack mixes, and bars
Consumers are snacking more frequently and this creates opportunities for brands to meet their demand. Learn how Women's Marketing's suite of food and beverage marketing services can get your brand noticed when they're hungry to learn more.