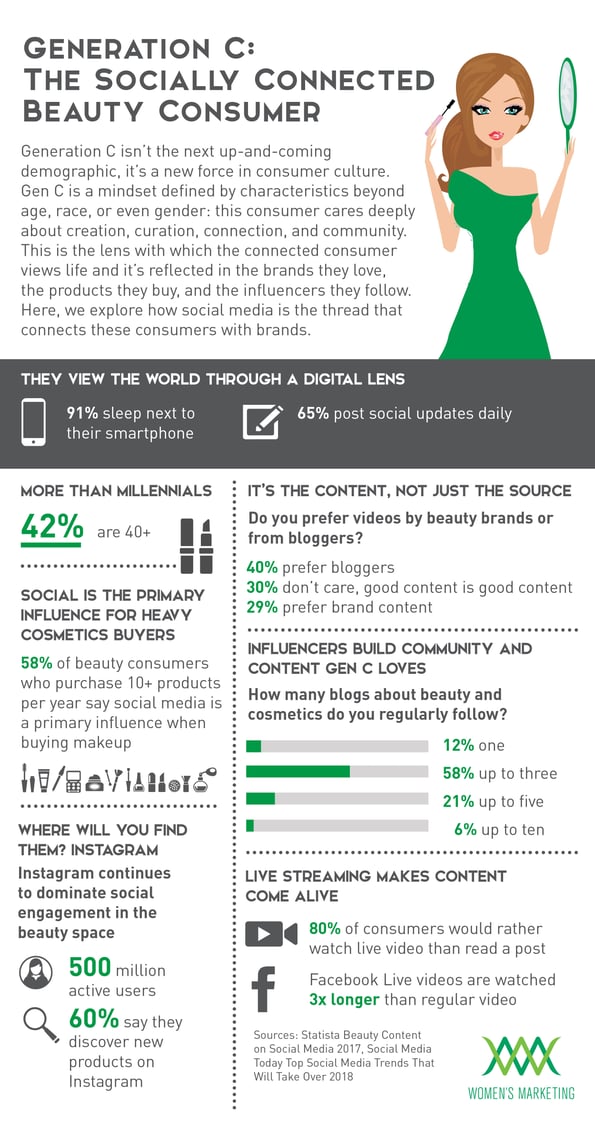 Generation C isn't the next up-and-coming demographic, it's a new force in consumer culture. Gen C is a mindset defined by characteristics beyond age, race, or even gender: this consumer cares deeply about creation, curation, connection, and community. This is the lens with which the connected consumer views life and it's reflected in the brands they love, the products they buy, and the influencers the follow. In our infographic, we explore how social media is the thread that connects these female consumers with the brands they love.
Social Media Is the Primary Influence for Heavy Cosmetics Buyers
58% of beauty consumers who purchase 10+ products per year say social media is a primary influence when buying makeup
Where Will You Find Them? Instagram
Instagram continues to dominate social engagement in the beauty space
500 million active users
60% say they discover new products on Instagram
Live Streaming Makes Content Come Alive
80% of consumers would rather watch live video than read a post
Facebook Live videos are watched 3x longer than regular video
Contact Women's Marketing to learn how our suite of marketing services can help your brand engage with this beauty consumer.