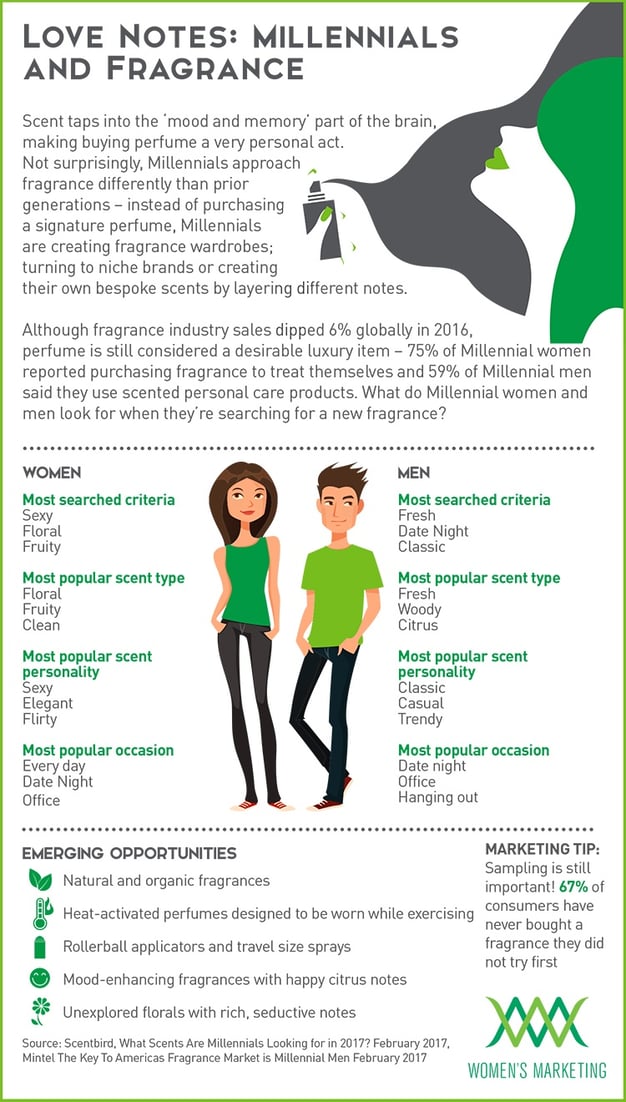 Although fragrance industry sales dipped 6% globally in 2016, perfume is still considered a desirable luxury item – 75% of Millennial women reported purchasing fragrance to treat themselves and 59% of Millennial men said they use scented personal care products. In our infographic, we look at what Millennial women and men look for when they're searching for a new fragrance.
What Do Millennial Men And Women Look For When Purchasing Fragrance?
1. Most-searched fragrance criteria: Women: Sexy, Men: Fresh
2. Most popular scent type: Women: Floral, Men: Fresh
3. Most popular scent personality: Women: Sexy, Men: Classic
4. Most popular occasion to wear scent: Women: Every Day, Men: Date Night
In our infographic, Women's Marketing explores emerging opportunities in the fragrance market and what Millennials look for in the fragrances they buy. We have a deep understnding of the beauty industry, female consumers, and how they engage with media throughout the day. Contact us to learn more about our suite of marketing services and how we can put our expertise to work for your brand.