Amazon, Google, Hershey's…what do these classics have in common? They've made the list of America's favorite brands. In addition to offering quality and convenience, "favorite" brands understand how to reach consumers across multiple touchpoints to deliver consistent brand experiences across platforms. Two out of three consumers agree that their favorite brands offer consistent experiences everywhere they are and 60% of consumers say these brands make them feel like a valued customer—in fact, almost 40% of consumers say that their favorite brands "understand them as an individual." In an age where consumers are demanding personalization, smart brands are using data to create unique and targeted experiences for their consumers.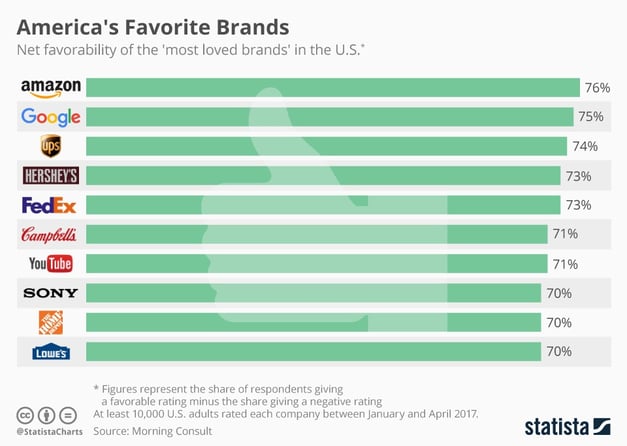 Getting Granular on Personalization
Using the wrong data at the wrong time may end up alienating consumers, who don't want to feel that marketers are stalking them or sending generic messages. In fact, 42% of consumers stop shopping with brands that send them irrelevant marketing messages via email, texts, or ads. Consumers welcome content that makes it easier for them to select the products they're more likely to buy. Forty-two percent of consumers say they want product recommendations based on purchase and browsing history, 38% would like relevant offers and messages "just when they need them," and 29% want brands to keep track of their purchases and send replenishment reminders.
Problem Solving
The consumer journey doesn't end with the purchase. Favorite brands use technology to make returns, provide product feedback, resolve issues, and allow them to continue shopping seamlessly. Sixty-four percent of consumers say their favorite brands offer hassle-free returns and issue resolution. Forty-eight percent of consumers say they've stopped shopping with a brand that offered substandard customer service either online or in person, so it's absolutely essential that they have a positive experience every time they interact with your brand.
Sharing the Love
Consumers love sharing their experiences and rely on product reviews to make purchasing decisions, so encourage them to do so! More than half of female consumers say their favorite brands make it easy for them to provide feedback and rate products.
How Favorite Brands Benefit
For brands that have earned "favorite" status among consumers, the benefit goes beyond the buy. Consumers are more likely to recommend and remain loyal to their favorite brands and less likely to shop around or switch to a lower priced product. In fact, when it comes to their favorite brands, consumers are "very likely" to:
48% recommend to family and friends
44% try new products from the brand
42% open emails or respond to promotional offers from the brand
40% buy from the brand more often
36% spend more with the brand
32% review the brand/product
18% share on social media
Smart brands are winning consumers' loyalty by delivering relevant messages across devices and channels. Using data and analytics to better understand your consumer and deliver those experiences in the right context at precisely the right time is key to building long-term relationships with your consumer. Women's Marketing offers a suite of marketing services that help emerging brands become consumer favorites. Contact us today to learn more.
Source: Building Consumer Brand Infatuation, How Popular Retail and Travel Brands Are Crushing Customer Churn With Great Experiences, Ascendant Network March 2017