2020 spurred 32.4% YoY growth in ecommerce; in 2021, the digital-first habits adopted in 2020 will deepen and expand via new technologies. eMarketer predicts ecommerce will grow 6.1% YoY in 2021, on the expectation that even when consumers are freer to go in-store, ecommerce will surpass its 2020 heights. In light of that growth in the next normal, we are highlighting three big-picture trends that will shape the next 12 months, and insights into the consumer expectations and motivations driving everything forward.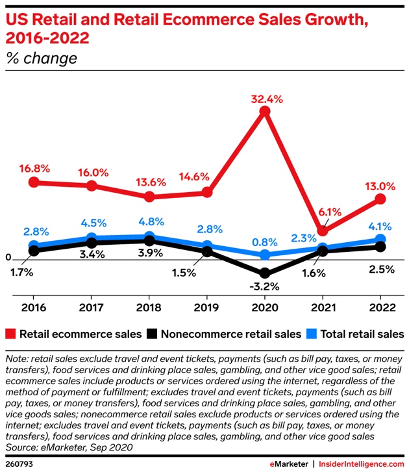 TREND ONE: IMMERSIVE TECH, IMPROVED EXPERIENCE
When it comes to the online experience, consumers are seeking better and they think technology can deliver, noting a belief that technology could improve:
Digital product comparison tools (52%)
The experience of exploring products like they do in-store (35%)
New digital product discovery (34%)
In 2021, brands need to invest in technologies that continue blending the physical and digital worlds, therefore creating consistent experiences. And consumers are ready to adopt new technologies for online shopping: when asked for instances where they would use new tech, consumers responded:
To find the exact item they are looking for (49%)
To avoid going in-store (46%)
To simplify browsing and search (45%)
To simplify the checkout process (43%)
Whether it is artificial intelligence, virtual reality, a QR code, or augmented reality, consumers are ready for the technology that will play a larger role in 2021, unlocking revenue growth for brands.
TREND TWO: CONVERGENCE
In 2020, major inroads were made with shoppable content. Instagram launched—and prioritized—Shops, TikTok partnered with Walmart on shoppable content, and livestream shopping, already popular elsewhere, gained traction in the U.S. 52% of consumers who watch livestreaming video report doing so daily; the habit is set, and on the go-forward, media will play a larger role in conversion. In addition, livestreaming commerce will expand beyond social media to TV networks, subscription platforms, and more.
TREND THREE: TECH EMPOWERS PHYSICAL
Technology can help consumers feel a greater sense of safety, efficiency, and control, all sentiments in vogue post-2020. The surge in Buy Online Pickup In-Store (BOPIS) exemplifies this, and 68% of adults already plan to use BOPIS more post-pandemic. Consumers like collecting digital orders inside stores, too—60% will continue doing so more post-pandemic.
Consumer interest in the following retail technologies jumped between March and June 2020:
Mobile payments: 17% to 30%

Mobile app orders: 16% to 28%

Apps to scan barcodes: 0% to 25%
Frictionless, a term used much in the ecommerce world, will now also be applied to physical retail, and technology will help to reinvent physical retail, especially when consumers go back in-store in earnest.
FACTORS POWERING TECH ADOPTION ON THE GO-FORWARD
At Stella Rising, an unparalleled understanding of consumers drives our digital marketing and media strategies. Consumers' reasons for embracing ecommerce and technology in 2020 are now well-recounted; we are tracking new insights that show why these behaviors will stick.
90% of parents

report that they are always on the lookout for things to make their lives easier, compared with 71% of non-parents. This shows up in technology adoption: 27% of parents with children under 18 would like brands to incorporate virtual workshops and events into their online experiences, as compared to 14% of non-parents. A similar trend can be seen with the desire to digitally connect with other consumers while shopping a brand: 28% (parents) vs. 10% (non-parents). Shopping innovations resultant from COVID-19 excited parents—a group with a profound impact on the economy—and they will be on the lookout for stronger technology on the go-forward.

Even with considerable vaccine progress, consumers continue to live in a pandemic and loneliness and mental health will be top issues of 2021. Technology—which can be a negative force in this arena—helped tremendously in 2020. Consumers will continue to crave communities—through brands,

influencer networks

, and on social media—and technology will enable these relationships; we are more reliant than ever. That said, in 2021, consumers may seek to add back a bit of balance and have the flexibility to disconnect. Brands need to be receptive and encouraging of that behavior.
Our insights community, Glimmer, powers real-time insights from consumers; as 2021 progresses, we will keep you updated with pressing research.
Stella Rising is well-versed in ecommerce, marketplaces, and brick and mortar retail, and we navigate our clients through all phases of growth. Looking to shine in 2021? Connect with us.
Additional sources: Mintel, "Whiling away the hours," 3 December 2020, eMarketer, "Future of Retail 2021: 10 Trends that Will Shape the Year Ahead," 10 December 2020