As we enter the final weeks of 2020, brands on Amazon are in the midst of the busiest quarter of the year—and also the largest holiday shopping season in Amazon's history. With more consumers shopping Amazon this year, it is critical that brands showcase their products on the platform in the best way possible. Optimized images, video, and content play a huge role, but the quantity and quality of consumer feedback is equally important. Nearly 95% of all shoppers read online reviews prior to making a purchase. So, how can brands leverage Amazon's product feedback loop to generate future sales? As a Senior Marketplace Account Manager at Stella Rising, I work with clients daily, advising on best practices for generating and managing product feedback on Amazon. During this critical time, I outline key strategies for brands seeking to maximize reviews, a critical piece of virtual word-of-mouth advertising.
WHAT ARE PRODUCT REVIEWS?
An Amazon review is a public rating of a customer's satisfaction with a product. Amazon encourages consumers to post an authentic review of their purchase, using a basic scale of 1-to-5 stars. Customers can post product feedback in the form of a simple star rating (referred to as a "one-tap rating"), written statement, or video review. Amazon aggregates all product feedback and displays the total number of product reviews and the average star rating at the top of the product detail page. Detailed product reviews live below the fold, where they can be accessed and perused by the public.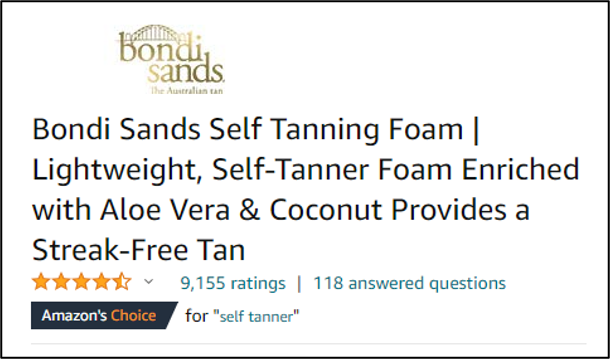 In-stock products with optimized copy and images are not considered "retail ready" until they have generated at least 15 reviews with a minimum 3.5-star rating. Brands have very little impact on the quality of their product reviews but can influence the quantity of their reviews through participation in review generation programs, both internal from Amazon (Vine and Early Reviewer Program) and external programs:
Vine enables Amazon brands to put their products in the hands of Amazon's top reviewers, known as Vine Voices. These reviewers are hand-picked by Amazon for their expertise in posting insightful and comprehensive reviews on their past purchases. Vine is essentially Amazon's proprietary sampling program, in which the brand sends the reviewer a complementary sample to try out. Once only available to Vendors, Vine was rolled out to Brand Registered sellers last year. Reviews from Vine Voices are labeled on Amazon and include a "Vine Customer Review of Free Product" callout.

Here is a high-level overview of the program's logistics:
Brands: Sellers and Vendors

Eligibility: ASIN must have less than 30 reviews

Cost per Enrollment: Free to Sellers; Minimum of $2,500 per ASIN for Vendors

Max Review Potential: 30 reviews per ASIN

Enrollments: Sellers are limited to five active enrollments at a time; active enrollments for Vendors are unlimited

Brand Registry Required: Yes

Once a product is enrolled, Vine Voices claim the units and have 90 days to leave their review.
Sellers also have the option of participating in Amazon's Early Reviewer Program (ERP) to generate incremental product reviews. Through the ERP, Amazon encourages buyers who have already purchased a product to share their authentic experience by posting a review. Reviewers will receive a small monetary reward from Amazon after they have submitted their review, taken from the enrollment fee. ERP reviews are designated on Amazon with a special "Early Reviewer Rewards" badge.

Here is a high-level overview of the program logistics:
Brands: Sellers only

Eligibility: ASIN must have less than five reviews

Cost per Enrollment: $60 per ASIN enrolled, to be charged once the first ERP review is received

Max Review Potential: five reviews per ASIN

Enrollments: Unlimited

Brand Registry Required: No
Once the product is enrolled in the ERP, Amazon will continue to request customer reviews for up to one year, or until the enrollment has received five reviews through the program.
THIRD PARTY REVIEW MANAGEMENT TOOLS
Brands interested in increasing their product reviews should absolutely participate in one or both of the Amazon programs outlined above, as they have a proven track record of producing high-quality, authentic feedback for products post-enrollment. However, brands are not limited to Amazon's proprietary programs. There are myriad third-party solution providers dedicated to helping brands grow and manage product feedback. Reviewbox and FeedbackFive are two of our favorites, but we encourage brands to research all available options to ensure that they select a provider that best aligns with their goals.
Third party review management tools help increase a brand's review potential by automating the process of contacting customers via email to request a review on past purchases. Brands can customize the email copy to ensure that it aligns with their voice and can specify when the review request should be sent based on when the order was placed or delivered. Automating the review generation process allows brands to cast a wider net, ensuring that all customers receive a review request email at the optimal time.
When enrolling in any review generation program, whether internal or external to Amazon, it is crucial that brands have a defined strategy in place for managing the influx of product reviews that they will receive. This list provides the best practices and Amazon guidelines for optimal review management:
Do not include links, contact information, etc. in responses

Do not request a positive review or ask for reviews only from buyers who had a positive experience

Do not ask customers to change or remove their review

Do not attempt to influence the review in any way, including by offering compensation in the form of cash, gift cards, refunds/reimbursements, free products, entry to a price drawing or competition, discounts on future purchases, etc.

Do not leave reviews for your own products
Amazon product reviews are powerful word-of-mouth advertisements, arming consumers with the information they need to make informed purchase decisions. For brands selling on Amazon, high quality reviews have the added benefit of positively impacting conversions: 77% of consumers have been influenced by products with the best ratings and reviews when shopping on Amazon. Through participation in Amazon-owned review programs, partnerships with third party solutions providers, and a strategic approach to review management, brands can generate high-quality reviews, bolster consumer confidence, and increase sales. If you are a brand selling on Amazon and are interested in growing your product reviews, or addressing your larger Amazon strategy, please connect with us.