Remember when inputting credit card information online made us all paranoid about data theft? If you're like most people, you have made hundreds of digital purchases in recent years without giving security a second thought.
While nothing fully replaces the in-store experience—those jorts should really be tried on in person!—the sheer convenience of online shopping has contributed to its mass adoption, with fears and anxieties eased along the way. And as ecommerce continues to accelerate, the experience is only getting easier, faster, and more convenient: this is where social commerce comes in. For this article, I will define social commerce as the act of purchasing a product within a social media platform, without ever having to leave the social media platform. 🤯
Here's a quick visual example from Nike. A user can browse, add to cart, and checkout ALL without leaving Instagram.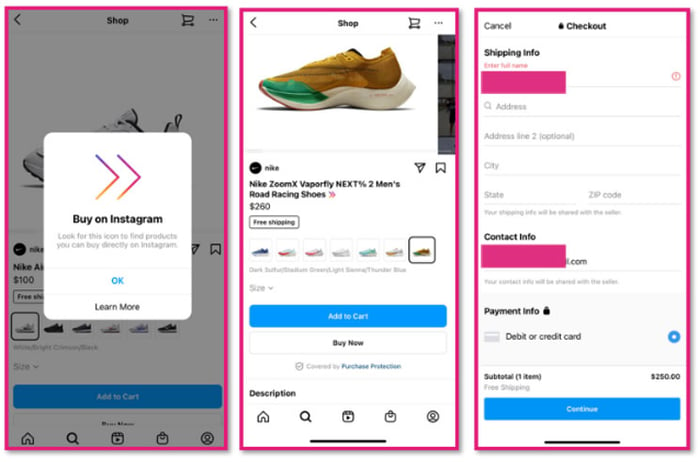 WHY CARE?
Brands and advertisers should care for a few reasons, but primarily because nearly half (48%) of U.S. social media users have bought something via a social media platform.
The expected growth is significant: social commerce sales will exceed $45B in 2022, and soar to nearly $80B in 2025.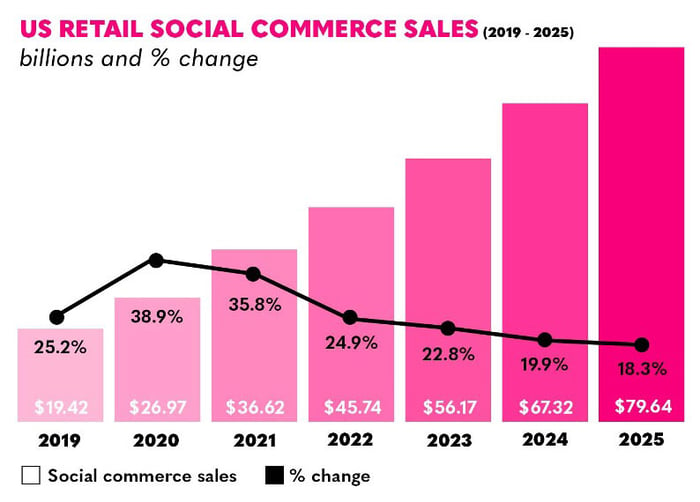 Source: eMarketer
Additionally, social commerce buyers show intent: 59% of social buyers say that they are more likely to buy from a small business when shopping through social commerce versus online. 44% are more likely to buy a brand that they have not previously encountered. If you are a small- to medium-sized business, or looking to attract new customers, social commerce will likely play a key role in your growth.
WHICH PLATFORMS HAVE SOCIAL COMMERCE?
Facebook and Instagram are leading the way in social commerce, with parent Meta reporting that more than 250MM users are visiting Facebook and Instagram shops monthly. With Facebook and Instagram Shops at the forefront, those platforms offer an end-to-end shopping experience, where a user can open the app, discover a new product, and purchase it inside the app without having to leave.
As TikTok continues its meteoric rise, social commerce will play a greater role in the app's development. Already, TikTok and Shopify announced a partnership in Q3 of 2021 that enables easier organic discovery for consumers and allows brands to include shopping tabs on their profile page.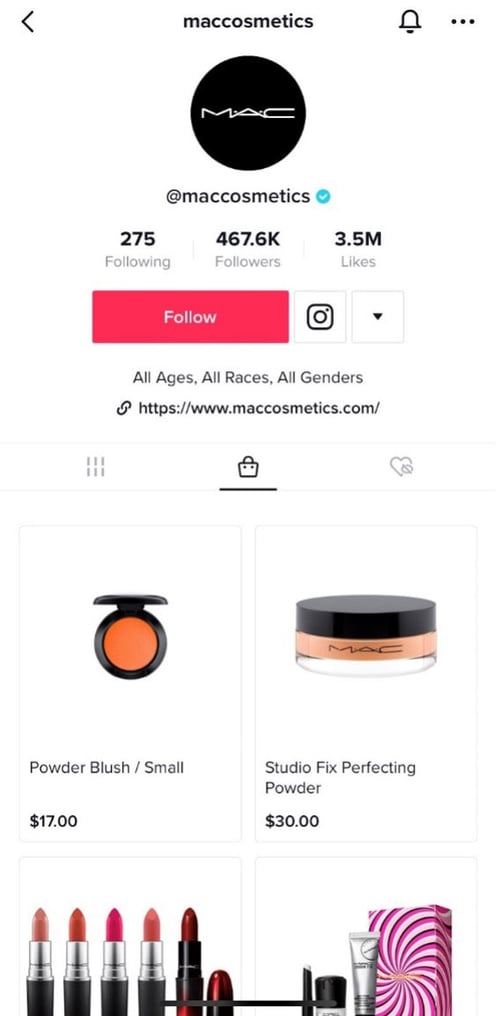 It's worth noting that currently, a user still needs to click out to the retailer's site to make the purchase, but it is certainly an indication of a more commerce-centric platform vision for TikTok.
Pinterest has been making strides with product pins, try-on product pins, and idea pins. Here's an example from Pinterest where a user can try-on a product in-app and check out.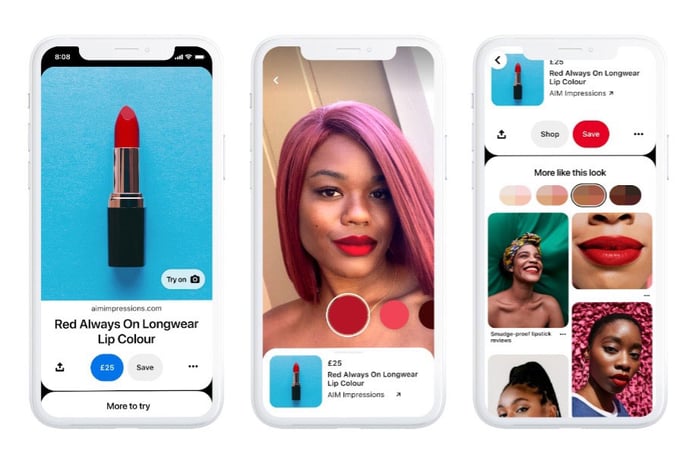 Meanwhile, Snapchat has been the leader in AR with its plethora of lenses and interactive features. As AR technology continues to improve, more brands will look to capture those opportunities and provide more meaningful and engaging shopping experiences for their consumers.
SOCIAL COMMERCE PROS
Social commerce streamlines the purchase path. The less friction in that path, the higher the conversion rate. Users don't have to leave the comfort of their favorite app: it's as simple as see, browse, buy.
Another advantage relates to the sweeping data changes resulting from iOS14.5. The more in-app data that Facebook, Instagram and other social platforms can collect on purchasing users, the more data that brands will have to optimize their paid ads.
SOCIAL COMMERCE CONS
There is a flip side to the above the iOS14.5 argument: brands that are already struggling with signal loss because of the iOS14.5 changes may be negatively impacted by social commerce. If more consumers buy within social platform apps, then less data will flow back to the brand's CRM and data systems.
Social commerce also limits creative flexibility, in that it impedes strong landing pages.
Finally, there is still a large audience skeptical of privacy on social media platforms. 43% of consumers prefer not to give social media platforms payment information.
GETTING STARTED WITH SOCIAL COMMERCE
At this point, we recommend getting started with Facebook given that it has the most mature social commerce offering. The first step is to ensure you have a product catalog with updated inventory information. Once there is a product catalog created, you'll need to set up Facebook and Instagram Shops.
CONCLUSION
Embracing the rapid rise of social commerce and its expected trajectory can help you rise above the competition, or—even more meaningfully—connect your brand with a new audience while providing a frictionless experience. There are ample creative opportunities to use social commerce to connect with consumers and we can't wait to see what you come up with!
Our team excels at amplifying brands across the social landscape, driving both revenue and customer acquisition. Connect with us now to supercharge your social media and overall digital strategies.
Additional Sources: Facebook, 2021, Insider Intelligence: "U.S. Digital Trust Survey," Q2 2021, "U.S. Retail and Social Commerce Sales, 2019-2025," May 2021